Jayne Ann Krentz
We are so excited to be participating in Jayne Ann Krentz's 12 Days of Bookmas! Thanks to Berkley for inviting us to participate. In honor of her new release When All the Girls Have Gone, enjoy a note from Jayne, get more info about her newest book, and a enter the giveaway for a chance to win a copy of Otherwise Engaged (open to US ONLY).  Good luck! Happy Holidays!!! xo
TWELVE DAYS OF BOOKMAS
By
Jayne Ann Krentz
In which I answer the twelve questions that I am most frequently asked and recommend a book for that hard-to-buy-for person on your holiday list.
SEVENTH DAY OF BOOKMAS:
Question # 7: How do you change your storytelling "voice" when you move from one world to another?
The simple answer is that I don't do anything consciously to change my writing voice. It is what it is and there's not much I can do about it. An author's voice is composed of so many elements: the kinds of themes and conflicts that compel the writer, his or her world views, core values, and sense of humor — or lack thereof. All of these things and more contribute to the voice.
Craft and experience can modify the final result, of course, and give it a polish. Also, as I have discovered, the period "feel" of an era has some effect on how I write. But in the end it is the author's raw, storytelling voice that will pull an audience – or not. I have often said that if readers are attracted to my books it is probably because we have a lot in common when it comes to core values and a sense of humor.
Day 7 Book Recommendation for Holiday Gifting:
Speaking of authors with strong, storytelling voices, I have a suggestion for a book that will be perfect for the reader on your list who appreciates stories with a strong emotional appeal, clever plotting, and humor – a difficult mix to carry off but in the case of this author it comes naturally. All of those elements are combined in her storytelling "voice".
Here's a snapshot of the plot: He's the former quarterback of the Chicago Stars football team. She's trying to make a success of her very own detective agency. Her job is to follow him. Let's just say it's not going well.
FIRST STAR I SEE TONIGHT by Susan Elizabeth Phillips.
Enjoy a look at Jayne's new book When All the girls Have Gone which released on November 29th.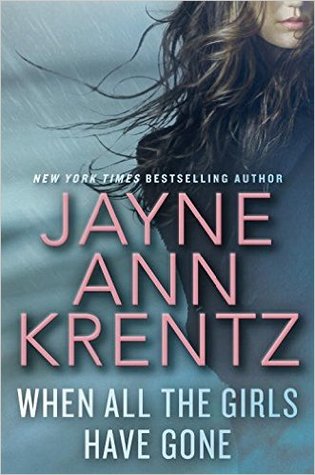 Jayne Ann Krentz, the New York Times bestselling author of Secret Sisters, delivers a thrilling novel of the deceptions we hide behind, the passions we surrender to, and the lengths we'll go to for the truth…
When Charlotte Sawyer is unable to contact her stepsister, Jocelyn, to tell her that one of her closest friends was found dead, she discovers that Jocelyn has vanished.
Beautiful, brilliant—and reckless—Jocelyn has gone off the grid before, but never like this. In a desperate effort to find her, Charlotte joins forces with Max Cutler, a struggling PI who recently moved to Seattle after his previous career as a criminal profiler went down in flames—literally. Burned out, divorced and almost broke, Max needs the job.
After surviving a near-fatal attack, Charlotte and Max turn to Jocelyn's closest friends, women in a Seattle-based online investment club, for answers. But what they find is chilling…
When her uneasy alliance with Max turns into a full-blown affair, Charlotte has no choice but to trust him with her life. For the shadows of Jocelyn's past are threatening to consume her—and anyone else who gets in their way…


*Giveaway now over – congrats to Linda Moffitt*

Enter to win: a paperback copy of Otherwise Engaged (US ONLY)

Click HERE to read up more about this title!

All you have to do is share this post and giveaway on your social media account(s) (Facebook, Twitter, Instagram, etc). Sample message below:

On the 7th Day of Bookmas @JayneAnnKrentz gave to me #OtherwiseEngagedGiveaway and #ASpecialNote Stop by @shhmomsreading

 Please make sure to post a link to your shares below. You can enter daily! One winner will be chosen Tuesday December 13th. Thank you for sharing!

by