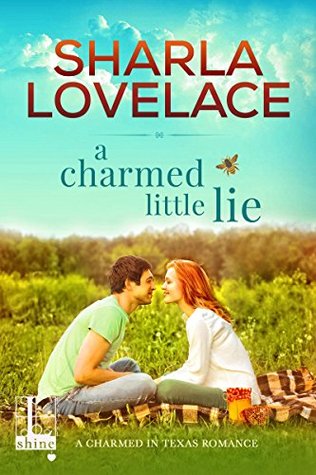 A Charmed Little Lie

by Sharla Lovelace
on Apri 18, 2017
Pages: 241
Buy on Amazon, Buy on B&N, Buy on iTunes, Buy on Kobo
Goodreads

Charmed, Texas... quaint, quirky, and when it comes to romance, there's no place quite as enchanting.

Lanie Barrett didn't mean to lie. Spinning a story of a joyous marriage to make a dying woman happy is forgivable, isn't it? Lanie thinks so, especially since her beloved Aunt Ruby would have been heartbroken to know the truth of her niece's sadly loveless, short-of-sparkling existence. Trouble is, according to the will, Ruby didn't quite buy Lanie's tale. And to inherit the only house Lanie ever really considered a home, she'll have to bring her "husband" back to Charmed for three whole months--or watch Aunt Ruby's cozy nest go to her weasel cousin, who will sell it to a condo developer.

Nick McKane is out of work, out of luck, and the spitting image of the man Lanie described. He needs money for his daughter's art school tuition, and Lanie needs a convenient spouse. It's a match made... well, not quite in heaven, but for a temporary arrangement, it couldn't be better. Except the longer Lanie and Nick spend as husband and wife, the more the connection between them begins to seem real. Maybe this modern fairy tale really could come true...
Guys! I LOVED LOVED LOVED this book! Sharla is the Queen of Small Town Romance!! She has given us a book with a little bit of everything – fun, wit, emotion, heartfelt conversations, and sexy chemistry.
Full review to come! I am IN LOVE with the start of this series and can't wait for more!!!
Enjoy a sneak peek into A Charmed Little Lie and enter for a chance to win a signed paperback below – good luck!

The doubts that winged around my head like a flurry of butterflies as I followed Nick someone-or-other down a twisty road, didn't disperse when we pulled up to a double-wide trailer up on cinderblocks. What was I thinking? Asking a strange guy to come with me to Charmed for the reading of a will. What if Aunt Ruby was secretly hoarding money and leaving it all to me and they handed it to me in a giant laundry basket (because that's where she would keep it) and then he mugged me and stole my rental car and left me on the side of the road with nothing but Ralph and my empty laundry basket? What if he was a serial killer that preyed in unsuspecting diners, cooking and killing his way across the country?
Nick got out and gestured for me to follow him in. Uh, no. I rolled down my window.
"Give me fifteen minutes, and I'll be ready," he said.
I gave him a thumbs-up. "Cool."
He looked at me funny. "You don't have to wait in the car."
Have good manners. 
"I'm good."
He started to laugh and shake his head, and something in me—maybe it was the overwhelming hunger gnawing at my belly—but something stopped caring about manners.
"You think I'm coming into your house?" I asked. "I think I learned not to do that around age six."
One eyebrow went up. "Seriously?"
"As you pointed out, I don't know you."
He leaned against the bed of his truck and crossed his arms over his chest. They were good arms. 
"Lady, I'm about to get in a car with you for an overnight trip to a town I've never heard of, to stay in some old house with someone so delusional she has to pretend to have a husband," he said. "If anyone should be afraid, it's me."

*Giveaway now over – congrats to Kathleen Bylsma*

Enter to win a signed copy of A CHARMED LIE (open U.S. ONLY)
All you have to do is (any of the following):
➡ share this post and giveaway on your social media account(s) (Facebook, Twitter, Instagram, etc). Sample message below:
A Charmed Little Lie is #ComingApril18th #ExcerptAndGiveaway #ModernFairyTale @shhmomsreading @sharlalovelace
➡ Add A Charmed Little Lie onto your GR TBR https://www.goodreads.com/book/show/31189320-a-charmed-little-lie
➡ Stop by Sharla's FB page, give her a like and let her know Shh Moms Reading sent you and how much you are looking forward to reading a Charmed Little Lie https://www.facebook.com/sharlalovelace/
 Please make sure to post a link to your shares below (the more you do the more chances to win!). One winner will be chosen Sunday April 16th. Thank you for sharing!