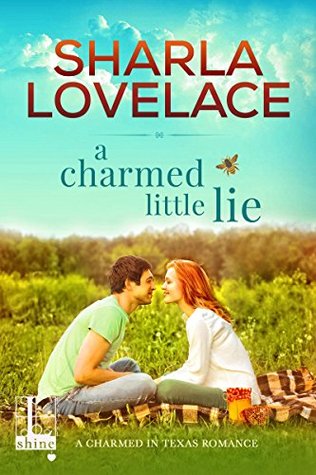 A Charmed Little Lie

by Sharla Lovelace
on Apri 18, 2017
Pages: 241
Buy on Amazon, Buy on B&N, Buy on iTunes, Buy on Kobo
Goodreads


Charmed, Texas... quaint, quirky, and when it comes to romance, there's no place quite as enchanting.

Lanie Barrett didn't mean to lie. Spinning a story of a joyous marriage to make a dying woman happy is forgivable, isn't it? Lanie thinks so, especially since her beloved Aunt Ruby would have been heartbroken to know the truth of her niece's sadly loveless, short-of-sparkling existence. Trouble is, according to the will, Ruby didn't quite buy Lanie's tale. And to inherit the only house Lanie ever really considered a home, she'll have to bring her "husband" back to Charmed for three whole months--or watch Aunt Ruby's cozy nest go to her weasel cousin, who will sell it to a condo developer.

Nick McKane is out of work, out of luck, and the spitting image of the man Lanie described. He needs money for his daughter's art school tuition, and Lanie needs a convenient spouse. It's a match made... well, not quite in heaven, but for a temporary arrangement, it couldn't be better. Except the longer Lanie and Nick spend as husband and wife, the more the connection between them begins to seem real. Maybe this modern fairy tale really could come true...
OMG I AM SO UNBELIEVEABLY HAPPY RIGHT NOW!
Why are you shouting, you may ask? Well, I have been in a bit of a book slump for a bit but Sharla Lovelaces's A Charmed Little Lie has cured me – thank goodness! I am on a book high right now 🙂
Sharla is the Queen of Small Town Romance – she has given us a book with a little bit of everything – fun, wit, emotion, heartfelt conversations, and sexy chemistry.
The whole marriage for convenience storyline has definitely been done before, but Sharla is able to put her spin on it and give readers something totally different and unique.
Lanie Barrett needs to return home to Charmed, Texas when her beloved Aunt Ruby passes away for the reading of her will. Lanie was raised by this wonderful woman and Aunt Ruby has wanted nothing more than for Lanie to find love and happiness. In her dying days, Lanie invented a fake marriage to appease her Aunt and of course in a complete twist for the reading of the will, Lanie must return home with her husband to live in Charmed for 3 months in order to receive the family home.
Enter Nick McKane – a handsome cook who has recently lost his job. Nick works in a bar that Lanie happens to stop at on her way home to Charmed and because of his looks that so closely resemble her fake husband, Lanie has a proposition for him. In return for money to help pay for his daughter's art school tuition, she needs him to pose as her husband for 3 months.
But in a small town where everyone knows each other's business AND in a situation where you try to live with someone platonically to only discover that there could be something MORE—what happens next?
I LOVED the ease with with which Lanie and Nick took on the roles of husband and wife, and that beyond the pretending readers will be on that journey with this couple as they find that something more. The sexy chemistry, the fun bantering, and the mesmerizing writing made me just fall in love with this book and these characters. Lanie went above and beyond protecting the man she started falling for and vice versa. It was just an amazing journey to be a part of.
The only thing I wish for was that I wished that this story was told in dual POVs and that I had the chance to hear Nick's voice too. I would have loved to be in his head in certain scenes. But overall, I am IN LOVE with the start of this series and can't wait for more!!!