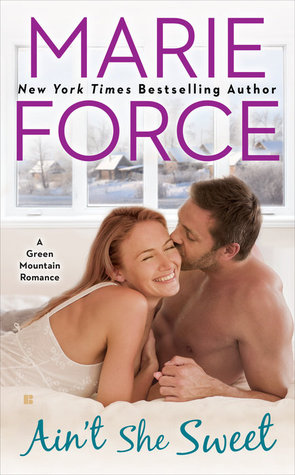 Ain't She Sweet

by Marie Force
on April 26, 2016
Pages: 320
Buy on Amazon, Buy on iTunes
Goodreads


The latest Green Mountain Romance from the The New York Times bestselling author of It's Only Love.

Charlotte "Charley" Abbott has gone out with every guy under thirty-five in Butler, Vermont—except for one. Tyler Westcott's attempts to date her may be determined, and frequent, but Charley can't stand how he acts like he knows her better than she knows herself. So when Tyler turns up at the running club Charley joined to train for a marathon, she's almost ready to quit before she even gets started.

Tyler knows that behind Charley's prickly personality and dismissive attitude is a sweet woman he wants in his life. And when Charley suffers an injury while training, Tyler is ready to prove that the perfect man for her has been right there all along...
Ain't She Sweet, book 6 in the Green Mountain series by Marie Force, continues to tell the story of the Abbott family. This book is the story of Charlotte "Charley" Abbott and Tyler Westcott.
Ain't She Sweet opens with a bang or rather a fall (it will make sense when you read it), a fall that sets up much of the book. How this plays out had me loving Tyler and continuously had me wanting to hug him. Tyler is the kind of man many will wish they had in their life: someone to take care of, someone to care for, and someone to make sure they have whatever they need.
I freaking loved Tyler! He is a man who knows what he wants and works to get his girl!
"I knew that, too," Tyler said.
"What did you know?" Charley asked.
"That if I kissed you, even once, I'd never want to kiss anyone else again."
I so love the Abbott family. Ms. Force masterfully crafts each family member with their own personality and does an amazing job with family dynamics, giving each their own place in the family.
From the moment the Abbott siblings enter, I was reminded why I love this series so much! It was like visiting with friends; these characters take residence in the hearts of readers and you get to witness them as life moves forward.
I adore how Max's story started to play out. The youngest of Linc and Molly's children is dealing with being a single Dad and there was a number of very powerful scenes.
In true Green Mountain series fashion, the epilogue left me grinning as Elmer is so adorable!
I loved the side story that started to play out for Grayson (an Abbott cousin) though not who I would have expected to be the male lead in the next book. I am now looking forward to Grayson in the next one, though I was a bit sad to read it would be until 2017.
 ♥READ THE SERIES♥
Book 1 – All You Need is Love
Book 2 – I Want to Hold Your Hand
Book 3 – I Saw Her Standing There
Book 4 – And I Love Her
Book 4.5 – Ask Me Why
Book 5 – It's Only Love
Book 6 – Ain't She Sweet