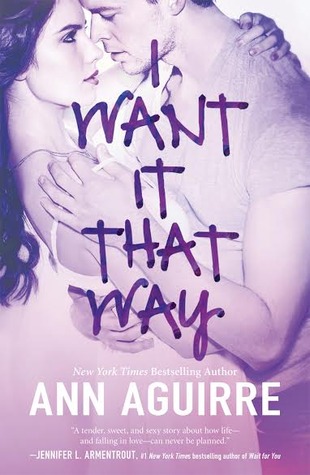 I Want It That Way

by Ann Aguire
on August 26, 2014
Pages: 352
Goodreads

Nadia Conrad has big dreams, and she's determined to make them come true—for her parents' sake as well as her own. But between maintaining her college scholarship and working at the local day care to support herself, she barely has time to think, let alone date. Then she moves into a new apartment and meets the taciturn yet irresistible guy in 1B…. 

Daniel Tyler has grown up too fast. Becoming a single dad at twenty turned his life upside down—and brought him heartache he can't risk again. Now, as he raises his four-year-old son while balancing a full-time construction management job and night classes, a social life is out of the question. The last thing he wants is for four noisy students to move into the apartment upstairs. But one night, Nadia's and Ty's paths cross, and soon they can't stay away from each other. 

The timing is all wrong—but love happens when it happens. And you can't know what you truly need until you stand to lose it.

CHAPTER TWO
The next day, I had to work.
My gig at the day-care center was better than most college jobs. This summer, they gave me more hours, as I covered shifts for teachers taking vacations. As of this week, I'd cut back to part-time, and they were great about scheduling around my classes. On Monday, Wednesday and Friday, I worked in the afternoons. Tuesday and Thursday, I had the morning shift. Occasionally, the director assigned me to assist in a particular classroom, but usually I floated, helping out wherever they needed me.
I owned one of the two cars; Angus drove the other. For obvious reasons, his was much nicer, but my Toyota had heart. It had a zillion miles when I bought it four years ago, and it was still puttering on. Max had a motorcycle that he had been restoring for as long as I'd known him, but between school and work, he didn't get to spend as much time on it as he'd like. Consequently, the thing ran only half the time, and at the moment, it was a big paperweight. But my ride started right up, no problem delivering me to work on time.
On arrival, they put me in with the two-year-olds, about as exciting as you'd expect. The lead teacher's name was Charlotte Reynolds, and she had an associate's degree in early childhood education. She was a sweet woman in her mid-thirties, usually patient, but she seemed a little frazzled this morning. Alongside her, I kept the kids from hurting each other, gave them things to color, supervised lunch and then nap time. In the afternoon, they played in the yard, more coloring, some educational activities, and at four-thirty, I sighed with relief that the day was almost over.
"They were stubborn today," Charlotte muttered.
"This is the last full shift for me," I reminded her.
"I'm aware. I hope your junior year's the best yet."
I nodded, tidying up the room as we talked. By six, all of the kids had gone, and we were free to head out. Tiredly I trudged out to the Toyota and drove home, though I made a wrong turn by reflex, heading toward the dorms instead of our new apartment. With a muttered curse, I swung a U-turn and corrected course, pulling into the parking lot behind a silver Ford Focus. I spotted Ty getting out of the car, but I didn't say anything. After last night on the balcony, I didn't want him to think I was the overinvolved neighbor from hell. I pulled my tote bag out of the backseat, imprinted with the day-care center's logo, some blocks and a rainbow—crafty, since the name was ABC Rainbow Academy. I locked up and headed past, trying to avoid tension and accusations.
But he acted like the night before never happened, his attention drawn by my bag. "Hey, do you work there?"
"Yeah, why?"
"Would you recommend it?"
Goodnight Moon. Right. Wonder if there's a Mrs. Hot Ginger. Guilt pinged through me for pondering his marital status; it was weird to be this curious, even if he was seriously appealing. Wait, what did he ask me again?

EXCERPT REVEAL SCHEDULE
August 21
August 22
August 23
August 24
August 18