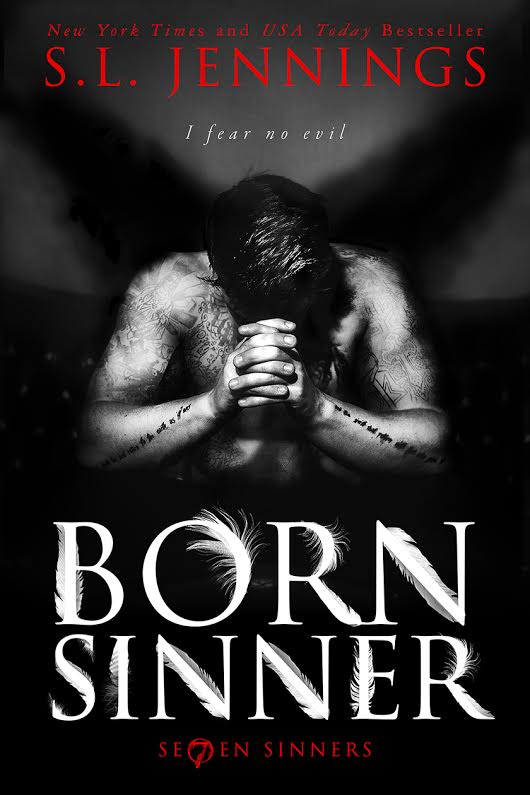 Born Sinner

by S.L. Jennings
on August 11, 2016
Goodreads

Twenty-two years ago, I was cut from a cold, sodden womb, and cradled in the filth and poverty of Chicago's concrete arms. Statistically, I wasn't supposed to survive these streets past the age of eighteen.

Fate had a different plan.

I was bred for one purpose and one purpose only: to unleash death and destruction on my world.

My thoughts are power.

My words are weapons.

Evil created me then grace tried to save me. But first… they tried to kill me.
They call themselves the Se7en. They are sin and salvation, and everything we've feared from the beginning of time. And their leader is the deadliest of them all.

He doesn't lose.

He doesn't compromise.

And most importantly, he doesn't distract himself with mortal weakness.

Not until me.

Kill one to save a million.

That's what he told me when he took me as his prisoner.

Kill one to save a million.

That's what he's been trying to tell himself ever since he took me into his arms.
I LOVED this book and devoured it in ONE DAY! Stop by our Facebook Page to enter for a chance to win an ARC of Born Sinner by S.L. Jennings. Open internationally – winner to be picked tomorrow. Good luck!!! 
 ‪#‎Se7enSinners‬ #LoseYourReligion #SummerOfSin16
Enter HERE
Enjoy some teasers from the book – this first one is one of my FAVORITE lines!!! *le sigh