Today we welcome Emma Chase to our blog as she celebrates her new book HOLY FRIGGING MATRIMONY – A Tangled Series Short Story. HAPPY RELEASE DAY! In preparation for this short story, Denise has also reviewed Tangled below.
Enter for a chance to win an ebook set of this series (TANGLED and HOLY FRIGGING MATRIMONY) using Rafflecopter below. Good luck!
---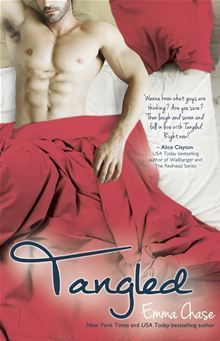 Synopsis
Drew Evans is a winner. Handsome and arrogant, he makes multimillion dollar business deals and seduces New York's most beautiful women with just a smile. He has loyal friends and an indulgent family. So why has he been shuttered in his apartment for seven days, miserable and depressed?
He'll tell you he has the flu.
But we all know that's not really true.
Katherine Brooks is brilliant, beautiful and ambitious. She refuses to let anything – or anyone – derail her path to success. When Kate is hired as the new associate at Drew's father's investment banking firm, every aspect of the dashing playboy's life is thrown into a tailspin. The professional competition she brings is unnerving, his attraction to her is distracting, his failure to entice her into his bed is exasperating.
Then, just when Drew is on the cusp of having everything he wants, his overblown confidence threatens to ruin it all. Will he be able untangle his feelings of lust and tenderness, frustration and fulfillment? Will he rise to the most important challenge of his life?
Can Drew Evans win at love?
Tangled is not your mother's romance novel. It is an outrageous, passionate, witty narrative about a man who knows a lot about women…just not as much as he thinks he knows. As he tells his story, Drew learns the one thing he never wanted in life, is the only thing he can't live without.
---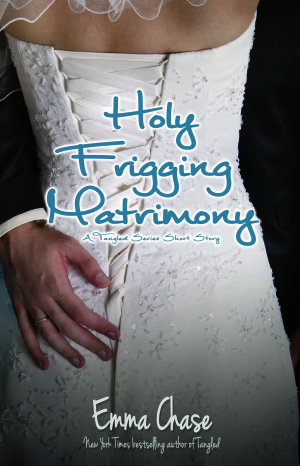 Synopsis
What does Drew Evans have to say next? Find out in this forty page short story, filled with his sexy charm, unique advice and hilarious one-liners.
Marriage: the final frontier. Steven went first. He was kind of our test subject. Like those monkeys that NASA sent off into space in the fifties, all the while knowing they'd never make it back.
And now another poor rocket is ready to launch.
But this isn't just any posh New York wedding. You've seen my friends, you've met our families, you know you're in for a treat. Everyone wants their wedding to be memorable. This one's going to be un-frigging-forgettable.
Holy Frigging Matrimony takes place about a year after Tangled's end and is from Drew's POV.
---
Denise's 5 STAR Review for Tangled 
Ok – I heard so many great things about this book prior to reading.  I think that is one of the reasons it sat on my Kindle for so long; I guess I feared it would not live up to the hype. Well, I was wrong, Tangled is amazing!! After just a few pages, Ms. Chase had me kicking myself for having waited so long to read Drew Evans.
Ah, Drew Evans, one of New York's elite, an investment banker from a family of wealth and privilege, a guys guy who never wanted for anything and never wanting anyone in his life.
This book grabbed my attention from page 1. Drew wow, I have always felt male POV was one of the toughest things to nail; hats off Ms. Chase because you rocked it. This is so much more than just a male POV, this is Drew speaking directly to the reader, in a way that will have you feeling like his friend and almost wishing you were having this conversation with him over dinner.
Drew is snarky; lovable; hysterical and in the end his characters so well done, he feels real!
This book is not just about dialogue, though I do love the dialogue; it truly allowed the reader into Drew's head, as he talks directly to the reader and sometimes to himself.  It will hold your attention and have you counting the seconds until you can return the him.
This is truly the kind of book that makes you wish you could lay in bed with your kindle all day and shut off the world!
Katherine Brooks walks into Drew's life.  In what starts out as just want and lust, it turns into so much more when he finds out she is the newest employee at the investment bank his father is a partner in; this relationship truly transcends the physical.  I adored watching Drew and Kate's professional relationship, the competitive spirit that developed into mutual respect became the foundation for a relationship that you will be rooting for!
The use of Drew's niece Mackenzie and what becomes likely for many an eye opening look at Disney Princesses had me loving Drew even more!
And in the end, it was a masterful use of dialogue and characters to show Drew's respect for Kate and professional women in general.
We have all read girl meets playboy, girl thinks she can fix playboy and make him fall helplessly in love with her. This book transcends that maybe because this book is Drew's voice and it starts with him telling the reader about his flu. You truly do feel like Drew gets it, that he understands the power of love and the depth to which it can touch your soul.
In the end Drew's actions to show Kate he is truly serious were so well done, they were not just romantic – they spoke to his desire to want Kate as his equal and to show his respect for her career.
Hats off to Ms. Chase for an amazing story!!!  If you have not read Tangled, I highly recommend you stop, click and read this book that is now one of my favorites of the year.
Denise's 4 STAR Review for Holy Frigging Matrimony
I was privileged to have the opportunity to read Holy Frigging Matrimony (1.5) right after completing Tangled.This short story adds to the enjoyment of this series for me.
If you loved Tangled, you will thoroughly enjoy this visit with Drew and Kate.  It will make you giggle and it will remind you why these two are so good together.  It will also have you remembering Drew is new to relationships and Alexandria truly does have his best interest at heart… oh and the twist with Kate's Mom was so well done!
I can't wait for Twisted coming out in 2014 and for a look into Kate's POV!
About the Author

By day, Emma Chase is a devoted wife and mother who resides in a small town in New Jersey. By night she is a keyboard crusader, toiling away the hours to bring her colorful characters and their endless antics to life. She has a long standing love/hate relationship with caffeine.
Emma is an avid reader. Before her children were born she was known to consume whole books in a single day. Writing has also always been a passion and with the 2013 release of her debut romantic comedy, Tangled, the ability to now call herself an author is nothing less than a dream come true.