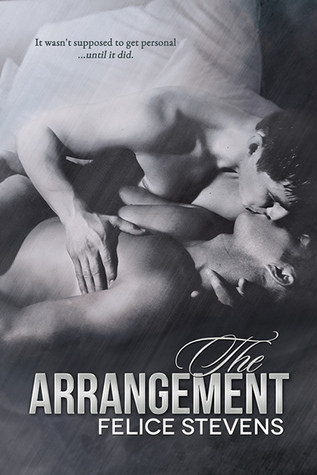 The Arrangement

by Felice Stevens
on July 20, 2016
Buy on Amazon
Goodreads


Carter Haywood lives for the weekends—specifically the one weekend every month when he escapes real life, with all the pressures of work and caring for his special needs brother, to do whatever he wants, with whomever he wants. Sex is only a release; he's not looking for love, a relationship or even a second night with the same man, until he walks into a bar and finds someone who makes leaving it all behind impossible. After one incredibly passionate encounter, he breaks his rule and goes back. He needs to see this man again. And again.

Damaged goods. That's all Reed Kincaide sees and hears when he looks in the mirror. Anxiety and ADHD define his life and he's learned to keep people at a distance, never letting them get close enough to know who he really is. When Carter proposes a monthly weekend of sex without strings, it's the ideal arrangement for him. Or so he thinks. Every month, leaving Carter proves to be more and more difficult. It's not only the intensely hot sex they have in their hotel suite; Reed wonders about the secret life Carter refuses to share.

As months pass and they grow closer Reed finds himself falling for Carter, but he needs more than hurried hugs and farewell kisses. He wants it all. Letting Reed into his carefully constructed family life could upset Carter's whole world, but it might be the risk he's finally willing to take, if it means keeping Reed. Once bodies are engaged, the heart is sure to follow, and Carter and Reed discover that holding on to each other is the first step in letting go of the past.
Carter and Reed touched my heart! I loved 
The Arrangement 
by Felice Stevens!
The reason why each man wants this arrangement; weekend only sex was so well done. You truly believe that at the time it works for each man and you understand why they ok it. I don't want to spoil the reasons why for each man as I want the reader to experience it as I did through Ms. Stevens' beautiful writing.
As Carter and Reed spend more time together, you can feel the pull they have for each other.  The ease they develop with each other has you knowing they are meant to be together. I love how they pushed through this and took their relationship to the next level.
The portrayal of Reed's anxiety and ADHD was so well done. His symptoms and his thoughts around his disease all pulled at my heart.
This story is character driven and the use of secondary characters added to the story for me, the most prominent which was the use of Reed's father.
Both men have back stories that help explain who they are when they find each other and when the reader meets them; witnessing them push through their pasts and grab onto the happy in front of them had me so engaged in their story.
I loved LOVED how Jack played into this story… nope it's not a menage but it was so powerful.
In the end, the epilogue left me with a huge smiling knowing that this was a powerful happy for this couple!