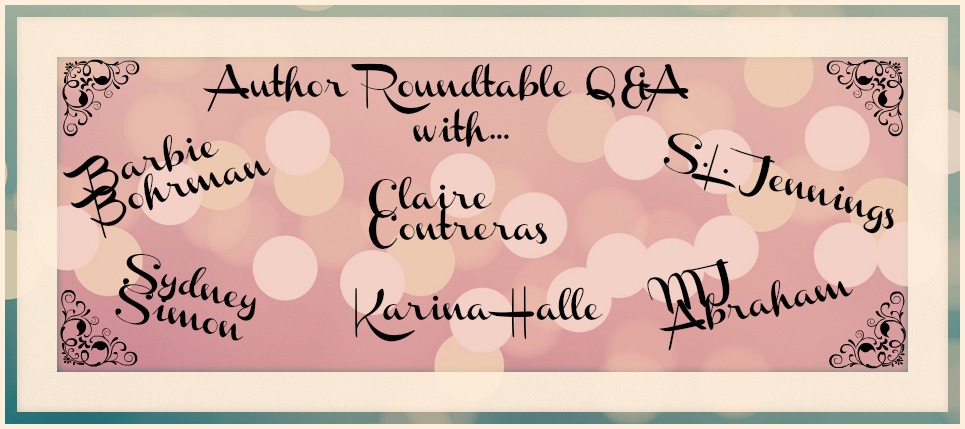 Have you ever wondered if writing sex scenes is… um, hard for an author? Have you ever wondered what their all-time favorite song is? Or who they would pick to be their celebrity zombie slave? Well, guess what? Claire Contreras, S.L. Jennings, MJ Abraham, Karina Halle, Sydney Simon and Barbie Bohrman all took time out to answer these questions and MORE. Read on and see what these ladies have to say about everything from favorite fictional villains, author crushes, and what three things they would need for an end of the world survival kit. 🙂
What is the weirdest thing a fan has said to you? Either in person or via social media.
Claire – A lady emailed me once to tell me that she made her husband recreate a sex scene in Darkness Before Dawn. It was… flattering, I guess lol.
MJ – I have heard some crazy stories but thankfully, nothing that pertains to me. I will say that I think it's weird when fans ask me to ship them books. For free. Out of the country.
Barbie – I thought it was weird that someone told me that rated my book higher AFTER I added an epilogue. Um…thank you?
S.L. – Oh God… I had a woman on my blog ask if I'm often hit on by readers and if I wouldn't mind one more admirer. Then she went on to say that she'd like to read an erotic book with me and act out the scenes…in details. Definitely a 10 on the weird shit scale.
Sydney – I haven't had much fan interaction and the ones who have contacted me have been nothing but kind. I've heard a few interesting stories from friends though. One of them was contacted by a reader who asked her to rewrite the ending of one of her books because she wasn't satisfied with the ending that was published.
Karina – "You smell good. Especially because I knew I didn't."
Sex scenes… easy or hard to write?
Claire – I usually let my characters do their thing (no pun intended), so it's not that difficult to write them. I don't enjoy rewriting them though.
MJ – HARD! And nothing makes you feel more awkward than having your family and childhood friends read how you write sex. LOL.
Barbie – Hard! They make me incredibly uncomfortable. And then that moment when people you know really, really, really well read them…UGH!!! The absolute worst!!!
S.L. – HARD! I rarely read books with sex so it's always stressful to write it. I talk a good game, but I'm pretty prudish.
Sydney – I loathe writing the. I'm a huge prude when it comes to writing sex. Which is ironic because I really enjoy reading a well written sex scene.
Karina – Hard to write (ha ha). The first sex scene between characters is usually the easiest and as an author you're eager to get to it, but all the ones after, it can be a real struggle to try and think of all the ways to make it different enough. AKA find a new way to say cock, dick, pussy, pounding, thrusting, wet, etc.
If you could pick one famous person to be your zombie slave, who would it be and why?
Claire – I'm going to pick two people who annoy me: Kristen Stewart and 2 Chainz.
MJ – Fidel Castro… and The Kardashians. 'Nuff said.
Barbie – Taylor Swift because why not? Someone needs to put a stop to her.
S.L. – I'd choose Jared Leto, but only if he was a hot zombie like the dude from Warm Bodies.
Sydney – I'm a huge Justin Timberlake fan and I find Lenny Kravitz equally intriguing. But this month I'm currently crushing on Jamie Fraser AKA Sam Heughan. Actually, I'd agree to be his zombie slave.
Karina – Hmmm. Good question. So this person would be a zombie? Well, that definitely cuts down on hot guys cuz no guy is attractive with their face rotting off. I'd have to say Patrick Stewart, because he'd at least be a tiny bit classy.
Name a fictional villain you secretly root for.
Claire – A tie: Lex Luthor and Magneto.
MJ – Jack Torrance, The Shining. All work and no play…
Barbie – A tie: Lord Voldemort and Pinhead.
S.L. – I always root for the villain. I believe that no great villain is without redeeming qualities. And since I love superheroes, especially marvel, look at Magento. As many times as he crossed Professor X, he still cared for him right up to the end. His past pains created the monster within him. And Loki… no matter what, he would've done anything for his brother. He loved him. His villainous behavior stemmed from his feelings of inadequacy and abandonment. I could go on and on about this—don't even get me started on Disney villains—because we'd be here all day.
Sydney – Dr. Hannibal Lector. He likes a nice Chianti.
Karina – Most of them? Hannibal Lector is the first that comes to mind though that's not so secret.
Which character you've written is most like you?
Claire – Brooklyn Harmon in Catch Me.
MJ – Hmm… there's a little bit of me in all my characters. I guess I'll say Jared from Happenstance and Savannah from Resplendent.
Barbie – Julia Boyd in Playing it Safe.
S.L. – Oh wow, all of them. Gabriella (Dark Light) shared my temper and some of my less charming attributes. She's incredibly flawed and infuriating. Kami (Fear of Falling) shares some of my past experiences and reflects my personal demons. Her inner struggles are definitely things I deal with daily. Ally (Taint) has my sense of humor and goofy personality. There are many things in those pages that I've actually said or done (twerking, anyone?)
Sydney – Well that's an easy one to answer since I've only written one book: Siena.
Karina – Dex, though I think all characters have me in them, some more than others.
What are you working on now?
Claire – The sequel to The Devil's Contract called The Sinner's Bargain.
MJ – A paranormal romance and a poetry book which I am really excited about.
Barbie – Two standalone contemporary romance novels and a young adult romance novel, which is very dear to my heart.
S.L. – Light Shadows, the final installment of the Dark Light series. It's been a long time coming, and I'm so happy to see their story find some closure, and maybe some peace.
Sydney – Edits of The One Who Loves you. It's sucking the life out of me.
Karina – What aren't I working on? Finishing up Love in Spanish before I start the second book for Atria. Then it's time for Dirty Deeds. I may have a secret project in there somewhere.
If they ever make a movie of your life, who should play you?
Claire – Larry David.
MJ – Anne Hathaway! She'd be great…although the movie would be very boring. LOL.
Barbie – Hmm, people tell me I look a lot like Julia Roberts, so I guess I have to pick her by default… but I'm not happy about it. I'd rather have someone like Jennifer Lawrence.
S.L. – When it comes to my personality, people have told me that I remind them of Maya Rudolph (from SNL). If I could pick, either Mila Kunis or Rosario Dawson. It definitely has to be someone who isn't afraid to be funny and ridiculous.
Sydney – Good golly, my life isn't worth repeating, especially for the big screen.
Karina – Scarlett Johansson or Jeff Goldblum.
If you could pick any moment and place in time to visit, where would it be and why?
Claire – Woodstock 1969. Need I say more?
MJ – Assuming I won't die… I would seriously want to visit 1943 Germany because nothing fascinates me more than the Holocaust. Also, it's on my author bucket list to write a Holocaust/WWII fictional story.
Barbie – Mid to late 1970's in New York City. I would be able to dance the night away at Studio 54 and then rock out at CBGB's and Max's Kansas City and see some of my favorite punk rock bands of all time! I mean the chance to see The Ramones, Blondie, and Television and then possibly rub shoulders with Truman Capote and Bianca Jagger??? Awesome!!!
S.L. – That's a hard one. I love the sixteenth century and am fascinated by the idea of a monarchy. I'd love to visit, but wouldn't stay long. Their sense of justice and hygiene scares me!
Sydney – This is probably the easiest question yet. I've always been enthralled with the 70's. It was the last time our country/society ever saw the true meaning of liberation. It was just after the fights of the Civil Rights movement in the 60's and just before the boom of the 80's hit us with uber conservatism and young urban political correctness. Plus, who wouldn't want to spend just one night twirling the dance floors of Studio 54?
Karina – The streets of New York City when it was declared that World War II was over (V-E Day). To be in that atmosphere would be electric. I could see myself kissing a bunch of hot soldiers in the street.
Where do you see yourself in 10 years?
Claire – As a cancer survivor WITH HAIR and nice boobs. Also, happy.
MJ – Happy and healthy, sitting by my pool reading my Holocaust/WWII story. I don't ask for much.
Barbie – Living in Las Vegas permanently and writing full time hopefully.
S.L. – Still writing, for sure. Maybe by that time, I will have switched to YA or children's books.
Sydney – Seriously? I don't even know what I'm doing tomorrow. God willing, I'll be glad just to see both.
Karina – Hopefully alive. Married. Happy. Still writing for a living and feeling validated for my writing.
Favorite line or scene you've ever written.
Claire – "They say revenge has a poor aftertaste, but regret tastes like poison; both were flavors I'd gotten accustomed to over the years." – Prisoner.
MJ – The anti-prom scene in Resplendent is my favorite scene. My favorite line would be from a poem that I'll include in my PNR.
Barbie – The first line/sentence in Playing it Safe: "I'm sitting across from a Dick." (Still makes me giggle… and it truly does set the tone of the book and of the main character pretty clear for the reader.)
S.L. – That is so hard! I can't narrow it down to one, but I will choose three scenes that have stayed with me.
Kami and Blaine's first kiss in Fear of Falling. They were so sweet together. And HELLO!! Tongue ring.
I had kissed this man a thousand times in my head. In my dreams, he had explored every inch of my body with thorough precision. Blaine had already known me inside and out, and he didn't even know it. Hell, I couldn't even understand it. But the moment that metal barbell slid against my tongue, I knew. I knew that I was forever changed. Blaine took me in that kiss. Right in the back of his truck with the crescent moon overhead and the forgotten Mason jars of fireflies at our sides.
2. When Niko killed a pimp/child molester in Nikolai (Dark Light series).
With my hand still covered in blue flames, I sink it into Malcolm's gut, spearing through blubber, tissue and vital organs. Screams ring out all over the mansion, masking his muffled cries of pain. Yes, Pain. Though he may not be able to move, he can feel everything. He can feel me clawing my way through his flesh with razor-sharp talons. Can feel the blood gushing from the gaping hole in his abdomen. And when my hand wraps around his spine, he can feel every-fucking-thing as I rip it from his body.
"There you go, motherfucker," I say, dropping the blood-slick bones to the floor just as Malcolm takes his last pathetic breath. I release the hold on his body and it crimples to the floor in a bloody heap. "Now, you're really spineless."
3. And… when Justice sees Ally in lingerie for the first time. Can't leave out JD!!
I close my eyes, because touching her and seeing her is just too much to bear. "What the fuck are you doing to me?" I whisper. I don't expect her to answer, or even hear me for that matter. But I want her to. I need her to.
The angel tumbles down to Earth in my own personal realm of lust, hedonism and shame. With eyes the color of the ocean and her halo of fire burning as bright as the desert sun, she speaks to me. And while she is raw and sullied, tainted by this beautiful hell, her words breathe life into the darkest, loneliest parts of me.
"Exactly what you taught me."
Sydney – I'm sure this isn't my favorite, but I didn't feel like combing my WIP, so this is one of the last things I've written: "I've never really knew how Nick saw me. What he really saw when he looked at me from across the dinner table; when I sat on the couch going over homework with the girls; when I was naked beneath him in the dim light of our bedroom. Did he really see me? Or did he only see all the things he wanted me to be."
Karina – There are a lot, so I can't actually choose one. The first two that pop into my head are the end sex scene of Lying Season (brutal but awesome) and the dinner during Love, In English when Vera and Mateo are alone together on the patio…you know, "Love in Spanish is you" and all that. The tension is legit.
Lightening Round Questions!!!
Paperbacks or Ebooks?
Claire – Paperbacks
MJ – Paperbacks
Barbie – Paperbacks
S.L. – Ebooks to read, paperbacks to keep. (No one touches them!)
Sydney – I love paperbacks, but ebooks are more convenient.
Karina – I one-click like mad but I prefer paperbacks. I read better off them too.
Guiltiest pleasure.
Claire – I don't believe in feeling guilty about my pleasures.
MJ – Sudoku! Or even brain teasers. If I'm gonna be a nerd, I might as well do it right.
Barbie – Maury Povich, "Who's the Daddy" episodes. I always root for the guy NOT to be the father… don't know why though lol.
S.L. – Reality television.
Sydney – Dark chocolate almond Roca.
Karina – Sleeping in.
Kill, F*ck, Marry (using your own characters)
Claire – Kill Benny, Fuck Colin, Marry Cole.
MJ – Kill Carmin, Fuck Elijah, Marry Andres.
Barbie – Kill Aiden, Fuck Tyler, Marry Alex.
S.L. – What the hell? I can't do that! Kill Dorian (you'll see why soon!), Fuck Justice, Marry Blaine.
Sydney – Too easy: Kill Marcus, Fuck Christian, Marry Nick.
Karina – Kill Salvador, Fuck Dex/Sage, Marry Mateo.
Current author crush.
Claire – Tiffany Reisz
MJ – Rainbow Rowell!! Buy her books!!
Barbie – Barry Lyga (Seriously, go out and read I Hunt Killers series IMMEDIATELY!!!!!)
S.L. – Karen Marie Moning. I am still on a Jericho Barrons high.
Sydney – I'm crushing on Barry Lyga this week, only cause I'm reading the Jasper Dent series (which is phenomenal, by the way).
Karina – At this exact second? Maggie Stiefvater. Just finished The Raven Boys and I'm in awe.
Favorite song of all time.
Claire – Let It Be by The Beatles
MJ – Dude. Really? OF ALL TIME does not exist. I'll randomly pick: Shake it Out by Florence & The Machine… Is This Love by Bob Marley… Por Un Segundo by Aventura… Mirrors by Justin Timberlake… Beautiful Day by U2. OMG, I can't handle this question.
Barbie – What Do All The People Know by The Monroes
S.L. – That's just mean… there's no way I can pick one! Time in a Bottle by Jim Croce and The Beautiful Ones by Prince. Oh! And Eternal Flame by The Bangles. Ok I'm done!
Sydney – Hmmmm…Best of you by The Foo Fighters.
Karina – I can't pick, but I'm sure Mike Patton has something to do with it.
***BONUS QUESTION***
It's the end of the world, what three things do you need to survive?
Claire – Sword, water, shoes.
MJ – My katana! (That I'll have to steal cause right now I don't have one. I should really invest in one though— the apocalypse is coming people!!) A good pair of hiking boots. A backpack that just so happens to be filled with a blanket, a jug, knife, rope, matches, and a paperback copy of Things You Need to Know to Survive the End of the World. (Note to self: invest in buying that too.)
Barbie – My Taylor Swift Zombie Slave, water, clean underwear.
S.L. – Food, water, books. Is there anything else?
Sydney – Vodka, iPad, and Flaming Hot Cheetos.
Karina – Lots of clean water, a Swiss army knife that includes a pen/pencil, a really thick notebook to write in that could also double as a weapon.

♥Books by Barbie Bohrman♥
♥Books by Claire Contreras♥
There Is No Light In Darkness | Darkness Before Dawn | Catch Me | The Devil's Contract | The Sinner's Bargain
♥Books by Karina Halle♥
The Experiment in Terror Series | The Artist Trilogy Series | Dirty Angels | Devils | Love In English | Love In Spanish releasing 11/2014
♥Books by S.L. Jennings♥
Fear of Falling | Taint | Dark Light (Dark Light 1) | The Dark Prince (Dark Light 2) | Nikolai (Dark Light Novella 2.5)
♥Books by M.J. Abraham♥
♥Books by Sydney Simon♥