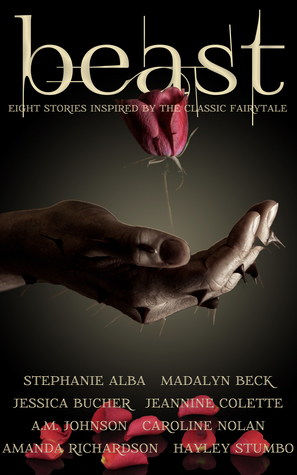 Beast - An Anthology

by Caroline Nolan
on March 14, 2017
Buy on Amazon
Goodreads


Eight stories inspired by the classic fairytale, Beauty and the Beast. 100% of the proceeds will be donated to the Wildlife Conservation Network.

A TALE ABOUT changing your fate once it's already written, because knowing your future can be a blessing or a curse.
. . .
A TALE OF blurred lines and two unlikely souls who find a way to make peace with their beasts—after all, life is hard, but death is harder.
. . .
A TALE OF a heartbreaker prince and the young sorceress who puts a tragic spell on him—it's no surprise he wants revenge—but first he must understand what it truly means to be called a monster.
. . .
A TALE OF a woman who wanted to live beyond the gates of her manor, and the Beast who broke down her walls.
. . .
A TALE OF a beastly storm that traps a doctor and his secretary in the basement of the hospital they work in—and what happens when old wounds are torn apart and two pasts collide.
. . .
A TALE OF two men defined by how they look and the one woman who refuses to see it.
. . .
A TALE OF a book thief who is kidnapped by a rival bandit and learns the meaning of true sacrifice.
. . .
A TALE ABOUT a man who wants nothing more than to die, and how he saves the life of someone who is dying to live.
I had the privilege of reviewing The Forgotten Man by Caroline Nolan which is a part of the BEAST Anthology.
This is a retelling of the classic tale of Beauty and the Beast benefitting the Wildlife Conservation Network and this book containing 8 stories is only $0.99!
This is the story of Adam, a fireman who has suffered the unthinkable while on duty and his journey of recovery and learning to live and love his new self.
While this story is short, Ms. Nolan doesn't skimp on the emotions that will pull at the reader's heartstrings. Nolan continues to write stories that a reader will gravitate to while maintaining her writing integrity with the power of her written words.
Readers will not be disappointed in this story that will remind you of the importance of these heroes who will do anything and everything to put out these fires and protect us.
I do want to add that I normally don't read short stories because in the end, I am always left wanting more and I felt the same after reading this one…I wanted to know more about these characters, how they were going to work…I wanted to see their future. I still enjoyed it though and whole heartedly support the cause that this is for.