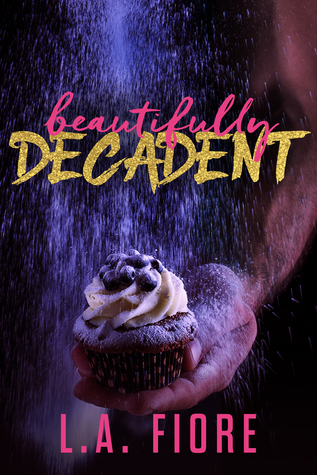 Beautifully Decadent

by L.A. Fiore
on June 28, 2016
Pages: 380
Goodreads

Avery Collins has just landed her dream job, pastry chef for the posh-Manhattan restaurant, Clover. Her new boss, Trace Montgomery, even helped with securing her an affordable place to live: a beautifully restored carriage house owned by his friend, Rafe McKenzie—a man that makes her catch her breath and stirs her imagination. Trouble is, he's involved with someone, his father is being released after 25 years in prison and Avery is just his tenant. Exploring the attraction that sizzles whenever they're together would be the icing on the cake, but Avery knows all too well that you can't have everything. Of course, what's cake without icing?

Rafe McKenzie's world shattered at nine when his father Liam—the only parent he knew—was arrested and convicted for armed robbery. Growing up in the system, Rafe managed to survive his childhood and now has a job he enjoys, a house he's restoring and a tight circle of friends. He's even working on reconciling with his dad, both eager to put the past in the past.

Happy for the income a tenant would bring, Rafe agrees to rent his carriage house to Clover's new pastry chef. When Avery Collins pulls up his drive, she's not at all what he's expecting. Funny, sexy and as sweet as her desserts, it doesn't take long for things between them to heat up. Just when it seems as if they'll have their cake and eat it too, the past comes back with deadly intent leaving Rafe to figure out who's pulling the strings before his world shatters again.
Enjoy a sneak peek into Beautifully Decadent by L.A. Fiore. This is a Contemporary Romance and can be read as a standalone. Enter the amazing giveaway below for a chance to win a $40 Amazon Gift Card and Winner's Choice of Signed paperback (US ONLY). Good luck!
☆☆☆☆☆ Preorder ☆☆☆☆☆
Amazon US | Amazon UK | Amazon CA | Amazon AU | Kobo

Shifting my focus to the carriage house, I admired the place I'd be calling home—the large doors that were reworked with an overhang, the same gray stone of the house, the creamy-white trim around the windows. And it was while I studied his work that I heard Rafe calling for Loki—a deep and very sexy voice. I reminded myself that he was Trace Montgomery's friend and after my embarrassingly extensive Internet search on Trace, outside of my employment at Clover, I wouldn't be moving in the same social circles as them especially since I was just Rafe's tenant. But that didn't stop me from spending more time than I'd care to admit, in the past few days, imagining what Rafe looked like because he was a friend of Trace's. Hot was a foregone conclusion. I kind of saw him as a happy blend of Henry Cavill and Chris Hemsworth; yes, the bar was set really high. In the next minute, Rafe stepped from the barn and I literally lost my breath. Damn they made them fine here. That bar…he just stepped right over it. And as alluring as his face was, it was the sight of his thigh muscles straining the denim of his faded jeans that caught and held my attention. I was a sucker for a man in faded jeans. And then realizing that to Rafe it would seem as if I was checking out the area between his thighs, I jerked my eyes to his face.
There was just so much to take in from the long black hair that swept his shoulders, to his face that was made up of all angles softened only by his lips; his only feature that didn't look to be carved from stone. His bright green eyes and his body—like his face—was what women's fantasies were made of. Including my own. Wide shoulders, narrow hips, biceps that stretched the sleeves of his tee and even though he wore a t-shirt, I just knew he had a six-pack. He was ridiculously sexy and this man lived here. I'd have paid $5000 a month for the pleasure.

*Giveaway now over – congrats to Jessie Llewellyn*
Enter to win a $40 Amazon Gift Card and a Signed Paperback copy of Winner's Choice (US ONLY).
All you have to do is share this excerpt on your social media account(s) (Facebook, Twitter, Instagram, etc). Sample message below:
 Decadent is Coming June 28th Are you ready for Rafe's Story? @LAFioreAuthor @shhmomsreading
Please make sure to post a link to your shares below. ONE WINNER will be chosen Thursday June 23rd. Thank you for sharing!