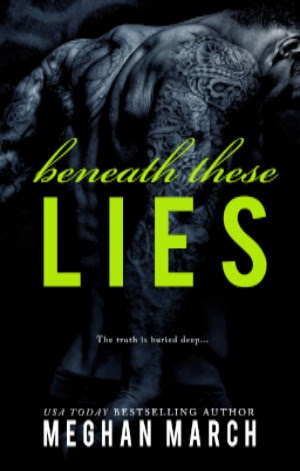 Beneath These Lies

by Meghan March
on March 15, 2016
Buy on Amazon
Goodreads


Look, but don't touch…she might as well wear a neon sign that says it. It just makes me want her more.

She might be above me in every way, but I still want her under me.

I've got no business touching her rich-girl skin, but that won't stop me from stealing a taste. Because rules were meant to be broken—especially when the prize is so fine.

In a world where nothing is as it seems, what's buried beneath these lies?
So I'm a little late to the game getting my review out for this one. But I have been DYING to read Beneath These Lies and to catch up with the series. Meghan was pretty hush hush when it came down to who the hero was in this one and can I say that when I opened up this book and found out who it was, I was so pleasantly surprised in such a good way!
I have ALWAYS had such a soft spot for the underdog and this was no different. I was SO IN LOVE with this hero that its crazy.
I know that this book has been out for over a month and its possible that you already know who this person is but I am going to not include this info in my review because I don't think that it should be spoiled. So this review will be brief.
I absolutely LOVE Meghan's trademark suspense in this series. Beneath These Lies was edge of your seat fun, angsty, there was a hot alpha male and OMG the HEAT! What was different about this one was that it was told in 3 alternating POV's which I enjoyed immensely. It wasn't confusing at all and it added to the many layers of this story giving the reader insight into everything that everyone was thinking.
The hero on this story is more than meets the eye and the reader will see that as they see his protective and caring nature for our heroine Valentina. Valentina has been hurt in the past and is not trustworthy of men and this hero will show her what a real man, a good man is all about.
There is mystery, there is intrigue and OH THE TWIST caught me by complete surprise. This is one of my favorite suspense series and I simply love Meghan March's writing. Readers looking for something hot, sexy and mysterious should look no further than the Beneath series. This is a #mustread on my list!
I can't wait for MORE!!!!!
♥READ THE SERIES♥
Book 1 – Beneath This Mask
Book 2 – Beneath This Ink
Book 3 – Beneath These Chains
Book 4 – Beneath These Scars
Book 5 – Beneath These Lies