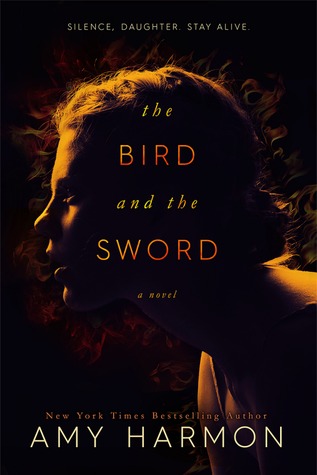 The Bird and the Sword

by Amy Harmon
on May 11, 2016
Pages: 352
Buy on Amazon
Goodreads


Swallow, Daughter, pull them in, those words that sit upon your lips. Lock them deep inside your soul, hide them 'til they've time to grow. Close your mouth upon the power, curse not, cure not, 'til the hour. You won't speak and you won't tell, you won't call on heav'n or hell. You will learn and you will thrive. Silence, Daughter. Stay alive.

The day my mother was killed, she told my father I wouldn't speak again, and she told him if I died, he would die too. Then she predicted the king would trade his soul and lose his son to the sky.

My father has a claim to the throne, and he is waiting in the shadows for all of my mother's words to come to pass. He wants desperately to be king, and I just want to be free.

But freedom will require escape, and I'm a prisoner of my mother's curse and my father's greed. I can't speak or make a sound, and I can't wield a sword or beguile a king. In a land purged of enchantment, love might be the only magic left, and who could ever love . . . a bird?
OMG I LOVED The Bird and the Sword by Amy Harmon!!!!!
So to be honest, I don't read a ton of fantasy. When I need a change, when I need something different to get me out of a book funk, I will pick up a fantasy or paranormal book because I know it will help cure me. Many books start having the same themes done over and over or sometimes I get into a book funk where things aren't working for me.
Well, I have to say that The Bird and the Sword  cured me of my book funk and then proceeded to give me book hangover because I couldn't pick up a book for a couple of days after I finished reading it! I have read some of Amy's prior books and I completely loved every glorious word in this book. The world building was phenomenal and this was something so unexpected coming from Ms. Harmon with it being her first fantasy book published. This is without a doubt a #TopPick of 2016.
So what's it about?
Well truth be told…I don't want to spoil this one for you. Everything you need to know about this book is detailed in the blurb. Sorry I have to be vague!
The prologue sent tingles through my body because I knew that I was in for a magical journey.
Ms. Harmon was able to transform every scene, making it feel real as I could see it so vividly in my mind. Her words so compelling and poetic that I felt that I was in this story, in another time and place. This book was so addicting that I hated when I had to put it down often times thinking about it and wondering what would happen next. And then rushing to get back to it because I couldn't stop reading.
I fell in love with these characters. All of their interactions from the main hero and heroine to secondary characters had me so enamored with this story.
And let's not even talk about the romance and emotions…nothing over the top…it was just all complete perfection.
The one word I have for this book is just WOW! I couldn't have asked for a better book to cure me of my book funk. I SO SO SO HOPE that Amy will write more of this beautiful magical world…this is a complete standalone but a girl can always hope <3
Thank you Amy for gifting readers with this magical story that will forever be in my heart.
"You don't need wings to fly."