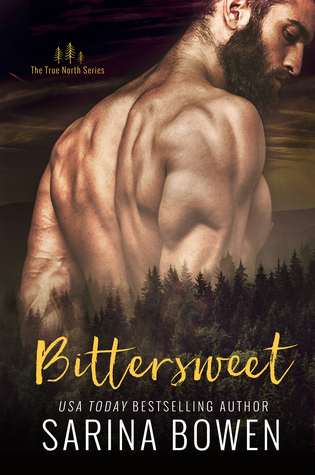 Bittersweet

by Sarina Bowen
on June 14, 2016
Buy on Amazon
Goodreads


The new series is set in Vermont. True North is populated by the tough, outdoorsy mountain men that populate the Green Mountain State. They raise cows and they grow apples. They chop a lot of wood, especially when they need to blow off steam. (Beards are optional but encouraged.)

If you can't stand the heat, get out of the orchard.

The last person Griffin Shipley expects to find stuck in a ditch on his Vermont country road is his ex-hookup. Five years ago they'd shared a couple of steamy nights together. But that was a lifetime ago.

At twenty-seven, Griff is now the accidental patriarch of his family farm. Even his enormous shoulders feel the strain of supporting his mother, three siblings and a dotty grandfather. He doesn't have time for the sorority girl who's shown up expecting to buy his harvest at half price.

Vermont was never in Audrey Kidder's travel plans. Neither was Griff Shipley. But she needs a second chance with the restaurant conglomerate employing her. Okay—a fifth chance. And no self-righteous lumbersexual farmer will stand in her way.

They're adversaries. They want entirely different things from life. Too bad their sexual chemistry is as hot as Audrey's top secret enchilada sauce, and then some.
With so many great books out there, this is the second time this month that a book from an author I truly love spent time sitting on my kindle waiting for me to open it up and read it….Well the bonus of the waiting is that I was able to binge read and dive right into book 2 Steadfast. Steadfast is Jude's story and I have to say from the moment I meet him early in Bittersweet I knew I wanted to know more.
Bittersweet is the story of Griff Shipley and Audrey Kidder; the first meeting between these two was hysterical.  Griff and Audry hooked up in college years ago and when they meet each other again they are grown up with careers neither would have predicted for the other.
Really though Bittersweet is more then just the story of Griff and Audrey; it is an introduction to the Shipley farm and all those who live and work there.
Ms. Bowen transported me to Vermont and I was captivated by this family farm and it's residence.  Griff, his siblings, his mother, his grandfather, Zach the farm-hand and as I mentioned Jude early on (he is the ex-con hired to help as seasonal labor) all these characters were well rounded, created a world that pulled me in and had me wishing I could read all day!
I loved Griff and Audrey and life on the Shipley farm.  The author did an amazing job weaving life on the farm with fun dialogue, off the chart sexual chemistry and the life of adults trying to make a relationship work amongst life goals and business goals.
Audrey's settling into a comfort level at the farm had me knowing this was so meant to be!
I won't tell you how this resolves but I will say I was smiling from ear to ear and that this is a must read series for them!
I am off to jump into Steadfast, Jude's story and then to wait for Keepsake, Zach's story (a shy virgin who escaped a cult).