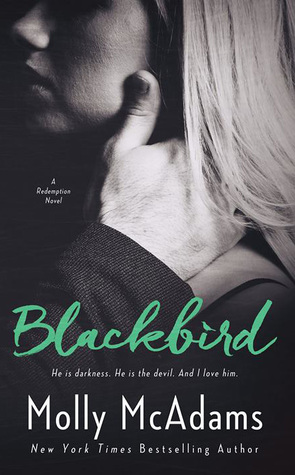 Blackbird

on February 28, 2017
Buy on Amazon, Buy on B&N, Buy on iTunes, Buy on Kobo
Goodreads


From New York Times bestselling author Molly McAdams comes a powerhouse romantic suspense that will have you questioning your morals and second guessing your view on love.

I live in a world few know exist. I've trained for this. I know what to say, what to do, and how to act. I've perfected the lethal calm required for this life.
Now it's time to buy my first girl. But all it takes is one look at the brave girl who starts singing mid-auction for that calm to slip.
Briar Chapman is going to be the death of me, and I don't care. I'll take every day with her until that death comes, and I'll welcome it when it does.

On the outside, Lucas Holt is what nightmares are made of. A man cloaked in darkness, with sin-filled eyes and an enticing grin. A devil so devastatingly beautiful and cruel that his very presence instills fear.
But beneath his terrifying, ever-calm exterior is an affectionate man haunted by a past that refuses to stay buried. And Lucas looks at me as though he's finally found the only person who can make it all go away.
We're a battle of the brightest day and the darkest night—and I want to lie in the wake of our war.
Blackbird by Molly McAdams is LIVE!!! Get a sneak peek into the book below and make sure to enter the giveaway!!!
"McAdams hits Blackbird out of the park with a spellbinding tale of unexpected love and unfathomable redemption. Her ability to draw you in begs you to turn the page to see what happens next while wanting to take your time and savor the words of the story." – New York Times bestselling author K. Bromberg
I don't usually read dark books and have never read a Molly McAdams book so I was so excited to give Blackbird a try. WOW! This book starts off so raw and captivating and as a reader, I could feel in my bones that something bad was going to happen.
I don't want to give too much away and ruin the story for you but Blackbird started off in the worst case scenario for Briar Chapman in the case of mistaken identity. Briar aka Blackbird (you will learn the reason for her nickname) is stolen from her happy life and thrown into darkness and despair.
I wanted to hate Lucas but for some reason I couldn't. I can't even explain why because through the nightmare that was to become Briar's life, I could see the compassion and caring and nurturing side of him.
I'm DYING to say more….but I just can't. For all the suspense, I couldn't stop turning the pages because I was just greedy for more.
Raw, gritty, and exciting are words that come to mind when I think of this book. I was shocked over and over with the OMG moments and completely emotional in the moments that the words took my breath away.
It's surprising what one can find from the broken darkness…I am completely addicted to this series and I can't wait to read more. Yes, Molly McAdams is a new author to me and yes, I am completely enthralled by her words and this is the start of a series I know I won't soon forget!

My head shook absentmindedly as I tried to comprehend all that he had told me.
Knowing the man Lucas was behind the darkness, I couldn't grasp why he had ever fought to get into this life at all.
"I'd been wondering what had happened in your life to make you into the devil I saw so often at the beginning," I began, my voice soft . . . almost hesitant. "But now I wonder how you were able to remain you, instead of letting the devil completely consume you."
"Don't ever make the mistake of thinking that that part of me isn't there."
"I couldn't," I said honestly and huffed a small laugh. "He's always there . . . I see you fighting him all the time. Now, more than I have in a long time."
He held my stare, and his dark eyes burned with something I couldn't define. "You're afraid of me."
I wished in that moment for my room so I could have something to hide behind, at least for a minute, because I knew I couldn't hide any of the emotions coursing through me, and I couldn't lie to him. "Yes," I whispered and hated that he seemed to not only expect my answer but accept it. Reaching out, I traced around the outer edge of his eye, thankful I wasn't shaking. "I'm afraid of the eyes I'm looking into right now. I've been afraid of them for a long time. I'm afraid of what I know about you now, but I wonder if I haven't always known. If you haven't hinted at it before . . ."
"Briar—"
"But the things you see in your mind that force me to see these eyes? They've been there this whole time. They were there when I fell in love with you, and I knew when I fell that they would always be there." I watched as he fought with whatever haunted him and lowered myself back onto the bed and curled against his side. "The darkest part of your soul can terrify me, but it won't cause me to leave."
He gripped my hand in his, and mumbled, "Sometimes I wish it would." Before I could react or respond, he continued. "If you think I'm dangerous, maybe you understand what my life is like, and maybe you can grasp the danger in throwing out the rules for you. Eventually someone other than William will see what you mean to me. And with who we are and what we do, we all have so many enemies who've been waiting for a chance to get back at us—to hurt us." He raised our joined hands to kiss my wrist and let his lips linger on the skin there. "We don't have weaknesses, Briar, but you are mine. They've been waiting for you."