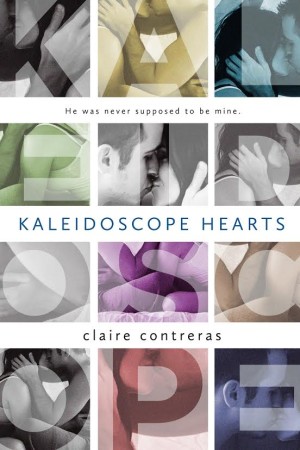 Kaleidoscope Hearts

by Claire Contreras
on January 22, 2015
Goodreads

He was my older brother's best friend.
He was never supposed to be mine.
I thought we would get it out of our system and move on.

One of us did.
One of us left.

Now he's back, looking at me like he wants to devour me. And all those feelings I'd turned into anger are brewing into something else, something that terrifies me.
He broke my heart last time. This time he'll obliterate it.
If there is one book that we are excited to get to you this year, it would be Kaleidoscope Hearts by Claire Contreras. We had the privilege of reading an early copy of this book and it is BEYOND AMAZING. We have said it many a times, but this is Claire's best work yet!
Kaleidoscope Hearts releases on January 22nd but get a sneak peek into the book ahead of time!
 Make sure to enter the giveaway below for a chance to win an ARC of this book.  Good luck!
You can read the excerpt in its entirety by clicking the links below:
1/15 – Schmexy Girl Book Blog
1/16 – Angie and Jessica's Dreamy Reads
1/17 – The Book Starlets
1/18 – Shh Moms Reading

"Elle, I'm sitting in a bed practically naked with you, doing everything in my power to keep myself from getting hard because we have an audience, and as you can see, nothing is working." I look down, of course, and gape at the large condition inside his boxers. "Yeah. So obviously, I don't see you as a little sister. I can't believe you would even…" He trails off with a huff.
"Okay. Look at each other again," Mia says. "Same pose and hold it."
His hand goes back to my hair, mine goes back over my boobs, and we look into each other's eyes again.
"I want to kiss you so bad right now," he whispers against my lips.
"Don't," I say in a breath. "That's a rule."
"I don't like rules."

For a chance to win an ARC of this book, please share the links to the blog hop on your social media sites (can be FB, Twitter, Instagram, Tsu, etc). Reply to this post with links to where you shared and ONE winner will be chosen on TUESDAY JANUARY 20th. Good luck!  You will WANT TO READ THIS BOOK SO MAKE SURE TO ENTER ENTER! Please use following tags @claricon #KaleidoscopeHearts #ComingJan22. Thank you!