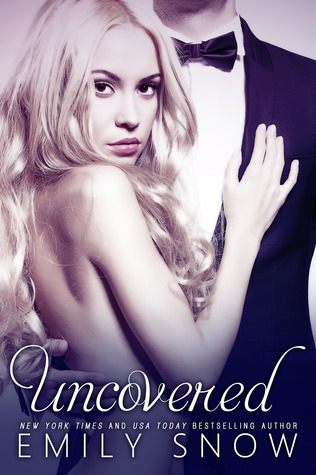 Uncovered

by Emily Snow
Buy on Amazon
Goodreads


My name is Lizzie Connelly, and I have it all. The gorgeous apartment. The new job most women would rip out their own souls for—working for Margaret Emerson at Emerson & Taylor. I have one of those lives you've always dreamt about, the kind you only see on HBO. But, the thing is, that life is a lie. A façade.

It all started with one call. "Everything you know about your story—your father's story—is a lie. It's up to you to uncover everything." One call, and I turned my world upside down to dig my way into Margaret's life—the woman who I'd never laid eyes on until recently. My stepmother who took everything after my father died fourteen years ago.

The plan was simple—figure out what role she played in my father's death and expose her to the world.

But here's another thing: simplicity doesn't exist, and my plans are flawed from the beginning because I never anticipated Oliver. Sexy, too smart for his own goddamn good, and infuriating, he's the one person who could blow my plans to uncover Margaret. She's his mother, and in another life, that would have made him my stepbrother.

I want to pretend that none of that matters, that I can simply finish what I came to do without sparing him a second glance and another thought.

Like I said, though, there's no such thing as simplicity.

My real name is Gemma Emerson.

And this is my story.
For those who have already read UNCOVERED, enjoy a bonus scene below – this is Oliver's POV at his birthday party!!  DO NOT CONTINUE as there may be SPOILERS!!!!
Make sure to enter the giveaway below – Good luck!!!

Emily Snow gets better and better with each book and I LOVED Uncovered! There was mystery, suspense, intrigue and love – I was captivated from page 1 to the very end. Complete with mind blowing sex and characters we come to know and love, this is Emily Snow at her finest since Devoured and I was blown away.
What I loved SO MUCH about this book is that it was a complete story, so yes it is on the longer side of what you normally expect from Ms. Snow but I appreciated that I was able to get all of the information all at once and finish the book knowing the outcome. Would I have wanted more?? Hell yes, she knows how I love epilogues and to know what happens after The End.
I won't tell you more about the story other than what is in the synopsis as you should go into this not knowing anything so you can try to solve the mystery on your own – I will tell you that there are twists and turns that were completely unexpected and I love that Emily took a step out of her norm to write suspense because it was captivating and entertaining and different – that's the key with so many books releasing daily. The ones that are different are the ones that stay with you and Uncovered will definitely do just that.
I have met a new leading man in Emily's repertoire of hot men and I adored Oliver, he is sexy, possessive, confident and above all kind…you will fall in love with him too I promise!
Give Uncovered a try – you will not be disappointed!

Lizzie has done something to me.

Something that pierces the fuck out of my chest the moment she steps into a room—or in this case, Margaret's courtyard. I didn't expect her to come out here to find me. When I told her I wanted her at this sham of a party Finley had put together, that wounded look had danced into her brown eyes, and I was sure I'd lost her for the night. But there she is—a vision in that blue and white dress I want to carefully unwrap, a vision that puts a bitter taste in my mouth because I feel like a damn idiot for letting her fool me.

Still, I want her. So much she's all I see or hear right now, despite the music and the bodies moving around me.

"Oliver?" Isadora's high-pitched voice splinters through my thoughts. "Did you hear a word of what I just said?"

Lifting my scotch to my mouth, I regard her leaning drunkenly against Frank over the rim. "You were talking about payroll?" I guess incorrectly on purpose. She sucks in her cheeks, and Frank glares bullets at me. On the way home tonight, she'll tell him what a douche I am all, hiccupping every other complaint, and he'll probably agree. He's one of my oldest friends, but damn if his wife doesn't drive me up the wall. "I know what you said, Dora, but the answer is no," I add in a serious voice.

She wants to play matchmaker. It never works out, especially now that all I can think about is a woman with multiple personas. Before Dora can argue, I touch her shoulder. "If you'll excuse me."

Swirling my scotch, I leave them where they stand and stalk slowly across the courtyard with my eyes focused on Lizzie's.

No, Gemma's.

She stares back at me, her brown eyes wide like she's going to bolt at any second. I need her to stay put—even if I don't know who she's supposed to be tonight.

Has she come to me as the woman who'd climbed in my bed night after night, the woman whose perfume drives me to distraction? Or is she here as the other one—the woman with a vendetta against my mother … my stepsister?

I'm already questioning my sanity when I step next to her, brushing her curvy little body with mine.

"Your guests will talk," she whispers, refusing to look at me. "Your mother will talk."

Like she gives a fuck what Margaret thinks. When I say as much aloud, I hear her sharp intake of breath.  "You don't know anything about me," she seethes.

I couldn't have held back the snort even if I tried. "No, I know everything about you. I know your name, where you live, what you do for a living." I know you've had a hard life, and I know you should just trust me, I continue silently.

"And you're judging me for the way I put food on my table?"

She didn't get it—I didn't give a fuck if she'd accepted money to date half of Vegas. What tore me to pieces had nothing to do with her job as an escort and everything to do with her charade here in L.A.

"I could never judge you for that," I say. "I'm judging you for lying."

She swallows hard and looks up at me. "I'm sorry I did that, but I couldn't tell you."

"I believe you. I'm surprised you came at all tonight."

"And I'm shocked you came alone," she immediately retorts, making me want to drag her into my arms and use my tongue to take away her desire to argue with me. I'm the one who should be arguing. I should be demanding answers.

But also, I want to feel her lips, that sweet tongue of hers.

That bitter taste returns to my mouth when I come to grips with how fierce that need is. "There was no other woman I wanted to be here with other than you," I inform her.

"Gemma or Lizzie?" she whispers.

"Both. Whoever you are tonight, I'm glad you're here."

Flushing and focusing her attention back to my guests, she fingers a lock of blond hair. I picture it wrapped around my fingers, and my cock twitches. "Your mother required I show up to serve as a doorman," she explains.

"Shame."

"Would you have preferred I told her no?"

Grabbing her small hands in mine, I lead her to the dance floor, pulling her soft body to mine before she can protest. "I would've preferred you came because you wanted to be here. I would have rather you came on your own with answers."

"You gave me until tomorrow."

"That doesn't mean I can't hold you—can't talk to you—tonight. I'm dancing with you, with whoever you are this evening, whether you like it or not." I touch her back and breathe in the scent that would haunt me for hours after she was gone. "Are you going to tell me no on my birthday?" I murmur into her ear as I dance with her.

Even though I don't know if she'll give me answers tonight, she won't leave this floor. I can tell by the way she melts against my chest, so I hold her closer.

I hold her like she might just be ripped away from me.