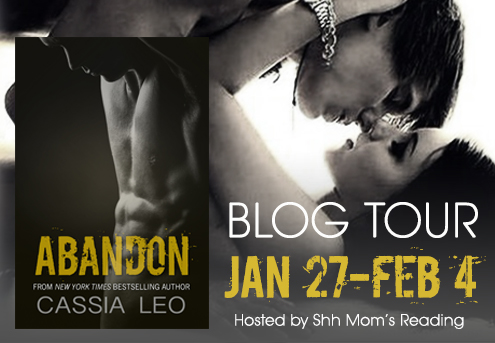 Synopsis
From New York Times best selling author Cassia Leo, comes a gritty love story about overcoming your demons.
Tristan never gave a shit about the girls he used and abandoned. His man-whore ways were ingrained in him from birth. His past has always been a mystery his conquests have wanted to crack, but no one has been able to… until now.
Senia has always fallen for the wrong guys, but this time she's fallen for the worst of them. Her attempts to guard her heart from Tristan's charms and sexual magnetism only spur on his pursuit. And soon, the electric energy between Tristan and Senia sparks a fire too wild to contain.
Now Tristan must decide if he will abandon his old ways or if he will stay true to his past and abandon Senia instead.
Blog Tour Schedule
 January 27th
Sinfully Sexy Book Reviews – Promo Excerpt Only
Becca the Bibliophile – Review and Playlist
Reviewing Romance – Review
G&C Book Blog – Review and Excerpt
Natasha is a Book Junkie – Review
Hesperia Loves Books – Review and Dream Cast
Novel Seduction – Review and Playlist
The Autumn Review – Review
Mean Girls Luv Books – Review and Excerpt
Book Boyfriend Reviews – Review and Excerpt
Books Over Boys – Promo Excerpt Only
January 28th
The Danish Bookaholic – Promo
The Book Hookers – Review
Twinsie Talk – Review and Excerpt
Love N Books – Review, Excerpt and Playlist
New Adult Addiction – Review
Reality Bites Let's Get Lost – Review and Excerpt
I Love Lady Porn – Review, Excerpt and Playlist
Sassy Mum Book Blog – Review, Excerpt and Playlist
 January 29th
I'll Be Reading – Review and Excerpt
Book Addicts Not So Anonymous – Review
Jess Time To Read – Review
Nose Stuck in a Book – Review and Excerpt
Books Boys and Badass Bloggettes – Review, Excerpt and Playlist
Gutter Girls Book Reviews – Review
 January 30th
Fab, Fun and Tantalizing Reads – Review, Excerpt and Dream Cast
Have Book Will Read – Review and Excerpt
Bridger Bitches Book Blog – Review and Excerpt
Book Obsession – Review, Excerpt and Playlist
January 31st
Books Unhinged – Review
Fictions Our Addiction – Review and Dream Cast
Book Hooking – Review
February 1st
Babus Bookshelf – Review
Just Booked – Review and Excerpt
Carver's Book Cravings – Review
February 2nd
Sarah's Book Blog – Review, Excerpt and Dream Cast
The Book Bellas  – Review
We Like It Big Book Blog – Review
February 3rd
Three Chicks and Their Books – Review and Character Interview
Jodie's Wine List – Review and Excerpt
Whirlwind Book Reviews – Review and Author Interview
The Book Enthusiast – Promo
February 4th
True Story Book Blog – Review and Excerpt
Stories and Swag – Review
Holly's Red Hot Reviews – Review
Shh Moms Reading – Review