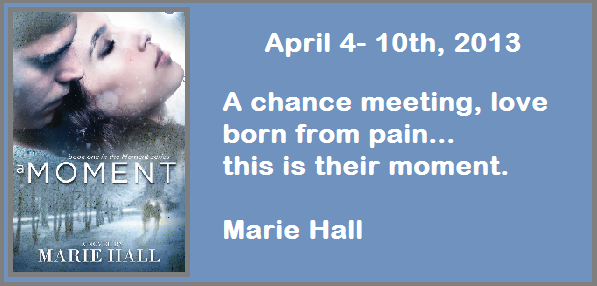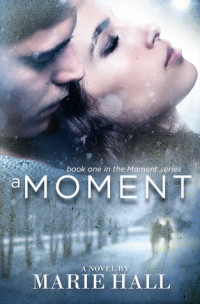 Today we welcome Marie Hall to our blog as she celebrates her new book A Moment.
Leave a comment after this post for a chance to win an ebook of this great book!  Winner will be picked tonight!
Enter below using Rafflecopter for a $50 gift card!! Good luck!
---
5 STARS!!!
Synopsis
Ryan Cosgrove and Liliana Delgado are on a collision course with destiny. They don't know it yet, but before the night is over their lives will be forever changed.
Spending Valentine's Day at a burlesque bar, hadn't been Liliana's ideal way of spending a Friday night. She'd much rather be back at campus, doing homework… until she meets Ryan. Tall, athletic, and gorgeous, Lili can't keep her eyes off him, and despite his gruff manners and drunken disposition she's intrigued.
Ryan's got demons, and they're deep, dark, and eating him alive. Regardless of his attraction to the petite brunette he's tired of fighting, of pretending the last fifteen years haven't been a daily struggle just to get out of bed every morning. That night he decides to end his pain, to leave it all behind and float away into the blessed darkness of oblivion. But fate has other plans for him, Lily finds and rescues Ryan, determined she'll not only save his body, but his soul too.
This is their moment…
Kim's Review
I received an ARC of this book in exchange for an honest review and I'm participating in the blog tour. The synopsis of this book intrigued me and I seriously had no clue what to really expect from the book. I loved that the book starts off with 14 year old Liliana with her father ~ terrified, alone ~ where she was and why made me…


She spots a gorgeous guy who she thinks locks eyes with her but did he? Ryan he's at the same place ~ pissed off, alone, but liberated? Why he was there made me………………………………………


Fast-forward seven-years and Liliana lives with her Mother, son Javi and mothers nurse, Adele. She's a gorgeous college student making something of herself when one might think she wouldn't have. But Lili's life is work, school, and her family. She doesn't go out. She doesn't do what "normal" college age students do. She has simply too much to do being a single mother with an autistic son and a mother who is ill. The one thing Lili and I have in common is COFFEE ~ heck yes I LOVE my coffee and appreciate my favorite place where I'm a regular and I never have to say what my order is, yes coffee makes me……


Lili knows Alex from her favorite coffee shop and he invites her to go out on Valentine's Day with him and his cousin, Ryan. It's friends only just getting out and Lili-bean, the adorable nickname Alex has for her, agrees to go. Ryan he is going out on Valentine's Day for an entire different reason. It's the date his entire life was changed many years ago when he was just a child. He was discharged from the service and now he's a fighter. Oh yes, he's gorgeous, he has demons though HUGE demons that he refuses to share with anyone and Alex knows what those demons are.
Alex is also a college student and described as your All-American gorgeous guy. Whenever I picture Alex I immediately do this……..


Well, Ryan meets Liliana that night and life will never be the same for either one of them. That one meeting changes everything! This is a story of a broken boy who grew-up to be a damaged man. What Ryan endured on Valentine's Day many years before is heartbreaking, devastating and down right shocking. Liliana has endured a lot in her short life and she always put's Javi first. He is her number one priority. Will she let damaged Ryan into her life? Will Ryan's demons be revealed to Liliana? Well you are going to have to read A Moment to find that out but I will share what I endured when I read this one….
When Ryan & Lili first meet and they make eye-contact well I was……


being that this is told in both POVs you get to experience this through both their eyes. As the night moves along if I was present I would've done this to Ryan……………………………………..


yes he is a ruggedly gorgeous man but you will find that the story will pull you in quickly. I felt I was there with all of them. Heck if I was I would've done this to Alex……………………………..


what occurs at the end of the evening had me…………………….


then I was ………………………………………………….


I can't imagine what Liliana experienced at that point… don't worry though things even out and soon there is ……………………….


There is a little of this…………………………………….


but that's not what this story is all about. There was a point in this book I started to get…………………………………………


but then I was right back to where I was………………………..


by this point I knew, this wouldn't last, I just knew it ~ Ryan had to face something's and when Liliana did something I totally understood why but Ryan just…………………………………………….


understandably so. Another Valentines Day rolls around and I was chewing my finger nails wondering what it would bring. Would I get what I needed out of this? You will understand what I mean by that question when you read it. When Ryan well when he faces his past I….


and then I was going ………………………………………


by the end of this book I was so doing this……………………..


FANFREAKINGTASTIC ~ I was shaking by the end of this emotional read about healing and trauma and dang the author did a damn good job ~ It's about facing your demons no matter how difficult and learning to trust and really live again. This book deals with very sensitive subject matter that may be difficult for some readers. Parts of this book are so down right sad that there is no way your emotions won't be engaged. What Ryan has endured and then lived with and how he think he "copes" is hard to read about but in the end you see what the wonder of love can do for you.
This is definitely a 5 star read for me! There is no cliff-hanger and there is a book 2 which I CANNOT wait for which will be Alex's story cause believe me he as one too and I'm psyched the author is going to tell it and from another perspective that more than often is overlooked in situations like this. I highly recommend you read this one ~ It will be so worth it and in the very end I hope you are as giddy as I was ~
About the Author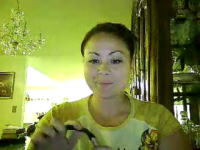 Marie Hall has always had a dangerous fascination for creatures that go bump in the night. And mermaids. And of course fairies. Trolls. Unicorns. Shapeshifters. Vampires. Scottish brogues. Kilts. Beefy arms. Ummm… Bad boys! Especially the sexy ones. Which is probably why she married one!
On top of that she's a confirmed foodie, she nearly went to culinary school and then figured out she could save a ton of money if she just watched food shows religiously! She's a self-proclaimed master chef, certified deep sea dolphin trainer, finder of leprechaun's gold at the end of the rainbow, and rumor has it she keeps the Troll King locked away in her basement. All of which is untrue, however, she does have an incredibly active imagination and loves to share her crazy thoughts with the world!
---
GIVEAWAYS
a Rafflecopter giveaway