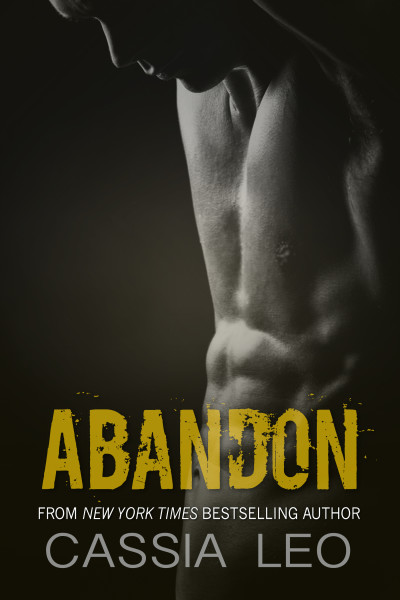 Today we welcome Cassia Leo to our blog as she celebrates her new release ABANDON! This is Tristan's story!!!
Enjoy an EXCLUSIVE sneak peek into CHASING ABBY!!!
Enter for a chance to win an amazing giveaway using Rafflecopter below. Good luck!
---

This gritty spin-off of the New York Times bestselling Shattered Hearts Series follows mysterious and sexy Tristan as he attempts to abandon his demons in the name of love. This full-length novel can be read as a stand-alone or after Bring Me Home.
A steady stream of meaningless sex is all Tristan has left when he discovers the grandmother who raised him is dying and his best friend is getting married. He is lost; and the dark secrets in his past keep coming back to remind him of this.
Until Tristan has an idea that will change his life and fulfill his dying grandmother's wishes: Abandon his playboy ways and settle down.
And who better to do it with than Senia, the girl who has occupied his thoughts since their scorching hot tryst in the back of his sports car. The girl who makes him laugh and feel like a kid again.
But when his world begins to crumble around him, the pain Tristan is hiding finds its way to the surface. Will Tristan finally learn to trust again? Or will he abandon Senia when she needs him the most?

Oh Tristan!  I have loved him from the get go!  Yes, he was an ass at times but I felt that he was so misunderstood – I felt that there was more than the hard exterior he has shown us in the first books in the Shattered Hearts Series and after reading Abandon, we learn that my theory was so right on.  Yes, this book can be read as a standalone but I think to get the full effect of Tristan and Senia and their friends, you MUST read the entire series.  The Shattered Hearts series is among my favorite and Cassia Leo is brilliant!
Tristan never had a true mother figure growing up – Elaine, as he calls her, is a deadbeat mom, that when we learn the extent of her "relationship" with him, my mother instincts kick in and I want to pull her hair out and scratch her eyes out – I want to go back in time and protect this poor broken boy who never had a true childhood because she ruined his youth and innocence.
His true saving grace through all of this is his younger sister Molly and his grandmother.  His grandmother took them in when they were younger to try and give a better life to her grandchildren.  As Tristan grows to be a teenager, we experience his frustrations with living with his grandmother and trying to rebel and grow up.  But though he runs away to try to make money of his own, deep down he knows the difference between right and wrong and the morals and love his grandmother has instilled in him.
When Tristan learns that his rock is dying of cancer, he is crushed which is understandable because she has been his true mother growing up.  Tristan realizes the importance of becoming an adult with the possibility of having to raise his sister and the realization that true love and companionship is more important than his player partying ways.  This is his opportunity to show his grandmother that she raised him right – to be a true gentleman with a kind heart.
We met Senia in prior books and I have loved her strength of character, her witty sarcasm from the start.  Tristan and Senia's interactions have had me laughing since book 1 and this book is no different.  Their attraction and connection is palpable and Cassia Leo sure knows how to write a steamy sex scene that's for sure!  When these two are faced with the realities and responsibilities of being an adult, will they be able to face them together?  Will Tristan be able to open up to Senia and allow her into his heart?
This was a quick read filled with a TON of emotion.  I don't want to give anything away as I fully believe that you should experience it for yourself.  I will say that Cassia Leo has talent – she is not only able to write emotion so well that you can feel it coming out of your reading device but she takes you on this beautiful journey complete with heartbreak, character growth, learning to put your trust in another and finally love.  Cassia also knows how to write an epilogue for those of you who already know – this one was AMAZING!  We feel a range of emotions while reading Cassia's books and this wasn't any different.  She writes great stories and characters that anyone will fall in love with.
I can't wait to read more from Cassia Leo – she is an author that is forever on my must read list!  Thank you for giving us Tristan's story!

Enjoy a sneak peek into CHASING ABBY
Synopsis
Book Four in the New York Times and USA Today best selling series.
Five years, six months, eight days….
It's been eighteen years since Abigail Jensen was born with a gaping hole in her heart and five years since she collapsed on the soccer field and spent a harrowing three weeks in the hospital fighting for her life. Five years, six months, eight days since she found out she was adopted.
For five years, Abby has gone to sleep wondering about the family she never knew and waiting for her eighteenth birthday. But when her birthday finally comes, she hesitates. What if her birth parents want nothing to do with her?
A month after her birthday, Abby breaks the news to her parents that she will be moving in with her boyfriend, Tate. Lynette and Brian Jensen are adamant they will not pay her college tuition unless she lives with them. This is all Abby needs to send her searching for the parents she never knew.
When Abby and Tate show up on the doorstep of Chris and Claire Knight, they are overjoyed to see the little girl they lost eighteen years ago standing before them, beautiful and on the cusp of womanhood.
But the news of Abby's rebellion leaves Chris and Claire conflicted. They agree to let her and Tate stay with them for the summer, to catch up on all the years they've missed. But when their visit comes to a close, and they encourage Abby to return home, Abby can't decide what hurts more: feeling unwanted by her birth parents; being misunderstood by her adoptive parents; or the very real and painful hole in her heart.
*Disclaimer: May be edited or deleted prior to publication.
Lynette

This is the third family dinner in as many days that Abby has refused to speak to us since we returned from the hospital four days ago. I want to shake her to force her to speak, but I know there's only one thing that will bring back her voice. And I can't give it to her.
She sits across from me, stabbing her dinner salad over and over again, oblivious of the shrill sound her fork makes every time it grates against her plate. She eats quickly; eager to get away from the parents who betrayed her. Brian also remains silent and, for once, I'm not happy about that.
When I met Brian my senior year at UNC Chapel Hill, he was working as an electrician for a company the university had hired to upgrade the lighting in the campus theater. I was twenty-two, talkative, and thin as paper. He was twenty-four with broad shoulders and hardly spoke a word the first three weeks we dated. There was a quiet gentleness about him that I found so completely enthralling. I wanted to crack open his shell and devour his secrets. He's still a quiet person, but he's been very vocal about Abby's right to know her parents lately.
Still, I wish he would say something instead of just shoveling salad and steak into his mouth. I wish he'd show me just a few words of support. More than anything, though, I wish he'd come off this idea that Abby is old enough to know Chris and Claire. She's only twelve.
She's struggling to push the last few bites of salad into her mouth. She hasn't been able to eat much with the new medication they have her on, but it seems she's determined to put all that food away so she can get away.
"Stop doing that. You'll make yourself sick," I say, putting down my fork as I've suddenly lost my appetite.
She gags as she swallows the last bite of salad and rises from the table with her plate in hand. She disappears into the kitchen without a word and I stare at her empty chair as I listen to the faucet come on in the kitchen, then the opening and closing of the dishwasher door. Then silence.
I glance at Brian and his elbows are resting on the table as he stares at Abby's empty chair. I want to ask what he's thinking, but I don't want to know. Soon, he stands up and reaches for my plate.
When the dinner dishes are clean, I lean again the counter in the kitchen and Brian leans against the island across from me. I stare at his feet for a moment before I look up. He's wearing that expression I fell in love with twenty-five years ago; that hardness that masked the vulnerability underneath.
"She'll get over this," I whisper, hardly able to bring myself to say the words aloud. "Eventually, she will get over it."
"Will we?"
"Don't say that."
He takes a step forward, his bulky frame towering over me as my back is pressed into the counter. "I don't want to lose either of you," he says gruffly as he lifts my chin. "But it looks like that's what's happening. And you're the only one with the power to stop it. It's not too late to make the right decision, Lynette."
He lets go of my chin and leans over. I close my eyes as I anticipate his lips on mine, but the kiss never comes. When I open my eyes, he's gone.
If I give in to Brian, Abby will find out that her birth parents are, young, rich, and famous: a rock star and an author. How can a middle-class electrical contractor and stay-at-home mom ever hope to compete with that? I know we're not competing for Abby's love, but that's exactly what it will feel like once Abby finds out their identities. Every time she speaks of them excitedly, I'll wonder if she speaks about us like that to Chris and Claire. And she will speak of them that way.
They're practically perfect. They donate millions to charity; they're in their mid-thirties and still look like they're in their twenties; and they're still madly in love. You can see it in every photo of them ever taken. And the worst part: they live twenty minutes away. She'll be able to see them whenever she wants.
I push off the counter and head upstairs. As I reach the second floor, I hear a sound coming from Abby's bedroom. I tiptoe toward her room then I close my eyes as I listen. She's playing her guitar and my eyes instantly well-up with tears when I realize she's singing "Blackbird" by The Beatles; a song about learning to fly with broken wings.
It's the first time I've heard her voice in four days. I want to go in there and hold her and tell her everything will be okay. But if I can't tell her everything, then that will just be a lie. I can't tell her the reason she feels like a caged songbird. I can't let her fly away.
JOIN US for the Abandon Release Event on February 4th here on Facebook – lots of games, prizes and FUN!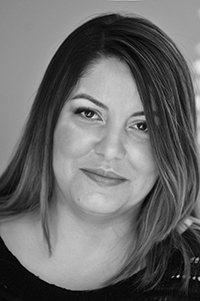 New York Times and USA Today bestselling author Cassia Leo grew up in California and has lived in three different countries. She loves to travel and her dream is to one day score a record deal based on her awesome shower singing skills. She is the author of the Shattered Hearts series (Relentless, Pieces of You, Bring Me Home) and the Luke and Chase series.