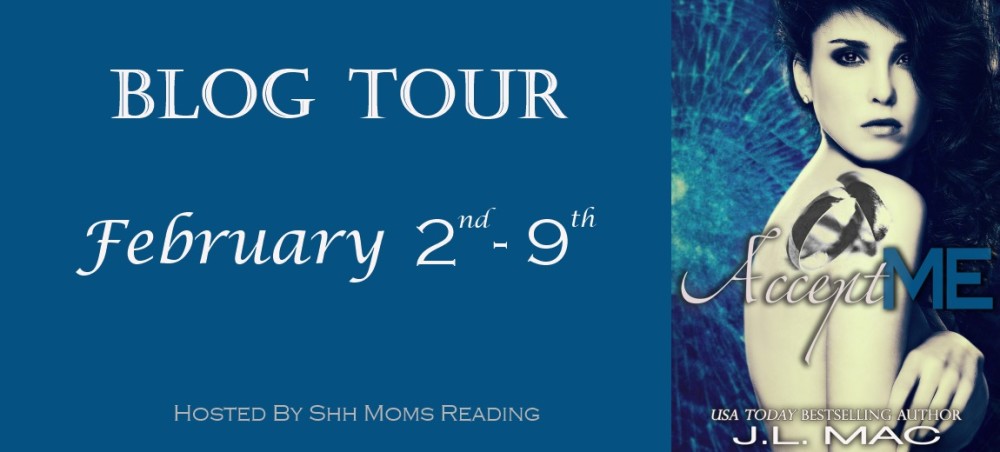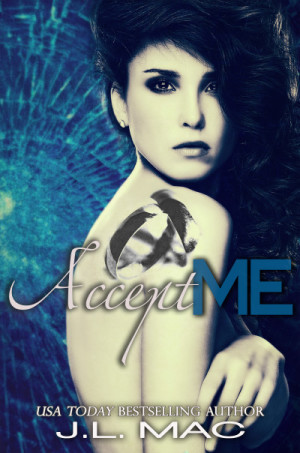 Today we welcome JL Mac to our blog as she celebrates her new release ACCEPT ME. This is the final book in the Wrecked series featuring Damon and Jo! Ahh!
Enjoy an exclusive teaser from REACH ME below and enter for a chance to win some amazing giveaways using Rafflecopter! Good luck!
---

For the first time in her life, 25-year-old Josephine Geroux has a future worth looking forward to. She has her beloved bookstore, she has all the comforts that money can buy, she has found the love of her life, and most importantly, she has found hope where there was none for 16 long years.
After the tragic deaths of her parents and her troubled life as an orphan, she met Damon Cole, a man who has everything to do with it all. He's part of the reason for her wrecked life, but he's also the reason that her heart has been restored. He's her future and the exact reason that she's so willing to fight the demons from his past that threaten the very future that she so desperately seeks.
In the final book of the Wrecked series, Jo is confronted with a turbulent history that has her negotiating the twists and turns that end up being far more difficult to handle than she ever could have anticipated. Jo's relationship with enigmatic Damon is delicate at best, especially after she inadvertently discovers details about his life that may have been better left buried.
Since Damon's dark past has remained hidden for so long, Jo's investigation puts her dangerously close to jeopardizing her already fragile relationship with the man she loves.
Jo has a promising future at her fingertips; she must decide if revealing the truth to Damon is a gamble she's willing to take. With so much at stake, acceptance proves to be Jo's greatest battle to date.
This is a hard book to rate without giving everything away.  So my apologies if this is brief as I fully believe you should read this series in its entirety to get the full affect.
J.L Mac captured my attention with Wreck Me where we met Damon and Jo, learned about their tragic past and how they were connected though not realizing it.  I fell in love with this couple.  The dominating caveman style love that Damon had for his lady and Jo's attraction and undying love for her "Big Man."  Restore Me brought me to the depths of despair as Jo fought to restore Damon's belief in himself and their love and his worthiness to receive all of these wonderful things in his life.  Accept Me brings this couple full circle.
Accept Me is Damon's history.  We get a lot of answers in this book and I have to say that I was emotional throughout – I cried at least 3 times.  Damon and Jo have been through so much as individuals and as a young couple.  Throughout this series they have saved not only each other but have survived because of the love that they have for each other.
I didn't necessarily agree with Jo hiding secrets from Damon though I understood where she was coming from as we saw in Restore Me that Damon has just healed.  Though Damon's past was something that no one would wish on their worst enemy, I enjoyed learning of it and where he came from.  Who he has become because of it.
I would have liked to see more interaction between Jo and Damon as they have just found themselves back to each other.  But in the times that they were together, J.L Mac knows how to write sex – these two are so HOT its combustible!  The journey for this couple is not easy and there will be more that they will encounter in this book but I thoroughly enjoyed the ride.
I breathed a sense of relief at the end…because everything was right in the world and as it should be.
I look forward to more from this author – no matter what she writes and the lengths of the books she gives us, J.L Mac knows how to tell a story.  I will read anything she gives us and look forward to watching her grow as an author.  I will miss Damon and Jo and especially Grams who continues to have me rolling on the floor laughing.
Thank you for giving us an amazing cast of characters to enjoy! <3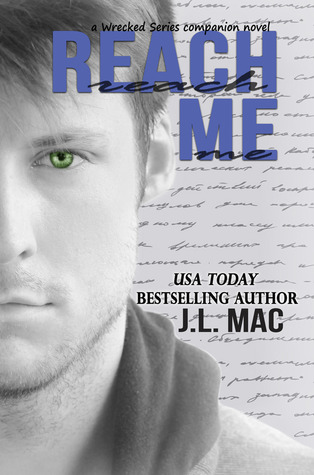 It's a well-known fact that single parenting doesn't allow for much dating. Over the past nine years, Lindsay Fuller's heart has been monopolized by her son, Trey, and she's perfectly content with that.
But with her 30th birthday looming like a black cloud, Lindsay worries that her chances at a happily ever after are next to nil.
After all, she's no sorority girl. She's no supermodel, either. She's a Plain Jane single mom with a less than desirable career, a pen pal obsession, and an extremely overbearing younger brother.
Financial trouble sends Lindsay's already hectic life into a tailspin, setting events in motion that will change everything, namely her "single" status. Learning to reach for what she wants catalyzes an epic internal struggle that she has no hopes of overcoming.
The question is, will Lindsay give love a shot; and, more importantly, will it be worth it?
"You're going to be sore after this, Lindsay. Very sore." Russ sends his exquisitely enticing threat slipping over his lips right into my ear. It snakes into my head lighting the tender of my nerve endings on fire as it settles somewhere in the purely wanton female part of my brain.

"You aren't playing fair," I whisper breathlessly. Russ' palms brush over my breasts just enough to make me arch into him. This is how he wants me. This is how he likes me. Open and receptive to all that he has to offer. He leans in close, planting a warm, kiss heavily laced with lust, just behind my ear.

"I never have," he confesses while simultaneously pulling me to him. His hands grip my thighs so damn hard I have to stifle the whimper that nearly comes flying out of my mouth. My legs wrap around his waist just as my back comes crashing hard against the back of his door. It's a damn good thing it's constructed of solid wood. Otherwise, I fear we would be doing this on the front porch for everyone to see. Though, I can't say that I'd honestly give a damn. The extent of my awareness doesn't go far beyond what Russ does to me. The world could be up in flames and I hardly think I'd notice. I don't notice anything when his hands are on me. His skillful touch keeps me rapt, wanting more of him; all of him.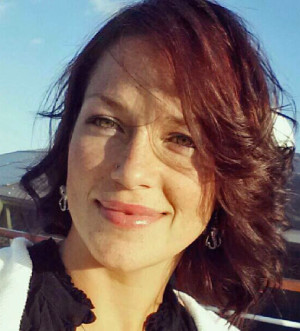 USA Today Best Selling Author,J.L. Mac is twenty-seven years old and currently resides in El Paso, Texas, where she enjoys living near her family. She was born and raised in Galveston, Texas. J.L. admittedly has had a long and sordid love affair with the written word and has loved every minute of it. She drinks too many glasses of wine on occasion,and says way too many swear words to be considered "lady-like." J.L. spends her free time reading, writing, and playing with her children.
---
SERIES READING ORDER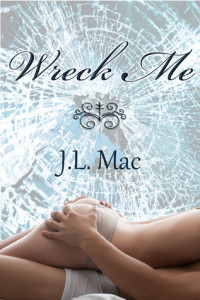 Synopsis
Life can be cruel. People can be ruthless and evil. The world can be cold and uninviting. No one knows these things better than Josephine Geroux. By her own definition, she is a twenty-five year old "nobody with nothing," and she is content to stay that way. Growing up an orphan has made her tough and indifferent to the people around her until she meets a strangely familiar man with a face that haunts her for reasons she can't understand.
Despite the pain that will inevitably ensue, she makes it her mission to discover what parts of her tragic puzzle she is missing. On her journey to discovering why the she feels an alarming connection to an absolute stranger, her greatest fear is reawakening the demons and darkness from the past that will surely overtake her if she lets her guard down.
Little does Josephine know that the past should be the least of her worries. She is toying with a man who has already broken her heart once. She just doesn't realize it.
Although she makes it a point to avoid interactions with others, Josephine's life becomes entangled with the enigmatic stranger. Before she realizes it, she has given herself over to the one person who is close enough to wreck her.