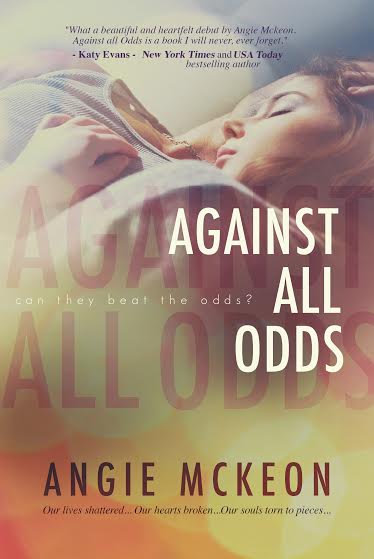 Today we welcome Angie McKeon to our blog as she celebrates her debut novel AGAINST ALL ODDS! Make sure to enter the giveaway below! Good luck!
---

Our lives shattered… Our hearts broken… Our souls torn to pieces…
He was my world, my whole life. My reason for breathing. I had a perfect marriage, a baby on the way, and I felt fulfilled—almost invincible.
Until the day life hit, leaving me broken, vulnerable, and alone.
She was my life. My ray of hope on the cloudiest day. With her, I thought I had the ultimate safety. A love that would never hurt or betray me. I gave her my heart, my body, and my soul.
Until she broke me, destroying every dream and illusion I had about life, love, and marriage.
In our grief, we made a mistake. A mistake I'm not sure we can come back from.

"Look at me, Kylie," he says.
If I look at him, I'll die. My heart will crumble, and I won't make it out of his office. I can't do it. The pain is unbearable. When I leave here, he's with her. The thought of him with her, while I'm pining away for him makes me sick.
It destroys me.           
"Please, Ky. I need you to look at me. Don't do this. Don't play fucking games with me. I need you to look at me now."
Just do it. Suck it up.
I turn around and look at him with tears in my eyes and distress smeared across my features like paint on a canvas. My body seeps anguish I can't hide. I can never hide my heart. My feelings are always written on every seam of my face, every angle of my form. My distress penetrates the air around me, pulling him into my suffering, entangling and entrapping him within the storm that rages in me. I'm broken without him and I've been without him for so long that I've lost pieces of myself along the way. The jar that holds the last of my heart is about to shatter until nothing is left but shards of the woman I used to be.
"I can't take this anymore," I whisper, my voice broken. "We need to talk about us over dinner."
I can't give a voice to my thoughts. If nothing changes between now and then, our marriage can't go on. He's killing me, and I'm killing him. Together, we're a car wreck heading straight for a cliff. A cliff that spans a mountain. We are on our way to certain emotional death and this ride's something I don't want to be a part of anymore. I want off.
His eyes pierce mine, and I know he knows what I'm thinking. He looks stunned, and for a split second, I see fear. Cold, fucking fear. He sees everything I need him to see and more. I hope he gets it. I hope he understands that this might be the end of our road. We need to have something to work for, or we have nothing. I love him, but this love hurts. It hurts in a way I would've never dreamed it could.

 Christine's 4.5 STAR Review!!
Angie is a blogger that I have admired long before I became a blogger myself.  Angie has made the transition from blogger to author easily with a solid debut novel that was not only beautifully written, but angsty, captivating, and gut wrenching.  This is an amazing story of second chances, hope, trust and ultimately finding love.
I'll admit that from early reviews, I was a bit nervous to jump in.  The opening prologue sets the stage and I feel completely tortured as I am with Kylie and Cooper experiencing every pregnant woman's worst fear.  The all encompassing pain can be felt throughout my whole body and my heart breaks for this once happy couple as I wonder how anyone can survive the aftermath of such complete and utter despair.
Kylie and Cooper, as a couple, will have a very hard journey throughout this book as their happy marriage has made a turn for the worse and they no longer have a real life together mirroring two ships sailing through the night – there is no longer any connection with each other but a deep rooted resentment that they feel for each other, each turning to having affairs to feel any kind of physical connection with anyone.  At such a young age, I can't help feeling their pain but also feeling how ridiculous their rules are; how did they get here? Why didn't they grieve with each other?  Why didn't they try harder to make their marriage work?
I know it's easier said than done not being in their situation but seeing the unraveling of their bond and marriage rips my heart out and I feel so many emotions reading this book – it was so hard for me because I wanted them to work out so desperately as they are both such good people.  I know deep in my soul that the love that they have for each other is still there if they would only take a moment to talk, to really communicate, and to fight for each other.
This book is not for the faint of heart – it's hard, it's real life, it's honest and it's so damn good!  The alternating POV's from past to present adding an even greater layer to the story giving the reader a look into this couple's relationship even more and connecting you to them on a whole other level.  I am in love with love and second chance love stories and this was a beautiful full circle love story about a couple who faces the hardest issues a couple can face but can somehow climb back up from the depths of hell to find one another again; to build trust, to rediscover themselves and to ultimately find each other again…against all odds.
This is a hauntingly soulful debut novel that had me sobbing; cursing Angie and her amazing words for giving me a refreshingly different yet painful story that I could not put down.
If you are looking for the next good book that will take you on an emotional roller coaster, having you experience the gamut of emotions then look no further. I  look forward to more from this author – especially Gray, who yes was a part of the mini love triangle in this book, whose heart was completely crushed – I am looking forward to reading about him finding the happy that he deserves.
Job well done! <3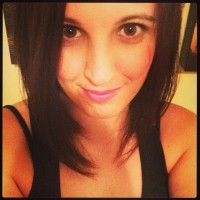 A multi-tasker from birth—and now proudly able to add 'writer' to my resume—I'm a mother, wife and blogger. I love to read, write and drink copious amounts of iced coffee.
All three aforementioned addictions are detrimental to my sanity.
I have a voracious appetite for dark, painful and twisted reads. I'm enamored with the concept of love and heart break. I believe life is a journey, a tale in its own for each of us. The road to happiness is sometimes paved with stones from hell, or glitters of satisfaction graced from the heavens above.
In my upcoming debut novel, 'Against All Odds,' I strive to make you feel. I believe any emotion—whether painful or happy—is good. To me, the key to living is to go through life feeling its ups and downs. Love is dark and it can be painful but, at the end of the day, it can save the most lost of souls and the most broken of hearts.
---