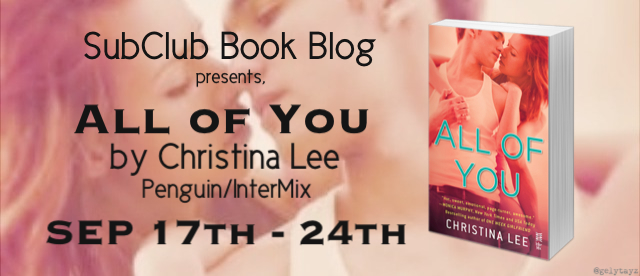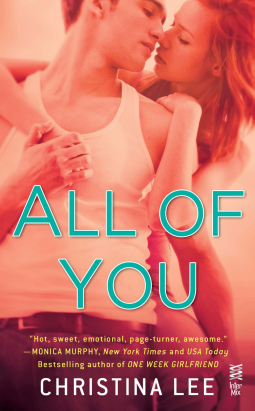 Today we welcome Christina Lee to our blog as she celebrates her new book All of You which released on September 17th.
Enter for a chance to win a giveaway using Rafflecopter below! Good luck!
---
5 STARS!!!
Synopsis
Avery has just met her hot upstairs neighbor. He's irresistible. Tattooed. And a virgin.
Nursing student Avery Michaels wants nothing to do with dating—she's perfectly happy single. Privy to too many of her mother's bad decisions and even worse taste in boyfriends, all Avery can handle is a string of uncomplicated hookups whenever the mood strikes.
When she meets smoking hot tattoo artist Bennett, she wants him—for just one night. But he won't accept a no-strings-attached arrangement. He lives by a straight-laced code of values based on his own troubled upbringing.
Bennett sees something special in Avery and he wants more from her. Way more. As Avery wrestles with her emotions for Bennett, danger and tragedy force them to open up to each other. And Avery must face the terrifying realization that she wants more from him, too.
So she needs to make a choice—let Bennett go or finally let him in.
Excerpt
But I chose to disappear behind the trunk of the tree instead. I caught my breath and had a good talk with myself about burying my feelings for Bennett once and for all. Focusing on school, and Adam, and my career. It was quiet and dark, like I was in my own little secluded world. Until the rain came down in hard sheets and drenched me. I pushed away from the tree to make a run for the tent.
All at once I saw a blur of red as I was forced against the tree trunk, the bark digging into my sweater. Bennett's soaked hair swung against my forehead, his hands gripped my face, and his mouth sealed over mine, fusing our wet lips and tongues together.
I scraped my fingertips up his chest to his hairline and felt him tremble against me. My heart thudded against my rib cage as Bennett's mouth devoured me—like he was pouring all of his frustration into me.
We were sopping wet, our clothes clinging to us, and the rain wasn't letting up anytime soon.
I swept my tongue across his lips and the hottest fucking growl erupted from his mouth. He flattened his body against mine, crushing me with the weight of his passion.
"Is this how you like it?" he mumbled, but my mind couldn't register what he was asking. It had turned into a foggy haze and I couldn't even remember the letters of the alphabet at that point.
Bennett was entirely lips and fingers and raw passion and I felt his arousal pulsing against my stomach. His hands were rough and they rushed down my body to palm my ass. He lifted me off the ground, and my legs gripped his waist.
"Tell me you want this." He slid down to the grass with me straddling him, and all I could do was moan into his lips. It was as if all the pleasure receptors in my brain had expanded and then shot rapidly into my core, setting me on fire.
Kim's Review
I'm going to start this off with FIVE emotions, if you've read the book you will understand, if not then you will see why you have to read this ASAP~ Here we go my 5 emotions while reading this book ~ gif style ~
and
and
and
and of course
WOW! What a read and such a different concept. We have a little turn-about ladies ~ All of You features a sexy as sin man that's a tattoo artist and a VIRGIN ~ yes that's a correct a VIRGIN. When I first read the synopsis I totally was…
Avery is college student who has what I consider most men to have ~ a no relationship philosophy! Wham bam and no sleepovers ~ perhaps not that crude but she choses this so she has the ultimate control. There's a reason for this and the reason why she needs the control was utterly…..
Avery didn't have the ideal childhood ~ she was more of the grown up than her Mother. It was up to Avery to ensure her little brother Adam received the guidance needed and she did a great job. I totally loved how the book opens up with Avery and her girls (Elle & Rachel) at a frat party. Avery's friends totally know her M.O. and when Avery eyes land on Bennett well she thought a little of this…
would land her with a night of this…
Oh she was in for a HUGE surprise! She ends of leaving the party feeling rejected and for the life of her she can't get the Hot Boy out of her head. Fate has a way of messing with us sometimes so the next time Avery lands eyes on Bennett she was …..
Avery wants Bennett but not a relationship and Bennett well when he reveals he's a virgin after some of this…
Avery was stunned! I had to hand to Bennett though cause his reasoning had me …..
I could more than likely guarantee the reason he's held tight to his virtue isn't what you think it is. Bennett's childhood mirrors Avery's except he takes care of his mother and three little sisters. Bennett is overall one heck of a "catch". Sexy, confident, has crap together, respects women and overall nice guy but will the saying nice guys finish last apply in All of You? You will have to read this one to figure it out. Now I guarantee there were times while reading this I was
and I had a couple people I wanted to …
Although I understood Avery's fear of letting her heart get involved there were times she just ….
me to death! She wasn't an irritating character by no means she actually was pretty amazing especially given all she had been through. There was a part in the book where a conversation overheard had me…
and then I was….
at Avery and telling her to
after that boy NOW! It was one of those moments where I didn't know which way this read would turn out. The further I read the more I knew this just HAD to happen because sometimes people need their eyes opened! Well, I had myself a huge freaking….
fest towards the end of the book! OMG! That moment just hurt! I was happy to see that resolution to past situations took place. It was a moment that I hoped would take place! When I got to the end of this one I totally………….
I was so happy!!!!! PERFECT ending!
All of You is definitely a 5 star read for me! I can't believe this was the author's first book ~ it sure didn't read that way! It read beautifully and flowed perfectly! It's a touching story about coming to terms with one's past and opening oneself up to a world of possibilities! In 5 words this was ~ brilliant, captivating, hot, emotional read! I highly recommend this one get moved up your TBR, put on your TBR and read ASAP!
There was a note that the author will be releasing Before You Break a companion novel to All of You in February 2014 ~ This has me totally..
and begging the author to please, please, please let it be Rachel's story because her story NEEDS to be told!
About the Author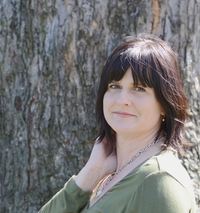 Mother, wife, reader, dreamer. Christina lives near Cleveland with her two favorite guys. She's addicted to lip gloss and salted caramel everything.
New Adult/Young Adult author. NA Contemporary Romance, ALL OF YOU, releases September with Penguin. BEFORE YOU BREAK in 2014. Repped by Sara Megibow.
Also the creator of Tags-n-Stones (dot com) jewelry.