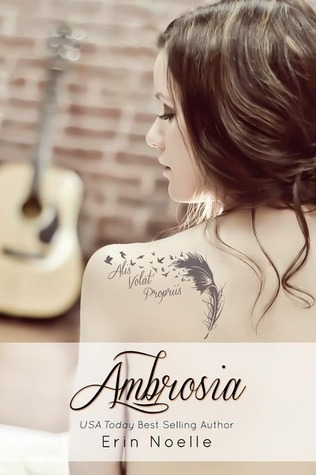 Today we welcome Erin Noelle to our blog as she celebrates her new book Ambrosia which released on June 25th.
Now we have to ask…are you Team Ash or Team Mason? Leave your comments as we would love to know!  A winner will be selected from those who leave comments for an ebook copy of this book…Good luck!
Enter for a chance to win some amazing giveaways using Rafflecopter below.
---
4 STARS!!!
Synopsis
After coming to terms with the tragedy that rocked her world, Scarlett MacGregor has returned to try to pick up the pieces of the broken relationships that she left behind.
Ash and Mason were left devastated and heartbroken following Scarlett's sudden, unannounced departure. They are both ready and willing to forgive her and welcome her back into their lives with open arms.
However, a lot can happen in 8 months…
Scarlett must learn to overcome the obstacles thrown in her path to prevent the past from repeating itself.
Can she learn to fly with her own wings and discover the secret to eternal love?
Recommended for readers 17+ due to sexual content and harsh language.
Click here for the playlist.
Excerpt
ASH

She let me kiss her. She didn't argue with me when I told her that we would never say goodbye. She smiled, just slightly but it was still a smile, when I called her my Psyche. I couldn't focus on all of the other things she said. I knew she was angry and hurt; she had every right to be. I had tried to deny what she meant to me one too many times, and I was still afraid the last time may have cost me her forever.

But finally I had something I hadn't had in a long time ~ hope. Despite her hateful words and lashing out, I finally felt a semblance of the peace I could only find in her presence. I didn't know what my next move was, but I sure the fuck wasn't giving up. After experiencing a life without her in it, I would never give up on her. I would never give up on us.

MASON

On cue, I spotted the lights headed in our direction. "Look," I instructed her, pointing at the lights off in the distance. "Do you see them?" I felt her nod her head against my back as she peaked over my shoulder to spot them.

"Actually, here, you sit in front of me so that you can see better," I said as I climbed off to allow her to scoot up. I took my spot behind her and looped my arms around her waist. I kissed the top of her head and inhaled her sweet scent. Her eyes were locked on the lights, wondering what was going to happen, but I felt her pressing her body against mine trying to snuggle up. I groaned aloud when she wiggled her ass against my growing cock, and she giggled. The little vixen knew exactly what she was doing.

We continued to track the lights in the sky as they grew closer. As the plane made it's final descent for landing, I squeezed my arms around her tightly and leaned down to whisper in her ear. "I love you, Scarlett. Nothing will ever change that."

Which team are you on?
Kim and Christine's Review
C: Kim and I both had to read this one as we both LOVED Metamorphosis!  And for the life of me I couldn't decide who I wanted Scarlett to end up with – Ash or Mason.  Both had qualities I loved and so I was totally looking forward to reading Ambrosia.  I was glad to see that this started off right where Metamorphosis left off.
K: Oh boyeeeeeeeeeeeeeee ~ where do I start with this one???? Since I've read Metamorphosis this has totally been me…


I couldn't wait to see what became of Scarlett, Mason & Ash. Well Ambrosia sure the heck caught me up ~ Scarlett comes back to Mason and he is elated to have his "Angel" back and I was…

C: I LOVE Mason!  He helped her move forward and helped her to find strength within to forgive and to love again.
K: I love MASON ~ O.M.G. do I love him ~ well while his Angel was away the band was offered an amazing opportunity one that he hasn't told Scarlett about yet and one that involves a certain Bentley ~ She made me want to


her ~ Lordy, I knew when Mason withheld this information at first it was going to be baaaaadddddd and I also knew that Bentley was TROUBLE yep with that capital T. Scarlett soon finds out about everything and it appears they make it work.
C: We can see that Ash is not going to give up on his Psyche  "But understand this Scarlett: it will never be goodbye – not for you and me."  Is there hope for a second chance between these two?  I can already feel anxiety building up in me as I feel that this is going to be a bumpy ride!  I am so torn between these two as again they are both great guys – how will Scarlett choose?!
K: Well Scarlett still had to deal with Ash and we know what Ash did in the last book ~ what ultimately drove his Butterfly to Mason. There were times I just sat there…


with some of the things Scarlett did and ultimately decided to do.
C: I totally agree with you Kim!  I felt that Scarlett was so confused and giving everyone mixed signals.  It wasn't really fair to anyone and it drove me crazy at times.
K: We have Max more involved in this book ~ Evie's sweet boyfriend who is so lost since her death I just wanted to…


him and scoop him up and love him. He was a GREAT friend to Scarlett.
C: I did love Max in this book too, Kim.  Though again with some of the things that were happening, it was insane!  I am hoping that he will be able to find some happiness after losing Evie 🙁
K: This is a book that you have to experience and at times made me want to ..


things around ~ I pondered throwing the Kindle but luckily I never resorted to that.
C: I almost did myself Kim lol.  I had to keep reminding myself that these are young kids still college aged who are still learning about themselves nevertheless love and life.  At this age, we all make mistakes and we all learn from these mistakes.  It was just hard for me to relate at times with Scarlett because she was so indecisive, so back and forth about things.
K: There were times during this book where I was..


but at whom? Definitely Scarlett & Mason at times~ Ash proves himself to be the "soul" mate to his Butterfly but that doesn't guarantee things. I wanted to..


out when a drunken night leads to ..


and then revelations, misunderstandings, mistakes all come out into the open and I just sat there…


for those involved. Scarlett sure proved she was ..


and I didn't want to be in her shoes. By the end of the book I'm thinking things are really where they need to be and I was…


but WAIT a freaking minute ~ One phone call ~ One DAMN call and I was


and I was…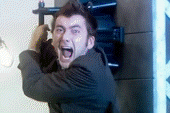 and I was


around my house like a loon with my two weiner dogs thinking it's a game chasing me ~ WHY? WHY? WHY? and now I have to wait oh Lord Erin I ..


you to put me out of my misery and get the next book out ASAP ~ What the heck is going to become of this very messy love triangle? I honestly don't know but if it was me I'm totally for the …


Mason but I guess Erin still has a few tricks up her sleeves that she will pull out. Parts of the book where 5 stars for me ~ the sex OMG hot ~ but Scarlett I wanted to ..


her at times for some of the decision she made which drove me nuts! The book was told in multiple POV's and then switched to third party at times where I was really wanting more times in each characters heads. Do I recommend this book? Hell yes ~ it's a very well written book that will shackle you the minute you start and you won't be able to put it down and trust me when you get to the end you will totally be STUNNED, SHOCKED, FREAKING OUT, and smiling cause you know there is more to come!!!!
C: Kim, I couldn't have said this better myself.  I, too felt some frustration at times and just wanted to knock some senses into these characters.  However, I think this speaks volumes as to how much Erin can move readers into such stages of emotions.  You can see it plainly here how much agony we all went through with these characters and that out of all of this, we still WANT MORE!  So I look forward to Euphoria coming out this Fall because I NEED to see where these characters to, I need to know what happens to them and ultimately I want to see if Scarlett has made the right choice for her or if things will change again…just thinking about it gives me even more anxiety!  Ahh!  If you haven't read this series by Erin Noelle – we strongly recommend you meet some new book boyfriends!
About the Author

Erin Noelle is a Texas native, where she lives with her husband and two daughters. First a bookkeeper, and now an author, she often jokes that she's a woman of numbers by day and letters by night. Erin is an avid reader of all romance novels and a huge sports fan. Most nights you can find her cuddled up in bed with her husband, her Kindle in hand and a game of some sorts on tv.
---
GIVEAWAY
Leave a comment after this post if you are Team Ash or Team Mason and why. Winner to be picked tonight for an ebook copy of this book! Good luck!
GRAND PRIZE GIVEAWAY
a Rafflecopter giveaway