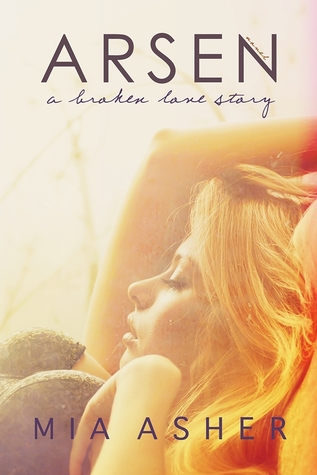 Today we welcome Mia Asher to our blog as she celebrates her new book Arsen which released on August 23rd.
Enter for a chance to win some amazing giveaways using Rafflecopter below.
---
5 STARS!!!
Synopsis
One glance was all it took…
I'm a cheater.
I'm a liar.
My whole life is a mess.
I love a man.
No, I love two men…
I think.
One makes love to me. The other sets me on fire.
One is my rock. The other is my kryptonite.
I'm broken, lost, and disgusted with myself.
But I can't stop. This is my story.
My broken love story.
Excerpt
Opening my legs with his hands, he enters me slowly, taking his time, making the moment last. When he's all the way in, he pauses as we stare at each other, both of us breathing heavily. Slowly, he brings a hand to caress my naked shoulder. "I've wanted to do this since the moment I kissed you on the street."

"Have sex with me?" I ask.

"No." He bites my lower lip. "Make you mine."

This time he makes love to me. There is no roughness in his treatment of my body, and I don't miss it. This feels as if he is telling me with his body what he cannot voice yet. This feels like we are imprinting each other to our bodies and to our hearts. Moaning, I grab the back of his neck and pull him down for a kiss, getting lost in the moment.
Kim's Review
WOW!!!! WTH, did I just read? I HATE this book NO wait I LOVED it ~ NO well HELL I don't know what I exactly feel at this exact moment except this need to …….
Ladies, this is not your easy HEA read BELIEVE me it's totally opposite and the subject matter literally made me sick. I spent a lot of time…
and equal amounts of time ….
because my heart broke for Ben~ Oh Lawdy, Ben the most perfect husband to walk the planet. A gorgeous dark haired, maple syrup brown eyed man who ONLY had eyes for his wife, Cathy. I swear I wanted to jump in the book and ….
The ODD part was I got so lost in this book that I felt GUILTY!! Hell, what did I do? I wasn't Cathy I wasn't in this book. Cathy dear lord I've never in all the books I've read hated, pitied, and wanted to..
a fictional character. Cathy & Ben have been married for 6 years but together for 11 ~ They met when she was 18 and the author did a brilliant job pulling your heartstrings by alternating between the past & present of their relationship. When they first met oh I would've…
it's straight up fairytale to the multiple tragedies that happened to them where there were times I …
at Cathy! It's heartbreaking what they went through I can't say that Cathy endured cause she didn't she just freaking shut down and when she went through another tragedy I just…
with her! Sadly, it's something I experienced first hand and KUDO's to the author for writing an accurate portrayal of such loss. It was spot-on and I lived ever emotion during that scene where I felt I was transported back to 2001. Cathy REFUSED yes I'm saying she refused to open up to Ben and share her true feelings with him. She decided she to just shut the freak down. She closed up as tight as a clam and her pain was the pearl she refused to give up. During a certain scene in the book I just wanted to ….
Cathy and tell her to OPEN YOUR EYES!! She had PERFECTION in front of her ~ A man that wanted to take away her pain, a man who would do anything for her and a man viewed her as his entire world. The marriage Ben & Cathy had is so rare and so beautiful which made what Cathy ultimately did the most heinous BETRAYAL. I know I've expressed how mad she mad me and I literally wanted to kill her ~ seriously I had a lot of …
moments while reading Arsen. Arsen is told from Cathy POV but you get Ben's POV too which made all the more gut wrenching but you also hear from Arsen. Who is Arsen? Well he is a beautiful 24 year-old wealthy playboy who is literally a man whore and has never been told "No". He's the type of guy that if you walked by him on the street you would..
and I know most women would….
Arsen set's his sights on Cathy and he goes full boar and uses any means to get her in his bed. The blame is on Cathy ALL on her~ She knew what he wanted and she succumbed to him. She threw away the best thing in her life for something that was never a guarantee and I was totally …
at her alleged friendship in the beginning and what she termed "light flirting." I also thought….
on how she would try to justify to herself that what they shared before they share more was harmless. When she succumbs I started…
and I wanted to say…
I just couldn't see how she could justify this. She CHEATED on the Ben ~ not that a problem in a marriage would justify cheating but hell he was PERFECTION. When the shite hit the fan and Ben is potrayed I …
harder than I did with any other part of the book. But "Karma's a Bitch" and WHOA boy I didn't see what Cathy ends up being advised coming I was totally…
and Arsen I just knew what would happen and I couldn't even bring myself to want to say…
him when Cathy talks to him about what she was told. The SHOCKER though for me is the ending OMG!!! I was…
and again
and I re-read, honestly I had to, and then I was totally….
cause what a bittersweet ending which ended the way it should've but sadly such devastation took place that it killed what should've been Ben & Cathy's most joyous time.
The Epilogue is told from Arsen's POV ~ Oh yes the author had to shock the shite out of us one more time and I'm wondering if we will see more from the author sort of a companion novel??? I hope so cause I really want more even though it very well may kill me.
So I finished the book ~ had a cigarette ~ bitched to the hubby about the book and then scared the crap out of the kiddos by…
I'm not going to rate Arsen on the subject matter of cheating. There was a ton of HOT sex and there was plenty of beautiful love making in the book but what I have to rate this one on is the writing and how true to form this story read. I've seen this happen with friends and damn if I didn't feel like I was reading a non-fiction novel so for that there and the author's accurate portrayal of fictional events I'm giving Arsen 5 stars!
I guarantee Arsen will live you shattered in a million little pieces and I don't think I will ever be put correctly back together as I will be dreaming about this book. It's going to be on my mind for a very long time. I just spent my time feeling guilty as hell, crying like ugly snotty nose crying, stomach cramping from the pain and a slight smile when I got to the end. Emotionally this book had everything I need out of an angst driven read I recommend this one if you can stomach the cheating (I couldn't but I went in for the shock factor) and you can accept that the Ben, Cathy & Arsen got the end they were meant to have.
About the Author

My name is Mia Asher.
I'm a writer, a hopeless romantic, a wanderer, a dreamer, a cynic, and a believer. And, oh yes…I might be a bit crazy – but who isn't?