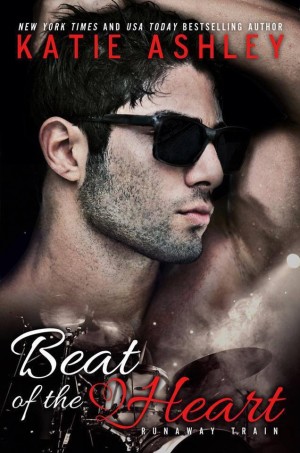 Today we welcome Katie Ashley to our blog as she celebrates her new book Beat of the Heart which released on October 16th.
Enter for a chance to win an amazing giveaway using Rafflecopter below!
---
4 STARS!!!
Synopsis
After years of bad relationships and a cheating ex-fiancé, twenty-eight-year-old Mia Martinelli prefers healing her patients' hearts on the Cardiac Care floor rather than risking having her heart broken again. But that all comes to a screeching halt when caring for the head roadie for Runaway Train puts her into the orbit of drummer and Latin Lover, AJ Resendiz. After a scorching weekend of steamy passion, Mia's intention of getting out with her heart unscathed is challenged by the stud with the wicked sense of humor, especially when he wants to continue seeing her. But when the harsh reality of AJ's hoard of female admirers sends her insecurities into overdrive, Mia bails, leaving him handcuffed to his bathroom shower.
AJ never imagined that after two weeks of the best sex and female companionship he'd ever experienced, he would need rescued by his band mates from his shower prison. Although he tries to forget the sensual brunette whose curves made his mouth water, AJ can't get her out of his mind…or his heart. Months later when he finally seeks Mia for answers as to why she left, nothing could prepare him for their life-altering reunion.
Can AJ prove to Mia that regardless of the women after his body, his heart belongs only to her?
Excerpt
Are you strong enough to be my man?

With my thighs on each side of her hips, my weight kept her firmly underneath me. Seizing the opportunity, I snatched the keys from her hand. "Ha, gotcha."

"Let me up, you ass!"

"Nope. Not until I hear you say 'AJ, you are the master of the universe'." I quirked my brows before looming over her—my face mere inches from hers. "On second thought, you need to say, 'AJ, you are the master of my universe and my master orgasm donor.'"

Even though my tone was completely lighthearted, Mia's expression transformed into one of panic. Instead of squirming playfully beneath me like before, she began to thrash back and forth. Her eyes took on a wild gleam, like that of a trapped animal. And then something within her snapped. "Get off. Get off. GET OFF!" she screamed, pounding her fists against my chest so hard that she knocked the air from my lungs.

Wheezing, I stared frozen in disbelief at her erratic behavior. I remained unblinking and unmoving until she sent a stinging slap so hard across my cheek that my jaw popped. Out of my stupor, I finally rolled off her. The instant she realized she was free she leapt to her feet and began sprinting away from me. "Fuck," I groaned as I hauled up out of the grass to take after her. "Mia!"

She bypassed the four-wheeler, and instead, continued barreling down the overgrown path. "Mia, wait!" When I finally caught up with her, I reached out and grabbed her arm, causing us both to skid to a stop. I realized a second too late that it was the wrong fucking thing to do when she lunged at me, clawing and slapping my face, shoulders, and chest.

Defensively blocking her hits, I then grabbed her shoulders. "Mia, it's me, AJ." Her frenzied gaze darted around the clearing. "Look at me," I commanded. "You're safe here with me. Nothing or no one is going to hurt you. I swear."

When her eyes finally locked on mine, the sheer panic in them caused my chest to ache. But slowly that look receded. It was the pain, coupled with embarrassment, shining bright in her eyes that followed that made my stomach muscles clench like I'd taken a physical kick to the gut, rather than an emotional one.

A shaky hand went to cover her mouth as tears streaked down her cheeks. Her head shook so wildly back and forth I feared she might get whiplash. "Oh God…Oh AJ, I…"

"Look, it's—"

"I'm s-sorry. I'm s-so, so sorry," she replied, her voice choking off her sobs.

"Baby, you have nothing to apologize about." Tentatively, I reached out to cup her cheek. When she flinched, I dropped my hand. Feeling a fucking mess of confusion and helplessness, I kicked at a few stray pebbles and waited for her to give me some sign as to what the hell I should do.

"I'msorryI'msorry.I'msorry," she kept mumbling absently.

"Mia, please don't say that."

"It's just you had me pinned down like he…" A chill ran through her body, causing her to shudder so hard that her teeth chattered.

Closing the distance between us, I ached to wrap her trembling body in my arms. "Amorcio mio, please talk to me. Tell me what I can do to help you," I begged.

Her only response was to swipe the back of her hand across her running nose while making these pitiful hiccupping sighs. I started tapping my hands nervously against my short pockets when she became still as a statue. It seemed like she stared dead ahead of us for a small eternity before she finally whispered, "I never wanted you to have to see this side of me."

This time when I reached out for her, she didn't cower away from me. Trying to take it slow, I swept a strand of hair out of her face and smiled. "Mia, there isn't a single side of you I don't want to see. I want to know every inch of you—inside and out."

Her lip trembled like she was about to burst out crying. "Trust me, you don't want to know this." Her expression then turned sour, like she had a bad taste in her mouth. Her emotions were ricocheting so fast I could barely keep up. "Dammit, we were just supposed to have that night together—then you wouldn't have had to see me like this. It wasn't supposed to turn into me being inadequate for yet another guy!"

My sympathy quickly turned over to frustration, and I threw my hands up in exasperation. "Would you stop lumping me with all the other assholes you've had the misfortune of knowing? That's not me, Mia! Do you see me bailing or shrinking away like some pussy? Fuck no! I'm right here, right now, wanting to know what the hell just happened so I can help you—to comfort you emotionally and physically."

She cut her eyes over at me, pinning me with a hard stare. "Yeah, I see right through your little 'knight in shining armor' routine. You think I'm broken, and by giving me a few moments of your precious time, you might be able to fix me. But trust me, you can't do shit, AJ! I'm not broken—I'm fucking shattered into a thousand jagged pieces. Pieces that will slice a perfect, pretty boy like you in two."
Denise's Review
Before you read this book of review, please read Music of My Heart book 1 in the Runaway Train Series.  The boys of Runaway Train were introduced in that book, which is Jake and Abby's story.
In Beat of the Heart, we get the story of Runaway Train drummer, AJ Resendiz and Mia Martinelli, a nurse who literally "spills" into AJ's life when he was visiting someone in the cardiac unit at the hospital. Yes, their first meeting is a very funny one!
I truly enjoyed AJ, he was pure spirit and soul.  He is an honest man who never lied to Mia or the reader. I found myself wanting AJ to have his happy!
As with Music of the Heart, the interactions between the band members was really well done. The boys tease each other, banter with each other and in the end support each other in good times and bad.
Mia is a tough lady, faced with a fair amount of adversity and heartache, she has tried to close her heart off to love.
It is clear to the reader that Mia is connecting with AJ and despite her best attempts, her walls are crumbling.
Mia's father is cleverly woven into the story; it adds both to Mia as well as to AJ, yet again pointing out to the reader that he is a good man.
Just as the reader is about to feel AJ breaking through Mia's defenses… the question becomes as Mia recognizes she is yet again vulnerable to a man hurting her, will she be able to risk her heart again?
Well, I won't tell you what Mia does when her emotions become real but it is a very bumpy ride.
I will say that the end of this book was so fun to read.  It incorporated so much into the last few chapters that the epilogue left me with a big smile on my face.
I am looking forward to Rhys story, String of my Heart (Runaway Train 3) as he has been my favorite since book 1.
Katie Ashley is the New York Times, USA Today, and Amazon Best-Selling author of The Proposition. She lives outside of Atlanta, Georgia with her two very spoiled dogs and one outnumbered cat. She has a slight obsession with Pinterest, The Golden Girls, Harry Potter, Shakespeare, Supernatural, Designing Women, and Scooby-Doo.
She spent 11 1/2 years educating the Youth of America aka teaching MS and HS English until she left to write full time in December 2012.
She also writes Young Adult fiction under the name Krista Ashe.