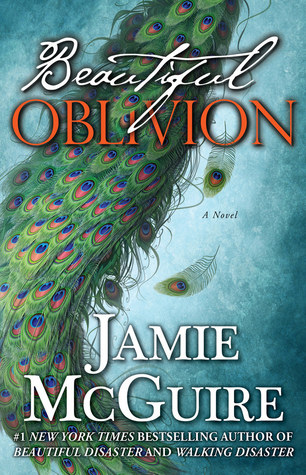 Atria Books | 336 pages | Paperback ISBN 9781476759586 | eBook ISBN: ISBN 9781476759593 |
On Sale: July 1, 2014
The Beautiful Disaster and Walking Disaster phenomenon continues in the first heart-pounding new adult romance in The Maddox Brothers series.
Fiercely independent Camille "Cami" Camlin gladly moved on from her childhood before it was over. She has held down a job since before she could drive, and moved into her own apartment after her freshman year of college. Now tending bar at The Red Door, Cami doesn't have time for much else besides work and classes, until a trip to see her boyfriend is cancelled, leaving her with a first weekend off in almost a year.
Trenton Maddox was the king of Eastern State University, dating co-eds before he even graduated high school. His friends wanted to be him, and women wanted to tame him, but after a tragic accident turned his world upside down, Trenton leaves campus to come to grips with the crushing guilt.
Eighteen months later, Trenton is living at home with his widower father, and works full-time at a local tattoo parlor to help with the bills. Just when he thinks his life is returning to normal, he notices Cami sitting alone at a table at The Red.
As the baby sister of four rowdy brothers, Cami believes she'll have no problem keeping her new friendship with Trenton Maddox strictly platonic. But when a Maddox boy falls in love, he loves forever—even if she is the only reason their already broken family could fall apart.
In the first installment of the Maddox Brothers books, readers can experience the rush of reading Beautiful Disaster for the first time, all over again.

Denise and Christine's 4 STAR Review!!!
Denise: Beautiful Oblivion is the story of Trenton "Trent" Maddox, older brother to Travis Maddox, who many readers know and love from Ms. McGuire's Beautiful Disaster series.   Trent's love interest in this book is Camille "Cami" Camlin, a woman with a small connection to Travis but who truly has her story told in this book.
Christine: I couldn't wait to read the story for another Maddox brother!  Can he top Travis?  I didn't think that I could love another Maddox brother but Jamie has done it again and given us another boy to swoon over <3
Denise: Cami has four older brothers; brothers who play a big role in this book, both in helping to develop who she is and in the plot. This part of the story really worked for me.  Cami's love and devotion to her brothers shape some of the events as the book unfolds, I don't want to tell you what events or how they play out, but Cami ends up in Trent's orbit more than she would like.
Christine: Growing up with older brothers has taught Cami the ins and outs about boys and knowing who the Maddox boys were while growing up has kept Cami away from their player ways until Trent and Cami meet at The Red Door, a bar she works at where they become friends.  Despite the wall Cami surrounds herself with to protect herself, who can't resist the Maddox dimples? 🙂
Denise: Cami and Trent's interaction were wonderful, they were fun, heartwarming and really allowed the reader to see the connection.
Christine: I loved Trent's relentless pursuit of her friendship as well as the use of another character in the book named Olive.  It really showed me what a wonderful man Trent is – patient, kind and respectful.  The way he doesn't take no for an answer is so charming and puts countless smiles on my face.
Denise: I love loved the use of Olivie in this story, it is not what you think this is not a love triangle with two woman but it does allow the reader to see Trent in a new light and for me it made me love him even more.  It also helps Cami see Trent differently and for the first few encounters is an adorable way to pull them together; nope still not telling you what I mean…..read the book to find out.
Denise: I truly enjoyed Trent's character; as a reader you can feel his love and devotion to Cami. At one point I think everyone but Cami can see the connection and Trent's love.
There were times in this book that I did want to shake Cami because she had a man, Trent, who adored her at her side enjoying life with her while her so called boyfriend TJ was putting work first and not making time for her.
Christine: I so agree Denise..it was really hard for me to stomach this because her boyfriend never put her first, hardly visits her and it really bothered me that he put no effort into their relationship.
Denise: When Cami realizes Trent is the one she wants to be with, her actions may at first seem a bit off but in the end they do tie together in a way that makes sense I promise you that.
Cami and Trent together are adorable, they fit so well and the love and connection they feel will have you rooting for Trent to find a way to convince Cami that no matter what life throws at them he is her forever.
The twist in this book may keep many guessing until the last three words in the book. These three simple yet impactful words allow so much of the book to fall into place.  (and no not the three little words you might be thinking – again sorry you need read the book to find out).
Christine: YES Denise I SO agree here….I adored these two together. In my heart, I knew that there was something more between them and when everything falls into place, it all made complete sense.  There is SO much depth into this story that I so wish I could share but would totally ruin the experience for you so like Denise said, you have to read this book to find out why we are purposely being so vague.
You do not need to read Beautiful Disaster or Walking Disaster for this book to make sense.
Though you do see Travis Maddox and are given some reference to Abby, this is Trent's story.
You may want to know more about Travis after this one so be warned that if you have not read prior books, this may have you one clicking Beautiful Disaster and Walking Disaster.
Enjoy this journey of another Maddox brother…this is one you don't want to miss!

Website: www.jamiemcguire.com
Facebook: www.Facebook.com/Jamie.McGuire.Author
Twitter: @JamieMcGuire
Instagram:  @JamieMcGuire_
More information is available at: http://books.simonandschuster.com/Beautiful-Oblivion/Jamie-McGuire/9781476759586

Tourwide giveaway curteousy of publisher can be found HERE
Pre-Order the Book!!!