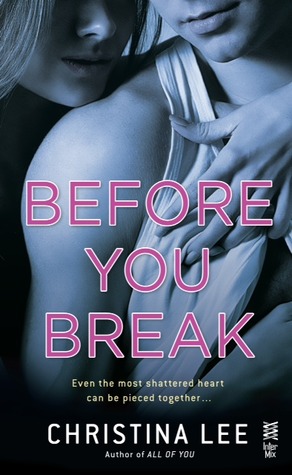 Today we welcome Christina Lee to our blog as she celebrates her new release BEFORE YOU BREAK which released on February 18th.
Enter for a chance to win an amazing giveaway using Rafflecopter below. Good luck!
---

A sexy, emotional New Adult romance about a bad boy on the edge and a good girl about to lose control…
The star catcher of the college baseball team isn't supposed to have skeletons in his closet. But Daniel Quinn is hiding a guilty past so dark he refuses to let anyone get close. Except there's something about gorgeous, studious Ella Abrams that goes beyond the electric attraction between them—something that makes him want to open up.
Ella has suffered enough heartache and guilt to fill one of her psychology textbooks, but she keeps that part of herself hidden behind a bubbly exterior. Until she receives an anonymous call while working the suicide helpline and the voice on the other end touches something inside of her that she can't ignore.
Soon Ella and Quinn's physical connection heats up, even as their deep and revealing hotline talks intensify. But by the time Ella realizes that her seductive jock and her sensitive caller are the same guy, it might be too late to save him—or to stop herself from falling too far.
*A companion novel to ALL OF YOU*

At the theater, we bought popcorn, Milk Duds, and large sodas. After we settled in our seats in the crowded room, I opened the box of chocolate caramel confections and dumped them in the large tub.

"Um," Quinn said, scratching his chin.

"Sweet and salty—it's a must-have for movie watching."

"Seriously?"

"Yes, seriously." I picked up a Milk Dud, flanked it with two pieces of popcorn, and then brought it to his lips. "Here. I guarantee you'll fall in love. You'll never watch a movie without them again."

"If you say so. . . ." He dragged the sweet and salty mixture into his mouth but kept my fingers enclosed between his lips. I held in a gasp while he ran his tongue over my thumb and then sucked on my forefinger before releasing my hand and chewing what remained.

"Agree," he said around a mouthful of popcorn. "Wouldn't want to be without them ever again."

Quinn's gaze latched on to mine. It felt like a bundle of feathers had been let loose in my stomach. "Guess you'll have to come to every movie from now on. So I don't forget."

Speechless wasn't even the word for what I felt in that moment. Dumbfounded might have been more like it, or maybe just struck stupid, because I couldn't even move my lips to form any coherent words.

When the movie previews began, he turned toward the screen and reached for my fingers, interlacing our hands. Then he leaned close to my ear and said, "I expect you to feed me just like that the entire movie."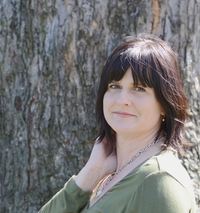 Mother, wife, reader, dreamer. Christina lives near Cleveland with her two favorite guys. She's addicted to lip gloss and salted caramel everything.
New Adult/Young Adult author. NA Contemporary Romance, ALL OF YOU, releases September with Penguin. BEFORE YOU BREAK in 2014. Repped by Sara Megibow.
Also the creator of Tags-n-Stones (dot com) jewelry.
---


a Rafflecopter giveaway
Series Reading Order Book 1 – All Of You

Book 2 – Before You Break