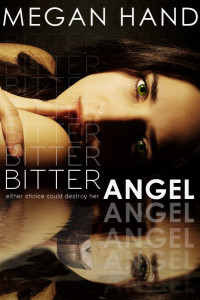 Today we welcome Megan Hand to our blog as she celebrates her new book Bitter Angel which released on April 1st.
Enter for a chance to win some amazing giveaways using Rafflecopter below. Good luck!
---
4 STARS!!!
Synopsis
Torn between two realities.
A choice that will mean life or death.
She won't know anything… until she wakes up.
College sophomore, Lila Spencer lived Friday night twice. She doesn't know how or why, just that she did. As if she split in half and went in two different directions.
Out clubbing with her friends, Heather and Nilah, the girls rock it out and party hard. What begins as an innocent night will lead to a deadly fight for their lives, and Lila might be their only chance for survival.
In bed with her boyfriend, Jay, Lila is safe and warm as she drifts to sleep in the arms of the man she loves. Until she is sucked into a horrifying nightmare of her friends' deaths.
As the sunlight warms her face on Saturday morning, the two scenarios collide. But there can be only one outcome. Will she wake up in her warm bed with Jay by her side, devastated and grieving for her friends? Or was she there to save them?
The answer is just the beginning.
Age Group: Mature Young Adult
Genre: Contemporary/Thriller
Tour organized by: AToMR Tours
Christine's Review
This was an interesting and different read for me…in a very good way.  What if you took a different path in life and how would it affect your existence as you know it?
Lila Spencer is attending college with her two best friends.  The love of her life, soul mate (and her Penguin!) Jay attends college far away and is visiting her for the weekend.  Though they don't get to spend too much time with each other except for the occasional weekends, Jay is understanding, doesn't make demands and tells her to go out with her best friends to a club that night in celebration of her birthday rather than spending the night with him.  My first thought of this couple while reading this book is asking myself if they can survive three years apart and will they survive with small visits alone?  I felt like they could as there is a deep love for each other.  However, being in a relationship with someone I love so deeply and only get to see each other in small visits, would I have made the same decision?
When the girls go out, they go all out with dancing and drinking and having fun.  And what becomes interesting in this scenario and scary as I continue to read is that the girls are obviously drugged and abducted and my heart is pounding as I realize that this could happen in everyday life and I am instantly afraid of what the outcome will be.
And what becomes even stranger is that Lila wakes up in the arms of her boyfriend remembering spending the evening with him alone and letting her friends go out without her!
WTF just happened here?!  And even crazier is that she wakes up wearing the shirt of one of her abductors in her dream.
So what's real?  What happened?  I DON'T KNOW but I want to find out more!!
Lila begins a quest to find out the truth behind the dream because in her mind it really happened.  Maybe she was forecasting the future..maybe she was meant to dream this to prevent future abductions from happening.  Lila enlists the help of her boyfriend to find the abductors and bring justice to these evil human beings.  Lila is determined to do anything to get these men but at what price?
Without giving anything away, as I continue through this book, I am sick to my stomach with the events that are happening and scared and almost don't want to finish because I want to close my eyes and hide.  But I finish and WOW!  Megan Hand's debut novel is action packed and suspenseful.  It is about a love so strong and powerful that it protects against evil.  This is a book about moving forward and realizing what's important and that just sometimes you have to take justice into your own hands to do what's right to protect the ones you love.
I look forward to reading more from Megan and recommend this to someone looking for a quick action packed and suspenseful read.
ARC provided by the author for an honest review.
About the Author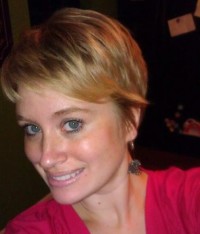 At twelve, Megan decided to write a novel. A month later, she quit. A reading junkie by nature, she started writing again in her twenties as a way to get the voices out, because who wouldn't want to create a Real Living Person out of thin air? Megan also plays the piano and sings. She teaches little kids and takes pictures of pretty butterflies. She eats way too much chocolate, is sort of a mad scientist with her blender, and spends an unhealthy amount of time LOLing on Facebook and Twitter. She lives in Ohio with her husband and very smiley son. Bitter Angel is her first published novel.