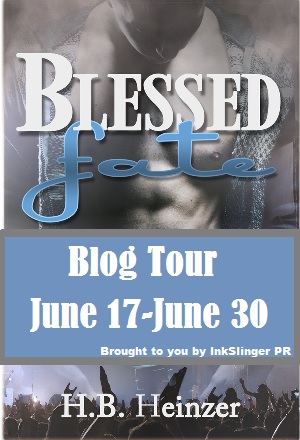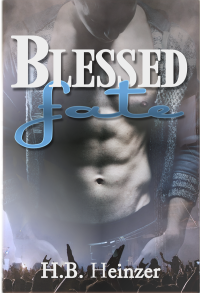 Today we welcome H.B. Heinzer to our blog as she celebrates her new book Blessed Fate which released on June 11th.
Enter for a chance to win an amazing giveaway using Rafflecopter below.
---
5 STARS!!!
Synopsis
Colton Bradford never believed in love at first sight. And then, Rain Maxwell walked through his buddy's front door. He knew there was something special underneath the shy, guarded exterior and was determined to find out what it was.
The problem? Rain had devised her own set of life rules and "Never get involved with a band mate" was right near the top of that list. She allowed Colton into her heart as one of her closest friends, but pushed him away at the mention of anything more.
When tragedy strikes Rain's personal life, Colton is determined to be there for her in whatever way she'll allow. Will she finally open up to him and consider taking things to the next level? Will Colton's ways of trying to bury his feelings for Rain in the past ruin the possibility of a future for them?
Kim's Review
Blessed Fate is the story of Colton & Rain but told from Colton's POV ~ If you haven't read the first book Blessed Tragedy then I suggest you read it as it's told from Rain's POV and I can't give away too much in my review without giving away the original story ~ I can say this when I had this book in my hand I was


Colton ~ Oh I love Colton and I was super excited to see this story unfold from his perception! It opens up with how Rain was introduced to the rest of the band and how a friendship between the two develops into intense feelings for one of the parties with the other adhering to the old standby ~ not getting involved with anyone from the band! Colton has a little thing going on in the first part of the book that had me


I was totally thinking Why? Oh Why? and with HER ~ That biatch deserved to be


I just wanted to tell this woman


As the book progresses Colton holds steadfast and shows he is continually there to support Rain. When tragedy strikes the band steps in and is there to support Rain. When FINALLY the chance to acknowledge something more is given and both parties are on the same page I


there was definitely chemistry between the two and it was totally – epic, oh yes I was


but when Colton makes a big mistake taking the word, um pictures, from another I just


That isn't what really got me though~ Colton really had me


and totally


when he they returned from tour and something happened and he let the "seeds" of doubt be planted instead of talking it out. My heart went out to Rain in both books! I ached for her but in the end by the very end I was totally


If you are looking for a solid 5 ++ star Rock Star Romance series then Blessed Tragedy is the series for you! I felt there was immense growth between the first book and the second ~ both were awesome but for some reason this one is my FAVORITE! Totally worth the read ~ This is had some hot roll in the sheets parts but it was more than that for me it was Colton's love that made me wish at times I was Rain!!!!!!!
About the Author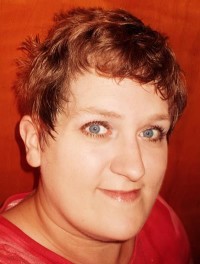 With the exception of three years in Nebraska, H.B. Is a Wisconsin girl through and through. She lives with her husband, two kids and roommate (also known as the "bonus parent") in the middle of nowhere but close enough to civilization to maintain a shred of sanity.
She credits her father introducing her to an APAzine in the mid-90s for her love of writing. Bent, her debut novel, was a NaNoWriMo challenge to write 50,000 words in one month. After years of attempting and failing, she finally got through it and this is the result!