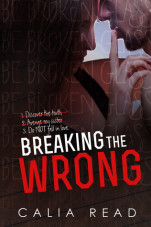 Today we welcome to our blog Calia Read as she celebrates the release of her new book Breaking the Wrong.
Read my 4 star review of book 1 here.
Enter using Rafflecopter below for an amazing giveaway!
---
4.5 STARS!!!
Summary
Emilia Wentworth would do anything for her sister.
For three years, Emilia has lived in the past, feeling her sister's pain and hating those who are to blame, including one of the Sloan brothers.
Finally, she has had enough. The only way to be free is to create a Burn List with all the people who have ever hurt her sister.
As she crosses each name off, she gets closer and closer to her final target. But, things aren't always as they seem.
Loyalties are tested.
Boundaries are crossed.
And the truth is revealed.
Excerpt
"If you were bold…" Macsen shifts closer and I clinch the book tightly in my hands. "What would you do?"

My heart picks up speed as I open my mouth. I hesitate for a second, afraid to say what I feel. But when will this opportunity ever come again? Probably never. But it doesn't make it any easier.

Tell him or don't. Tell him or don't. I weigh the pros and cons in my head as I stare at him. After a few seconds pass between us, I let out a shaky breath.

"I'd lean forward…" I whisper.

His face moves closer and I watch his green eyes become hooded with lust. "And what?"

I lean an inch closer. "I would kiss you."

Macsen's eyes slam shut and the rejection I feel stings. I start to rise and when he opens his eyes back up. His hands gently hold my own to the floor and then his mouth is on mine. I want to shiver from how lightly his lips move against mine, how smooth they feel. They move coaxingly, with soft nips. My lips stay shut. I'm enjoying every single trick of his to get me to open up my mouth to him.

My breathing is shallow as I pull away. His hands move away as he settles onto the floor, his legs wide apart. My nose brushes against his as I stare into his eyes. His pulse is pounding at the base of his throat. With my palms flat on the floor, I lean closer. My body is between his spread legs. Even though he's silent, his chest rises and falls like he has just stopped running. I know he wants me. I shut my brain down, ignore what a mistake this is, and lean forward and kiss the side of his neck. He jumps slightly and I lick his skin.

I hear him groan and move my lips upward.

A kiss cannot replace the past. But with every kiss to his skin, my hurt becomes a distant memory. All my pain is gone and all I can feel is the blood roaring throughout my body. My lips tingle as I drag them across his jaw. When I reach his lips, I stop, and hover. I can only go so far before it's his turn to take control.

My eyes briefly flick down to his arms. He's resting his weight on his palms, but I watch his arms shake. He's losing his calm demeanor. The longer our lips are apart, the more the air snaps around us. My breathing is harsh as I wait patiently. When Macsen still hasn't moved, I start to back away.

"Don't," he says roughly and reaches out. Easily, his hands span my waist and he drags me onto his lap.

I grip his forearms tightly as my body sinks closer and my thighs hug his hips. Against the juncture of my thighs, I can feel how hard he is. I shift once and my thighs start to shake. He only pauses for a second, looking at me with such intensity, I'm waiting for my skin to melt. When his lips meet mine, there's more urgency to our kiss. My nails dig into his flesh as he licks the seam of my lips and nips at my bottom lip.

I want to pretend, just for a few hours, that I'm someone filled with forgiveness. No scars on my past. No cuts on my emotions. I want to be a whole person, not someone sewn back together. And I feel put together with Macsen's arms banded tightly around me.

I open my mouth and his tongue slips in. I gasp loudly in shock at how good this feels. Goosebumps break out across my skin, and I move my tongue against his cautiously. My revenge runs in the opposite direction the longer his mouth is on mine.

Slowly, I start to relax my body. I practically sigh when Macsen's hands move from my hips and toward my face. He bites lightly on my bottom lip and soothes the burn with his tongue. Macsen angles my head and explores my mouth. I thrust my tongue against his and fist my hands into his hair. The grip on my face tightens before his hands drift away, traveling down my body.

His fingers drift over my breast and through my bra, my nipples tighten. I want him to keep touching me there, but his hands move across my stomach and slip underneath my shirt.

How can I be doing this? None of this is part of the plan. My mind torments me and tries to pull me back to reality, but Macsen is my weakness. I can't stop. My fingers drag up his arm, clinching his biceps. His hands explore my stomach and I breathe heavily, pulling away from his mouth and leaning my head on his shoulder. Those large hands inch closer to the lace of my bra and the two of us are breathing hard. His fingers veer around my chest and I feel him slip a finger underneath the strap of my bra. And even with the barrier of my shirt, he drags it down my shoulder and down my arm.

There's a torturous second where he does nothing and I think I stop breathing.

Against his neck, against my will, I murmur, "More."

My brain has shut down and now my lust is talking. It's a greedy feeling because all I can think about is having his hands all over me.
Christine's Review
I didn't think that I could love Macsen Sloan more than his brother Thayer but boy was I wrong!  In Breaking the Wrong, we learn that revenge isn't always so sweet.  Similar to how Every Which Way captured my attention from the beginning, I was sucked right into BtW!
Emelia Wentworth is psycho!  We catch a glimpse of her in Every Which Way towards the end of the book and I wondered then what her intentions were for Mac.  Emelia creates a burn list of people she wants to get revenge on from hurting her family.  We know the reasons stem from her sister but we don't learn the reason until later on in the book.  It was hard for me to connect to Emelia at first because of my mistrust of her and my wishing that she would just be honest about her past upfront rather than it coming out later and destroying everyone.
I loved and then didn't love Mac in Every Which Way.  In this book, we learn more about his childhood – how he was raised by a lying drunk mother who raised him to think that lying could get him everything.  Mac stayed with his mother while his brothers Thayer and Mathias lived with his father.  As we learn more about this situation, I grow to love Mac again because of all of the sadness in his past and because he is a product of how he was raised and it's not to his fault.
Mac sees Emelia as gorgeous, intense and terrifying.  He doesn't realize that he is on her burn list and that there are reasons why she transferred to his college.  Mac ends up tutoring Emelia in Math and she hates that he sees her vulnerabilities.  Despite her wanting to hate him, it's wonderful to watch their feelings grow for one another and how they can't seem to resist each other.  I love watching the conflict in Emelia as she starts to question whether she should have a burn list and if Mac deserves this revenge.  She enjoys spending time with him and there are many firsts she experiences with him that put a smile on my face.  Where at first she came to ridicule and destroy him, she now wants to show him how much she cares and Mac deserves it SO much after everything he has experienced in his life.
Without giving anything away of the book, I was SO wrong with my initial thoughts of Emelia.  In learning the true story of what happened, I can't help but admire her for her strength to want to avenge her family.  If I had her strength, I would want to do the same.  I loved how Emelia and Mac just got each other.  I so badly wanted this couple to work out because they were PERFECT for each other.
If I thought Every Which Way was intense, Breaking the Wrong took it to a whole other level!  There were so many emotions I experienced while reading this book.  I will admit that there were even some chills running down my spine and tears that were spilled.  Ms. Read took the steaminess up a notch and I enjoyed that very much as I felt that it added to the connection I already felt with these characters.  After learning the truth from both sides, what is the right thing to do?  Can two broken people be together?  Will they do anything to fight and keep each other?  Can they break the wrong?
You will have to read this book to find out!  Calia – just WOW!  You amazed me with this book.  I loved the different POV's and I loved every emotion I felt – you are an amazingly talented writer.  I stayed up til 2am to finish it because I HAD to know what happened.  I had to know if there was a HEA.  You will have to read it to find out on your own to satisfy your curiosity – you won't be disappointed!
Oh and I have to mention that I LOVED the secondary characters of Chris and Tosha and hope that these characters are able to have their own books one day – looking forward to also reading about Mathia and anything else Ms. Read writes!  Well done!!!
Character Inspirations
---
About the Author

College seemed like too much stress for me. Traveling across the world, getting married, and having three kids seemed much more relaxing.
Yeah, I'm still waiting for the relaxing part to kick in…
I change addresses every other year. It's not by choice but it is my reality.
While the crazies of life kept me busy, the stories in my head decided to bubble to the surface. They were dying to be told and and I was dying to tell them.
That was four years ago. Soon, the stories will be shared with you. I hope you'll enjoy escaping to the crazy world of these characters with me!!
I'm constantly on Facebook. 'Like' me there so we can gush and talk about everything books!
GIVEAWAY