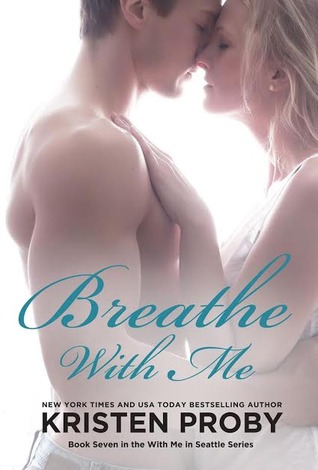 Breathe with Me

by Kristen Proby
on June 23, 2014
Pages: 280
Buy on Amazon
Goodreads


Sometimes you meet the right person at the wrong time…

Mark Williams has loved Meredith since he was seventeen. A successful man with a strong family, he's worked hard to move on from Meredith breaking his heart all those years ago. When his path crosses with the only woman he's ever loved again years later, Mark knows there is nothing he won't do to keep her in his life. But when the going gets tough, will Meredith stick around or will he lose her again?

…But true love has a way of finding its way back.

Meredith Summers is a dancer. One of the first things she learned in following her dreams is that timing is everything. She has spent the past ten years following her dream touring with mega-stars while trying to forget the high school sweetheart she left behind. Now she's back in Seattle, running a successful dance studio with her best friend Jax and determined to move on from her gypsy past. Until the day she sees Mark Williams and time stands still. It's as if no time has passed at all when Meredith finds herself in Mark's arms again. The chemistry, the bonds and the love are as strong as ever and hearing Mark whisper breathe with me in her ear is a balm to her wounded soul. But will she grab onto this second chance at love, or is the timing all wrong for them again?

Don't miss catching up with the Montgomery and Williams clans in this latest installment of the With Me In Seattle Series from New York Times bestselling author, Kristen Proby.

"There were days that I would have exchanged a year of my life to just touch you one more time." –Mark Williams
Recently when people speak of the With Me in Seattle series, they comment about the Montgomery family; and don't get me wrong I adore the Montgomery family but Breathe With Me takes the reader back to were this series began with the Williams family.
Breathe With Me tells the story of Mark Williams, Luke's (from book 1 Come Away With Me) younger brother.
I loved this book; it provides the reader with such a wide range of emotions, you will laugh, swoon, you may even cry and in the end you will close your kindle with a smile on your face and a happy heart.
It makes sense that this book contains a lot of Luke and Samantha Williams (their sister) from book 3 Rock with Me.
I loved the sibling interactions this book provided; you truly see the bond these three share; and when Mrs. Williams, the matriarch, at one point asks Sam if she is tattling on Mark, I was laughing out loud!
The banter between Luke and Mark is so enjoyable, brotherly love at its finest – supporting, teasing, and genuine compassion.
The use of Luke and Natalie and their little ones added to my love of this story, it was like checking in with old friends!
It is no secret that I love dialogue rich books, this one delivers that in spades doing it with such a range of emotions and character interactions that truly build the story, creating a world that pulls the reader in.
Breathe with Me also brought me new characters to fall madly in love with… and yes  I am in love with a new Proby man, JAX!!!!
Ms. Proby expanded her character arsenal and her voice with the creation of Jax, Meredith's best friend. This gay man touched my soul on so many levels and may be one of the best characters Ms. Proby has even written.
Although you get a nice amount of Jax and his happy, I need more of him…. I truly hope the author writes Jax's happy even if it is just a novella.
Ok back to Mark and Meredith; Breathe with Me is a second chance romance. One that manages to grab the readers heart to somehow break it for both characters at times throughout the book. Ms. Proby delivers deep emotions along with steaming hot scenes.
Meredith commented that "We're strangers with memories" – this is a great line for a second chance romance story and  another one from Mark "There were days that I would have exchanged a year of my life to just touch you one more time." 
In typical Kristen Proby fashion, this book has many wonderful group interactions; some that pulled at my heart and some that made me laugh out loud.  This gang in Vegas certainly is one the epic moments.
As Mark and Meredith re-connect, it was easy for the reader to understand why these two belong together and although they spend a decade apart somehow it seems they fall right into step with each other.
Breathe With Me delivers a wedding that is perfect for the couple involved; no I will not tell you who gets hitched but I will say I loved every minute of it!
For me personally, I think the best way to enjoy this book is for the reader to try book 1 Come Away with Me which is currently free; then continue the journey with this wonderful cast of characters that have taken up residence in my heart.
And as I mentioned above, I loved the use of Luke and Natalie in this story; as Mark's brother and sister-in-law, they fit perfectly into the story and reminded my why I fell in love with this series from the beginning.
Luke's line, "if she leaves me I am going with her… my life does not work without her"  truly had me loving him all over again and it was used to help Mark understand and embrace his love with Meredith.
There are so many wonderful scenes in this book but toward the end I must mention that, I loved the scene with Meredith and Logan; I know the book is Mark and Mer but trust me it works!!
Just as Mark and Meredith seem to be on the right track the question becomes what happens when for Meredith the present collides with the past?
Is Mark and Meredith's new and deeper connection strong enough to overcome the hurt of the past?
Well, I will not tell you what that past is; it is not what most would think, it is NOT their prior breakup, I will warn you to have a box of tissues.
The end of this book has an epilogue that made me smile; it made me love Mark even more and added a family scene so clear, the reader can deefinitely picture it in their mind!
Hats Off Ms. Proby for an epic final scene!
There was one thing about this book it did make me a bit sad; the end says stay tuned Fall 2014 for the last book in the With Me in Seattle series; Forever With Me.  That makes me a bit melancholy as this series has been so enjoyable to read and it has been wonderful to witness Ms. Proby mature as a writer!
But truly I am truly looking forward to Dominick's story Forever With Me and for my final visit with this memorable cast!
---
Series Reading Order
Book 1 – Come Away With Me

Book 1.5 – Under the Mistletoe With Me

Book 2 – Fight With Me

Book 3 – Play With Me

Book 4 – Rock With Me

Book 5 – Safe With Me

Book 6 – Tied With Me