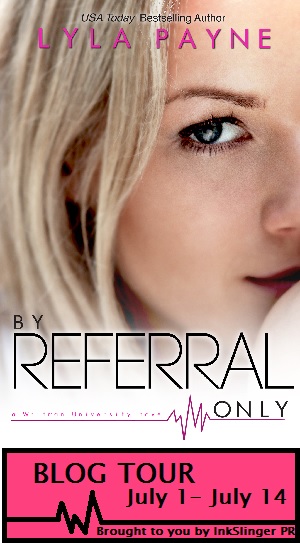 Today we welcome Lyla Payne to our blog as she celebrates her new book By Referral Only which released on July 1st.
Enter for a chance to win some amazing giveaways using Rafflecopter below.
---
4 STARS!!!
Synopsis
After being unceremoniously dumped freshman year because of her family's "new money" status, Ruby Cotton has taken care not to put her heart on the line. No matter how enticing Emilie and Quinn make it look, relationships are scary and hard—while a string of flings is easy and fun. That's what Ruby wants. Easy and fun. The only problem is, when it comes to satisfaction in the sack, most of the boys at Whitman are nothing but pretty window dressing and false advertising.
Ruby takes it upon herself to make campus life more fulfilling, creating a referral database that allows female students to rate their sexual experiences, thereby informing girls of what they're getting into before agreeing to a date.
When her acting partner, Liam Greene, finally shows some interest, Ruby figures she won't need to utilize the helpful gossip. He's handsome, fun, and most importantly, not a guy she'd ever fall for hard enough to let him break her heart.
Not only that, but dating Liam gives Ruby the perfect excuse to say no to Cole Stuart.
As a star swimmer and heir to honest-to-God Scottish royalty, Cole sits at the top of Whitman's A-list—but he's also the lowest rated referral on Ruby's website. The ratings make rejecting his repeated requests for a date a no-brainer, but her real reason for avoiding Cole runs deeper than a string of unsatisfied exes.
He's gorgeous, he oozes sweetness and charm, and the electricity between them could power half of Whitman, but Ruby knows it will only last until his family or friends convince him she's not good enough.
Before she knows it she's falling anyway, waiting for the other shoe to drop but clinging to a tentative hope that Cole might be as different as he seems. When the secret behind his low ratings comes to light, that hope is torn apart, and Ruby wonders if she was right to give him her heart…and whether she has the strength to let him keep it.
Kim's Review
By Referral Only is the second book in the Whitman University series ~ if you read Broken at Love then you will remember Ruby Cotton ~ Emilie's best friend and roommate ~ Ruby comes from "new" money and when your surrounded by the "old" money of those at Whitman Ruby has determined that she needs to ensure she protects herself because a failed relationship her freshman year at Whitman all due to her parent's "new" money exposed her in ways she never wanted to be exposed before.
After watching her fellow DE sisters experience disaster after disaster when he came to dating the hot guys at Whitman Ruby comes up with a brilliant plan ~ an online rating system of each of the guys and would they refer him. It's a hit and all too soon the other ladies around campus are able to anonymously sign on and provide their two cents. Ruby quickly learns one thing ~ Scottish hottie Cole has some low ratings and they don't seem to match his personality or interactions that Ruby had with him.
Ruby met Cole in her Speech class and was immediately struck by the chemistry she felt between the two but his ratings don't bode well so she sticks with her plan to get together with fellow actor Liam ~ Liam doesn't stir her emotions or cause butterflies in her stomach and that's a great thing cause Ruby is all about protecting herself.
Cole slowly integrates himself into Ruby's life and he is simply irresistible ~ what happens when Ruby can't hold back anymore? What happens when these two give it a whirl but most importantly what is that Cole is holding back from Ruby and when she finds out what will be her reaction?
I really enjoyed By Referral Only it was a fast read for more ~ a 4 to 4.5 star book. There were times where I wanted to push Ruby along to "move" the story along and there were times I wanted to shake Cole cause I too wanted to know what he was hiding. I really enjoyed seeing Quinn & Emilie integrated throughout the book as I loved their book and I can honestly say this is a series I would continue to follow.
If you are looking for a great read that has a secret that needs to be revealed then I recommend By Referral Only ~ I was provide an ARC by the author in exchange for an honest opinion of the book.
About the Author
I've long had a love of stories. A few years ago decided to put them down on the page, and even though I have a degree in film and television, novels were the creative outlet where I found a home. I've published Young Adult under a different name, but when I got the idea for Broken at Love (my first New Adult title), I couldn't wait to try something new – and I'm hooked. In my spare time I watch a ton of tennis (no surprise, there), play a ton of tennis, and dedicate a good portion of brain power to dreaming up the next fictitious bad boy we'd all love to meet in real life.