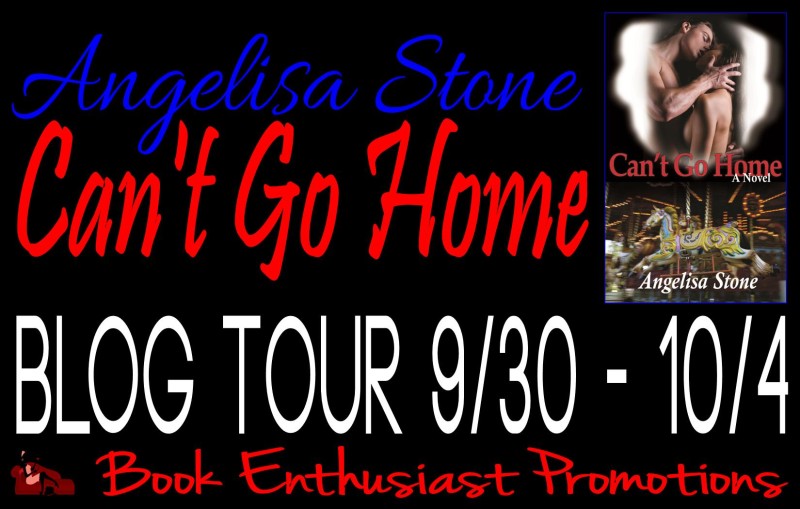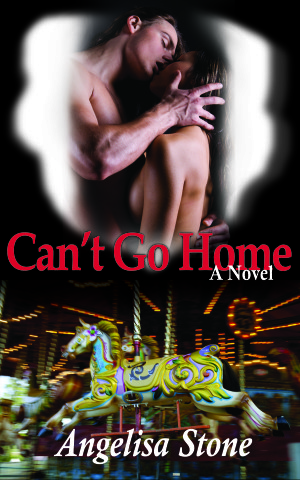 Today we welcome Angelisa Stone to our blog as she celebrates her new book Can't Go Home.
Enter for a chance to win some amazing giveaways using Rafflecopter below! Good luck!
---
3.5 STARS!!!
Synopsis
Everyone has secrets; secrets meant to be kept—hidden away where nobody can discover the truth. Adrian O'Donnell (aka: Dre Donley) is no exception. Dre spins tales and half-truths like it's his job, keeping the reality of his past buried deep within each lie he fabricates. On the other hand, Kathryn Howell is the exception to the rule. She's a straight-shooter, a tell-it-like-it-is, no filter kind of girl.
Kathryn's honesty and straightforwardness is the ultimate turn on for a guy like Dre. He's never met someone so sincere, so full of truth and innocence. Their chemistry is unavoidable, their connection, magnetic. When Dre sets out to make Kathryn fall for him, he doesn't realize the grave mistake he's making. Kathryn's strength and convictions do not falter, even for an irresistible man like Dre. When his past resurfaces, and the lies come tumbling forth, Kathryn must decide if his deceit and betrayal can be forgiven or if the damage is irreparable. Will the truth ultimately destroy the relationship that neither one of them could deny or even attempt to resist?
This novel is for mature readers only, due to language and sexual content.
Jen's Review
I was provided an ARC copy by the author in exchange for an honest review. Can't Go Home is the Debut novel by Angelisa Stone. The Synopsis and sexy cover is what pulled me in! I was intrigued by the carousel horse on the cover, knowing there had to be more to that in the book, and I did love the the reasons behind that being showcased on the cover.
Dre Donley is a man keeping many secrets. He's perfectly happy and content with the new life he's made for himself in Charleston, South Carolina. One day, Dre sees classic beauty Kathryn Howell in a parking lot, and decides he must find out more about this woman, but also vowing not to become attached.
Kathryn is a no nonsense, spunky, literary agent who isn't looking for a man, she wants to concentrate on her career. When Dre comes along she can't help but be intrigued by this mysterious and sexy muscled stranger, but Kathryn also doesn't think someone that looks like Dre would be interested in her.
Even with all the secrets between these two, it doesn't take long for the sparks to fly. There is definite chemistry in their story, and a few steamy HOT sex scenes.
That being said, there were some issues I had that kept this book from being a 5 Star rating for me. The start of the story was hard for me to grab hold of and follow. I think a Prologue at the beginning, could have helped nudge the reader perfectly into the story. I enjoyed the dual POV's provided throughout the book, after a bit of time, the story picked up, had me engaged again, and enjoying the characters. There were several scenes throughout the book that provided the reader with humor and banter between all the characters that kept the story entertaining.
The last chapter for me felt more like an Epilogue,  being told in his sisters POV, after having dealt with issues of her own in the last part of the book. I will watch for more titles in the future from Ms. Stone as she continues to craft her writing.
Favorite Quotes:
"How about I just say this then, I haven't seen a girl that I wanted to sleep with, much less talk to in over a year, and I gotta say, just this past hour with you has been…Well worth the wait."
"Nah, I think I'm submerged, completely submerged, almost drowning if I'm gonna be honest."
"I just didn't count on meeting someone who makes it all worthwhile."
"Watch my every move and tell me what you like and how you like it."
About the Author
Angelisa Stone is a typical Midwestern wife and mom, frazzled by parenting and housework, and overwhelmed with sports schedules, doctor appointments, and three-dimensional creative projects due "tomorrow morning." Angelisa dreams of white sandy beaches, clear-blue waters, and Midori coladas in hand, but realizes that her loving husband and four not-so-perfect children are her real dreams-come-true. Writing and reading are her passions, and she hopes (and prays with her fingers tightly crossed) that readers will find enjoyment and escape through her words and characters.
---
GIVEAWAY
a Rafflecopter giveaway