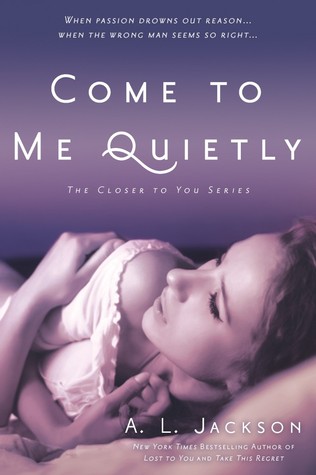 Today we welcome A.L. Jackson to our blog as she celebrates her new release COME TO ME QUIETLY! This is Amy Jackson at her finest. Enjoy a teaser from book 2 in this series COME TO ME SOFTLY below!
Enter for a chance to win some amazing giveaways using Rafflecopter. Good luck!
---


From the acclaimed bestselling author of Lost to You and When We Collide comes a new adult novel of one woman's obsession: a man who's as passionate as he is elusive—and as tempting as he is trouble…
Aleena Moore is haunted by Jared Holt. It's been six years since she's seen her brother's best friend, the self-destructive bad boy she secretly loved in high school. As the years pass, she knows it's time to move on. Time to decide between a practical nursing degree and her true dream as an artist. Time to get over Jared and give another guy a chance…
Just when she opens her heart to her friend Gabe, Aly returns home to find Jared sleeping on her couch. The teenage boy she loved has grown into a man she can't resist. Covered in tattoos and lost in rage, he's begging to be saved from his demons—the memories of the day he destroyed his family. As the two reconnect, their passion is hot enough to torch Aly's judgment. But can she risk her future for a man who lives on the edge of destruction?
This book was completely breathtaking – this is Amy Jackson at her finest and COME TO ME QUIETLY will be among my TOP READS of 2014!
The prologue immediately captured my attention and I knew right from the start that I was embarking on a journey into deeply passionate second chance love story created by this talented author (one of my fave kind of reads!).  It's no secret that I am a HUGE Amy fan and this book was icing on the cake for me.  So descriptively beautiful – it was like watching a movie unfold in my heart and mind.
These characters of Jared and Aleena, took hold of my heart and I fell completely in love with them.  Jared and Aleena have known each other since small children playing in the neighborhood, enjoying their youth.  Jared suffers a loss so devastating and eventually leaves the town he grew up in to run and escape the sad memories.  Jared is tough on the outside yet obviously so broken, angry and closed.  He doesn't recognize the good within himself, but Aly does.  She sees his goodness and his big heart beneath all of the layers.  Aly is a sophomore in college studying to be a nurse.  She grew up in a loving home with her two brothers.  To me, Amy painted her to be the perfect girl – sweet, kind with a big loving heart.  Aly grew up crushing on Jared, her brother's best friend.  Seeing Jared return and to see him notice Aly for the first time as not the little girl he played with but now a woman lifts up my heart yet saddens me at the same time seeing that he feels unworthy of such feelings of love and hope.  Jared fights the growing attraction and emotion between them while Aly wants to embrace it and I so desperately want to crawl into my Kindle and hug and love this beautiful broken soul.
I enjoyed the alternating POV's immensely – they were so well done.  That combined with the looks into the past and the present, connected me on a whole different level to these characters and this story.  I loved the need and the pull that they felt for each other – it's so strong that I could feel it too.  To see how much they mean to each other and to literally feel Jared's pain and suffering was so emotional for me – this was so well written, I wanted to cry for all the turmoil it caused within me.
I have to say this again – This is Amy's BEST WORK YET!  Its not everyday that you are so connected to a story – but I am – I am vested, I want more!  I experienced a range of emotions while reading this book, it tore me apart, it made me smile, and above all I felt the love.
A.L Jackson has shown us a deeply powerful love, one that you can't live without.  It is beautiful, consuming and heart breaking.  This is a love that has blossomed from friendship and youth and has grown into something so intense and captivating that it will make your heart pound with love throughout your read.  I fell in love with this broken boy and I will admit that I wanted to rescue him myself.  Will Aly be able to rescue him from his past and help him open his eyes and mind to the never ending strength of love and support?  Will she show him that he is worthy of such beautiful things in his life?
You will have to read this book to find out! <3
A.L Jackson captured my attention with her Take This Regret Series – this one is above and beyond – this is the epitome of why I love reading – this is my escape, its beauty and magic and shows me the magnificence of true love and I recommend this whole heartedly!
Thank you Amy for sharing this story with us! <3


Enjoy a teaser from COME TO ME SOFTLY! If you have not read COME TO ME QUIETLY – DO NOT continue reading!!!
I gathered his hand and lifted it high, leading him down the length of the short fence to its end at the Schmidt's driveway. As soon as we were free of the barrier separating us, I tugged him behind me, running ahead. I dragged him up the sidewalk to the old rickety fence backing the neighborhood.

Over my shoulder, I tossed him a wide smile, before I ducked down, maneuvered around, and wedged myself through the hole in the wooden fence, all the while still hanging onto his hand while I whisked us away to our special place.

A throaty chuckle rumbled from his mouth and floated out to embrace my senses in an inundating swell of joy. My heart pounded as he squeezed himself through the hole that led to the center of our world, where our dreams had been bred, we're we'd grown and discovered and grown into the people we were.

Tall, dead grasses grew up in the field, swished and snagged at our clothing as we passed.

I led him right to the base of our tree. Dropping his hand, I wedged my boot onto the first rung of wood that had been hammered into the trunk and began pulling myself up to our fort housed in the tree above.

"Aly, are you crazy?" Jared asked, full of concern and worry, though there was an undertone of laughter in his words. "What if you fall?"

I hiked myself up one more step, looked down at the beautiful man staring up at me. The man I trusted with my life. "Then you'll catch me."

Something so perfect transformed his expression, an innuendo of devotion that filled my chest too full and fueled all the hopes I had for this life. "Yeah, I will," he mumbled, so quietly I was sure he was only talking to himself.

I climbed the rest of the way up and settled onto the decaying wooden floor. Those large branches grew tall, stretching toward the sky. Jared hoisted himself up onto the old sheet of plywood in one swift motion. He scooted up beside me and rested his back on a thick branch that helped to support our fort, the place that was made of fairy-tales and hopes and dreams.

They all came crashing back to me now.

Vibrant. Brilliant. Finally within my reach.

Jared pulled me against his side, and I nestled my head on his shoulder and sank into his warmth.

Our breaths were just barely visible in the cool air.

We stared up through the barren branches of the tree. Stars blinked where they dotted the sky. Only the brightest shined through the city lights that cast a milky haze across the inky dome.

Everything slowed, my heart contented.

Jared's arms were the best place to be.   

His gentle gaze slipped all over my face. A caress. "I love you, Aly Moore. You know that, don't you?"

I reached up and cupped one side of his face. His fire burned my skin, the connection we shared greater than anything that should be possible. "Of course I know that."

I knew it long before he knew it himself.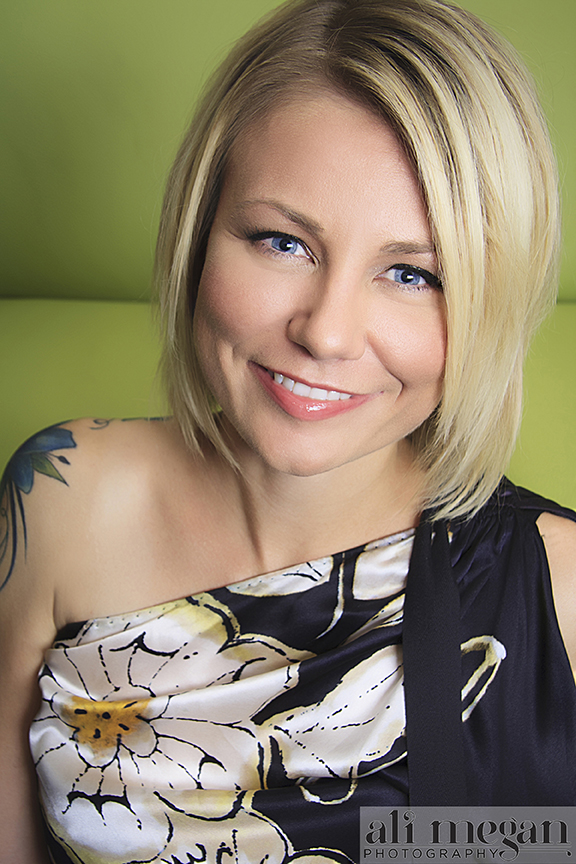 A.L. Jackson is the New York Times bestselling author of Take This Regret and Lost to You, as well as other contemporary romance titles, including Pulled and When We Collide.
She first found a love for writing during her days as a young mother and college student. She filled the journals she carried with short stories and poems used as an emotional outlet for the difficulties and joys she found in day-to-day life.
Years later, she shared a short story she'd been working on with her two closest friends and, with their encouragement, this story became her first full length novel. A.L. now spends her days writing in Southern Arizona where she lives with her husband and three children. Her favorite pastime is spending time with the ones she loves.
---
And don't miss the DAILY blog tour giveaways on A.L. Jackson's Facebook accounts! All kinds of fun stuff will be given away ~ ebooks, gift cards, and much more! EVERY DAY from January 7th – February 7th!!
https://www.facebook.com/aljacksonauthor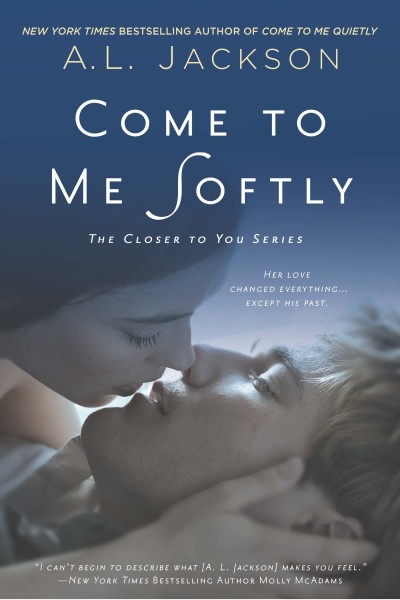 Pre Order Here