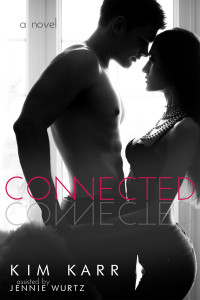 Today we welcome to our blog, Kim Karr as she celebrates her debut book Connected which released on March 20th.
Enter using Rafflecopter below for some AMAZING prizes!!!  Good luck!
---
4 STARS!!!
Synopsis
What if a 'Once in a Lifetime' could happen twice?
Suffering from a past full of tragedy, Dahlia London's soul has been left completely shattered. Happily ever after is a far cry from reality in her world. But, when she is reconnected with her past, the bonds that form are irrefutable.
When River Wilde, lead singer of The Wilde Ones, comes back into Dahlia's life, the intensity that fires their relationship combined with underlying feelings that have never died lead her to believe she has met her soulmate.
Struggling with confusion as old connections fade and new ones begin, Dahlia's grief begins to lift–but guilt remains. River wants to be the one to mend all that is torn within her.
But with a past that is never really gone, can their future survive?
Excerpt
When I exit the ladies room, he is standing against the wall, foot propped up, and head down, grinning. He's the epitome of sexy with his long lean toned body and killer smile. He looks up at me and grabs for my hand. He surprises me by gently backing me up to the wall. He kisses my forehead before moving his mouth down to my nose and kissing it too. He moves to my lips and tenderly but aggressively bites down on my lower one and then looks at me. I close my eyes as he sucks on my lip, sending an overwhelming sensation through my body. Pressing his lips firmly to mine, he starts to kiss me in the most erotic way. First, he lightly kisses me, then opens our mouths together and exhales. I can only inhale his sweet breath. He runs the tip of his tongue over my lower lip before slipping it into my mouth and firmly pressing his lips to mine. I'm left breathless as the kiss ends and he takes my hand.
Christine's Review
Could love at first sight be real?
WOW!  This book was just WOW!  I am forewarning you now that there is a CLIFFHANGER so be prepared!  I have had the privilege of reading some really great books from some really amazing authors lately and this is definitely one of them.  This was a very well written debut novel from Kim Karr that will not be easily forgotten.
Dahlia (Dahl) London experienced a lot of heartache as a child when her parents died in a plane crash when she was 14.  We the readers see the many fond memories she has of enjoying music and concerts with her dad and fashion with her mother.  Music plays a big role throughout this whole book as the author uses songs as chapter headings signifying the feelings and thoughts of each chapter which I thought was really well done and different from other books I have read.
While in college, Dahl is dating Ben, the boy she has been with since she was 16.  While at a bar with her friends, she meets River Wilde, of The Wilde Ones and there is an undeniable attraction and chemistry between them.  I feel sorry for Ben as Dahl interacts with River because of the obvious connection between them but am relieved when she decides to walk away because she has Ben, loves him and recognizes that River could be trouble for her.
Fast forward 4 years and Dahl is engaged to be married to Ben.  He is somewhat conceited with his drive and determination but they seem happy until he starts acting strangely and right away my radar is up causing alarm to course through my head and heart as I feel that something is just so wrong!  And it happens – the love of her life is killed before her eyes and I feel complete devastation and sadness for her as she goes through the many months and years of complete torture of losing a loved one and having to move on from it while still living in the same house that was THEIRS, sleep in the same room that was THEIRS, and to live this life that was supposed to be THEIRS but really she is alone.
When Dahl finally realizes that she needs to work on rebuilding her life again, her first job as a photographer for a music magazine is with River Wilde.  He is still as gorgeous and charming as she remembers.  Fate has obviously brought this opportunity for them to try again and they decide with some time to not let it slip by – new beginnings and new hopes.  A lot of time has passed here that the time for her to move forward is appropriate and I am glad that the author did not rush this part and that Dahl did not jump at the chance for a new relationship so soon.  When someone has been with the love of their life since they were teenagers, time is needed in order for people to grieve and mourn their loss and in their own time they can decide when they are ready to try for love again.
"Let your heart heal and someday you will love again.  Let someone else love you."
I enjoy River's character very much as he brings a smile to her face and makes her laugh again.  River carries his own secrets which we find out more about later in the book.  But what I appreciated most about him was that he never tried to take Ben away from Dahl..he may not have liked that she had a love prior to him, and he may not have liked that she wore the bracelet that Ben gave her but he took it all in stride and let her be who she was without pressuring her to move forward.  It shows me what a good person he is inside and I liked that about him a lot.  I appreciated even more that he wasn't into the money or the fame of his success – as long as he had Dahl and was with her, he was where he was supposed to be.  AWW – totally HOT NICE GUY!  MY HEART!  SIGH!!!!!!
So without giving any more of the story away, there is some mystery and intrigue starting from the point where there is an unexplained break into Dahl's house where all of her most treasured possessions are destroyed.  I am again heartbroken for her as a bunch of her memories of Ben are shattered into pieces.  There are secrets that people are hiding and in the back of my mind I feel that I may have known it all along and just don't yet realize who is behind it all.
The epilogue is FAN-FREAKIN-TASTIC and is what totally did it for me for this book!  I am now in awe of Kim Karr and about what just happened and have to read book 2 LIKE RIGHT NOW!  What will happen to this couple?  Will their love survive?  I can't wait until book 2 Torn scheduled for release in October (ahhhh soooo long to wait!!!!)
Character Inspirations
About the Author
Kim Karr lives in Florida with her husband and four kids. She's always had a love for reading books and writing. Being an English major in college, she wanted to teach at the college level but that was not to be. She went on to receive an MBA and became a project manager until quitting to raise her family. Kim currently works part-time with her husband and recently decided to embrace one of her biggest passions—writing.
Kim wears a lot of hats! Writer, book-lover, wife, soccer-mom, taxi driver, and the all around go-to person of her family. However, she always finds time to read. One of her favorite family outings was taking her kids when they were little to the bookstore or the library. Today, Kim's oldest child is seventeen and no longer goes with her on these, now rare and infrequent, outings. She finds that she doesn't need to go on them anymore because she has the greatest device ever invented—a Kindle.
Kim likes to believe in soulmates, kindred spirits, true friends, and Happily-Ever-Afters. She loves to drink champagne, listen to music, and hopes to always stay young at heart.