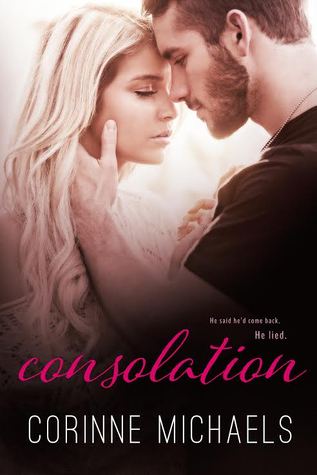 Consolation

by Corinne Michaels
on March 18, 2015
Pages: 302
Buy on Amazon
Goodreads


Liam wasn't supposed to be my happily ever after.

He wasn't even on my radar.

He was my husband's best friend—forbidden.

But my husband is dead and I'm alone. I ache for him and I reach for Liam.

One night with Liam changed everything. Now I have to decide if I truly love him or if he's just the consolation prize.
Corinne Michaels is a must click author for me. She captured my attention with her beautiful writing and captivating stories with the Belonging Duet and has stolen my heart completely with book 1 in this new duet – Consolation.
I love angst and I love when an author is able to evoke such a range of emotions in me when I read and Ms. Michaels has proven again that she can rip my heart out and wring tears from my eyes. I know this probably sounds crazy lol but these are the BEST kinds of books for me…the ones that make me feel…the books that I am able to feel in my heart and soul.
Now we met Natalie in the Belonging Duet so you don't necessarily have to read that series to read this one as this can be read as a standalone. Though we do see many of the same characters return in this duet, I do honestly feel that to get the whole story, to get to understand everyone's back story, I do encourage you to read the Belonging Duet as well.
I won't reveal too much of the story as I do believe that a reader should experience every story for themselves..blindly and without spoilers. But I will say a few things that really stood out for me…
The chilling prologue is heartbreaking, gut wrenching and emotionally raw…I have included it below so you can get a feel for how Consolation starts and how it will immediately capture your attention.
Loss and death are hard for everyone and Ms. Michael's really captured the pain and emotion so well in Consolation. The reactions I felt were so so realistic, the hardships of being a single parent with a baby while trying to move forward from missing your other half was devastating and heartfelt.
I simply adored Natalie (Lee). Lee who will suffer and grieve so much and uncover things that she never expected. I loved watching this character grow and really come into her own. Because ultimately she gets a second chance to live and deciding what path she will take in her journey and how she will get there is wonderful to be a part of.
Now Liam…oh LIAM! Kind, patient and protective. Yes he is the best friend but watching their relationship grow was magical. Liam had me laughing out loud in some moments (oh the duct tape and rope lol) and swooning in others….the PERFECT man!
So of course this wouldn't be a Corinne Michaels book if she didn't leave you with that WTF just happened moment…and boy did she deliver! With an earth shattering cliffhanger, I can not FREAKIN WAIT for book 2, Conviction! Ms. Michaels writing has really grown so much since her first series and I am just in awe of her stories that leave you completely breathless and wanting for whatever happens next.
Job well done Corinne! Keep doing you! <3

Prologue
Natalie
"Oh, Chloe, if you'd like to come out, please wait until your Daddy gets back," I insist, holding my belly as another Braxton Hicks contraction hits. I grip the dresser and try to breathe through it. It seems like they're coming more frequently.
Once it passes, I try to finish what I came in here for. Aaron is away, but I want the nursery done so we can enjoy the next few weeks once he returns. I walk around what will be her room, putting a few more of the pretty pink dresses in the drawers. Aaron and I have fought about the vast array of pink things that are now strewn around the house—he hates it, I love it.
He insisted we paint her room in camouflage. Brown, green, and black camouflage for a girl? No. I almost sent myself into labor with that argument. I got home and he and Mark were drawing it out on the walls. I launched various household items at Mark while throwing him out of the house. My husband found out shortly after how much he could suffer by my hands. I may not be a SEAL, but you don't mess with me either. In the end, I won with purple walls and the sheer netting around her white crib.
"Daddy's going to love this room, Chloe. I can't wait to see his face when he sees the pretty butterflies." Needing to take another break, I sit in the rocking chair and rub my stomach. It soothes me knowing she's in there. I can protect her—it's my job. I love being pregnant and it's a miracle we were able to conceive her. I've already told Aaron I want to try for another one as soon as she's born. I close my eyes and sink, allowing the world to fade away.
I imagine holding her in my arms, sitting here in this chair, soothing and kissing her. I picture Aaron with her asleep on his chest as she gets to hear his heartbeat. She'll own his world and have him wrapped around her finger.
Knock, knock, knock.
I hear the door, but it takes me a few seconds to get out of the chair.
KNOCK, KNOCK, KNOCK.
They bang louder this time.
"Coming!" I yell at the door. Jeez, give me a second.
Waddling to the door takes me a minute since I'm the size of a whale.
I open the door and see Mark Dixon, Aaron's boss and close friend. He works at Cole Security Forces with Aaron and served with him for years. His head is hanging low and when he looks up, his eyes are full of sorrow.
"What's wrong?"
"Lee," he chokes on the one syllable of my name. The one Aaron uses. Something is definitely not right.
"What happened?" I ask again as I begin to shake.
Tears fill his eyes and I know. I know my life is never going to be the same. I know everything I've ever feared is about to come true because Mark doesn't cry. Mark wouldn't be at my door if something weren't really, really wrong. "It's Aaron."
My heart stops beating and the world I live in ceases to exist. "Don't," I beg with tears blurring my vision and my breath accelerating.
This can't be happening.
"Please, don't, Mark. Please," I beg him again, because once he says it…but I know it's futile. It doesn't matter because he can't stop it. It's already happened.
"Natalie, I'm so sorry."
The dreaded words that every military wife fears. Only I wasn't supposed to have to worry about this anymore. We were done. We got out. I wasn't supposed to ever fear this again.
Please, God, don't take him from me. Please!
"But, I'm p-pregnant. I'm having a baby," I stammer as if that will somehow make none of this real. "He said he'd be back. He said he…" I trail off as it becomes difficult to breathe. My hand flies to my mouth to stifle the scream about to escape. Everything goes colorless.
"It was an IED. I'm sorry," Mark says as his eyes glimmer with unshed tears.
I fall.
But he's there, cradling me in his arms. "I'm so fucking sorry."
"No. No. No." Mark holds me as I sob clutching my stomach. "You're lying," I hiss, tearing myself out of his embrace.
"I wish I were," he says as I struggle to get up.
"It was a mistake. He's having a baby. He said it was a simple in and out!" I scream and throw my hands against his chest. "You're lying!" I scream, even knowing it's not a lie.
"I'm sorry."
"Stop saying you're sorry!" My sorrow turns to hatred. I hate him. I hate everyone in this moment. I hate Aaron and everyone who was there. I hate this house and everything in it. I hate the air that he no longer breathes. Hate consumes me. Hate smothers me. "Get out!" I yell and push against his chest. "Get the fuck out of my house! Aaron will be back in a few days and then we're going to get ready for our daughter to be born."
"Please," Mark beseeches and I refuse to look at him.
This isn't happening because Aaron's alive.
He's not dead. How dare Mark lie to me.
"He'll be back. He wouldn't leave me. He promised." Aaron wouldn't lie to me. He never does. When he left for missions, he would always say goodbye like it could be our last. But this time he kissed the tip of my nose and said, "Now don't have that baby until I get back."
"Can I call someone? Your mom?"
"No, you can't call anyone because he's not dead! Go get him, Mark! Go get my husband and bring him home." I step back pointing my finger at him. "You all promised. He promised." I clutch my stomach as a sharp pain radiates, but it's nothing compared to the agony sitting on my chest. Tears flow relentlessly as I struggle against his hold. "He promised."
"I know he did," Mark says as he holds my head against his chest.
"He lied."
My life is gone.
My heart is dead.
I'm a widow at twenty-seven.

♥ Books by Corinne Michaels ♥
The Duet Series
Book 1 – Consolation
Pre-Order Book 2 – Conviction
Read the Belonging Duet Series
Boxed Set includes Beloved and Beholden
Book 1 – Beloved
Book 2 – Beholden