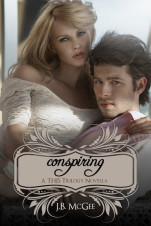 Today, we welcome JB McGee to our blog as she celebrates the release of her new book Conspiring which released on February 3rd.
J.B. is giving away an ebook copy of Conspiring to one lucky winner.  Leave a comment after this post or on our Facebook page to enter to win.  Winner will be picked tonight!  Good luck!
Summary
When Bradley refuses to take Veronica to his cousin's wedding, she finds herself in the company of the charming and attractive Ian. There is no denying that Veronica and Ian have an intense, mutual attraction which draws them together like magnets. But what neither of them realizes is that their attraction isn't the only thing pulling them together. It is a small world, and it's about to get a whole lot smaller when an innocent fling turns into an intricate plan to conspire.
Exclusive Deleted Scene
**Before the idea popped into my head for the final chapter 10, this is what I had written. This might find its way into Falling.  I guess you'll have to wait and see.  🙂
I called Ian on Thursday after he left me pouting, spent, and wanting in my bed.  I couldn't get my mind off of him.  I woke up in the middle of the night, and the soup he had brought was the most delicious chicken noodle soup I have ever had in my life.  I am not sure where he bought it from, but I had to ask.  I also thought I'd tease him a little bit since he seems to like me calling him.  

My teasing backfired in my face.  He knew exactly how to keep me guessing.  He's very unpredictable, but in a good way.  He challenges me.  He nurtures me.  But I also love that when I'm with him he takes complete control and my only job is to enjoy whatever he has planned for me.  He's yet to disappoint me.
Excerpt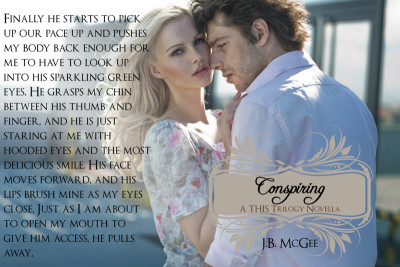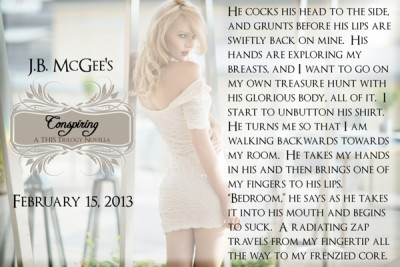 About the Author
J.B. McGee was born and raised in Aiken, South Carolina. After graduating from South Aiken High School, she toured Europe as a member of the 1999 International Bands of America Tour, playing the clairnet. While attending Converse College, an all girls school in Spartanburg, South Carolina, she visited Charleston often. It quickly became one of her favorite vacation spots. She met her husband, Chad, during Christmas break her freshman year, and they married in 2001 and she moved back to her home town.
In 2005, the couple welcomed their first son, Noah. J.B. finished her Bachelor of Arts degree in Early Childhood Education at the University of South Carolina-Aiken in 2006. During her time studying children's literature, a professor had encouraged her to become a writer.
In 2007, she welcomed their second child, Jonah, and she became a stay at home mom/entrepreneur. In 2009, the found out their two children and J.B. have Mitochondrial Disease. In 2011, a diagnosis also was given to Chad. Please take a moment and learn more about Mitochondrial Disease. Awareness is key to this disease that has no cure or treatments.
J.B. McGee and her family now reside in Buford, Georgia, to be closer to their children's medical team. After a passion for reading had been re-ignited, J.B. decided to finally give writing a shot. Broken (This Series), is her first book and first series.
Twitter  j_b_mcgee
Website http://www.jbmcgee.com
Facebook http://www.facebook.com/ShhMomsReading#!/authorjbmcgee?fref=ts
Goodreads http://www.goodreads.com/jbmcgee