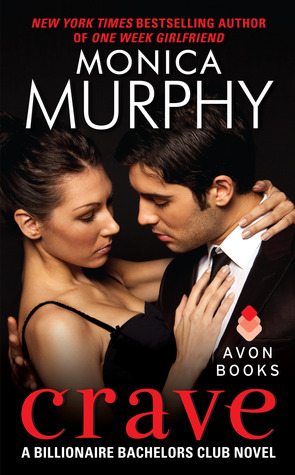 Today we welcome Monica Murphy to our blog as she celebrates her new book Crave which released on August 6th.
Enter for a chance to win some amazing giveaways using Rafflecopter below!
---
3.5 STARS!!!
Synopsis
Billionaire Archer Bancroft always gets what he wants—and he's wanted Ivy Emerson, his best friend's sister, for far too long. Being forbidden and untouchable only makes her more tempting. When a million-dollar bet with his friends throws down a challenge—last bachelor standing takes all—Archer knows he can win. That is, until one enchanted evening with Ivy takes his heart for a ride.
Ivy knows Archer is nothing but bad news: Infuriating, arrogant…and completely intoxicating. But despite her best efforts, she can't seem to keep away. When a stolen kiss leads to a night of heated passion, Ivy realizes she's in trouble and in head over heels.
But in the light of day, everything seems clearer and Archer's not so sure a one-night stand is all he wants. Concocting a plan to keep Ivy by his side, Archer might just be willing to lose this bet…and win the jackpot instead.
Excerpt
I sorta hoped Archer was different. Clearly, he's not.
"I'm not looking to help anyone. I'm no one's savior." His gaze meets mine and he tips his head toward me. "You of all people should know that."
I most definitely know that. "I find it funny that the man who is the epitome of anti-commitment creates a safe haven for couples looking to spice up their sex life." I shake my head. "You must see the irony."
"Oh, I do. Trust me." He smiles and the sight of that dimple I adore momentarily takes me aback.
"You should show Ivy some of the rooms," Gage suggests as he approaches us, breaking the quiet spell that had settled over Archer and me. I step away from him, smiling faintly at my brother, though really I'm irritated. I should be glad he spoke up before I did something foolish. Like touch Archer. Give away that I might . . . feel something for him.
I definitely feel nothing for him beyond a fondness for a man I've known for what feels like forever.
Ha. And a yearning for his body.
"I'd love to see the rooms," I say, trying to push the confusing thoughts from my brain.
"Yeah, Arch. Show her everything. Explain the concept behind the resort so she can get a better understanding." Gage smirks.
The look that crosses Archer's face is nothing short of uncomfortable. "Do you want to see them, Ivy?" he asks stiffly, his gaze flicking to Gage before it returns to me.
"Absolutely." I'm surprised he asks. I wonder more at his discomfort. Is this entire scenario misleading? Is he hiding some sort of secret sex den in one of the buildings? Oh, good lord, I know Archer's reputation precedes him, but he was pretty vanilla last night when we had sex. Nothing too outrageous.
But he was certainly the tastiest vanilla I've ever experienced.
We walk down a meandering gravel path, Archer leading us to a row of detached cottages that each individually house a room. They all have quaint front porches with a pair of large, comfortable-looking chairs on either side of the front entrance, and he approaches the largest one, me following right behind him and stopping while he opens the door.
Inhaling as discreetly as possible, I breathe in his scent, closing my eyes for the briefest moment. He smells . . . amazing, fresh and clean and delicious. I sway toward him, afraid I might fall into him, and he turns just as I right myself, his brows furrowed as he studies me.
"Ladies first." He points toward the door and I follow the length of his arm, realizing a little too late that the door is open and he's waiting for me to enter.
I'd been so caught up in my obsessive sniffing, I didn't realize he opened the damn door.
My cheeks hot, I walk inside, glancing about the space, which I instantly love. It's got a contemporary feel with dark wood floors, a giant fireplace dominating the room, and sleek furniture. I do a slow circle, taking everything in. I catch a glimpse of the giant bed within the bedroom, a deck off the back of the cottage with a beautiful view and—is that a . . .
"Is that a tub?" I point toward it lamely, feeling like a little kid.
"Yes, it is." He sounds amused, and he starts toward the French door that leads onto the deck. I follow him, curious to check it out, and I glance over my shoulder, seeing that Gage isn't following us.
In fact, he isn't in the room at all.
Frowning, I turn back around to see Archer studying me carefully, his hand curled around the door handle. "Your brother took a phone call. He's out front."
"Oh." Swallowing hard, I nod once. Is that all I can seem to say when he makes those types of statements? The ones that worry me and make me realize that I can pretend I don't want him but it's all a lie.
I still want him. More now that I've had him.
"Well, let's check out the view then," I say, hoping he doesn't notice my wavering voice.
Being alone with Archer, even for a few minutes, is going to test my very patience.
Christine's Review
This was a fast quick read that left me wanting more!  Who doesn't love a rich man in a suit?  Monica Murphy does it again with this new series about the Billionaire Bachelors Club.
The Billionaire Bachelors Club series follows a trio of wealthy men – Archer, Gage and Matthew who think that falling in love and getting married is something far off in their futures enjoying women and single life to the max.  At their friend's wedding, they place a bet that the last man to fall in love will be deemed the winner of $1 million dollars.
Crave follows Archer Bancroft's story.  From the get go, I can see that Archer likes control and shows no vulnerability towards relationships or his business practice as a high class hotel owner.  And because of this Archer can't resist this bet.  He has had a poor example of what marriage is because of his parents and it is not something that he has set his sights on.
The ONE person who could ever make him want or consider a relationship is his friend Gage's younger sister Ivy Emerson.  Ivy has always been untouchable and perfect ever since their youth.  He knows she is too innocent and too good and knows that he could ruin her but he can't deny the feelings that he does have for her.
Without spoiling this book for you, the attraction between Archer and Ivy is undeniable and HOT.  Archer is different with Ivy and I can feel his emotions because for once they seem to come from his heart.  But has Archer finally met his match in Ivy?  Can she tame him?  And will his friend Gabe EVER allow Archer to date his younger sister knowing his bachelor reputation?
You will have to read this book to find out!
I enjoy Monica Murphy's writing and enjoyed this novella though I did feel that some parts were rushed.  I LOVE the dual point of views as I love being in characters heads and understanding where they are coming from, what they are thinking.  I would have enjoyed this even more if the characters were more developed and the story had more detail but I do think that this is a great start to Monica's new series and I look forward to meeting and reading more on Gage and Matthew!
---
About the Author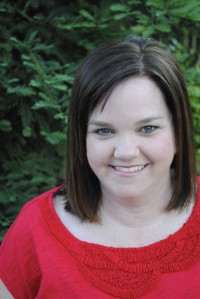 New York Times and USA Today bestselling author Monica Murphy is a native Californian who lives in the foothills below Yosemite. A wife and mother of three, she writes New Adult and contemporary romance for Bantam and Avon. She is the author of One Week Girlfriend and Second Chance Boyfriend.