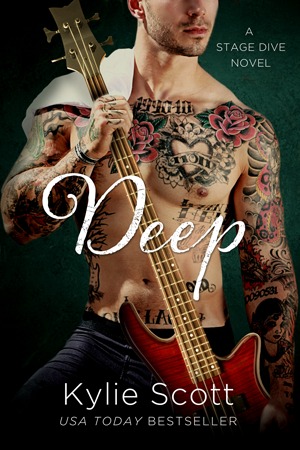 Deep

by Kylie Scott
on March 31, 2015
Pages: 288
Buy on Amazon
Goodreads


Positive. With two little lines on a pregnancy test, everything in Lizzy Rollins' ordinary life is about to change forever. And all because of one big mistake in Vegas with Ben Nicholson, the irresistibly sexy bass player for Stage Dive. So what if Ben's the only man she's ever met who can make her feel completely safe, cherished, and out of control with desire at the same time? Lizzy knows the gorgeous rock star isn't looking for anything more permanent than a good time, no matter how much she wishes differently.

 

Ben knows Lizzy is off limits. Completely and utterly. She's his best friend's little sister now, and no matter how hot the chemistry is between them, no matter how sweet and sexy she is, he's not going to go there. But when Ben is forced to keep the one girl he's always had a weakness for out of trouble in Sin City, he quickly learns that what happens in Vegas, doesn't always stay there. Now he and Lizzie are connected in the deepest way possible...but will it lead to a connection of the heart?
Happy Release Day to Kylie Scott and her new book DEEP! We have TWO giveaways below – make sure to enter and good luck!!!
I highly recommend you read this series in order not only because you get to see the spark early on between Ben and Lizzy but because this is truly an epic series! And watching each relationship develop and mature has truly been so enjoyable.
Book 1 Lick was a Top Read for me and the trend continues. Ms. Scott has shown in this series that she can write, funny, witty, emotional and hot!
The blurb to the book has the reader going in knowing they will be reading a story about a couple dealing with an unplanned pregnancy.
Oh before I forget I love Mal! He is funny in this book even in his being pissed at Ben for knocking up Lizzy, who he told him to stay away from. He is so funny in his mad! I truly think Mal will always be a favorite character of mine so yet again another reason to 1-click this series if you have not already read it.
Ben and Lizzy dealing with this pregnancy was layered with so many emotions.  I truly loved watching their friendship develop and continue to evolve as they navigated the murky waters of dealing with a pregnancy with someone who is not your partner.  The not partners isn't due to lack of attraction but Ben's stubbournness; yes I often wanted to strangle Ben.
Ben's body was aware of his love for Lizzy well before his brain was willing to accept it:
"I don't have an erectile issue. I have a you issue. My dick things you own it, apparently. But there's more to it than than…" "Cocks don't think. We went over that." "We were wrong." "Huh. So I have a pet penis. Okay, keep talking."
Yes, I loved that this rock star was faithful while he was still struggling to accept his feelings and even before they were committed!
Ben and Lizzy's friendship continues to deepen and yes you will be rooting for them to embrace their happy!
This book has so many grin from ear to ear moments:
Turned out Ben did get a somewhat hefty bill for the cleaning of the suede couch. The man swore it was worth every cent. Bless him.
The happy Ben and Lizzy eventually find felt perfect for them… oh and the baby's name is epic!
I was very excited to learn that Ms. Scott is writing a spin-off series about a bar in one of the band member's home town!  It means we get more amazing stories from her and we may also get to peek in on the men of Stage Dives and their families.
Thank you Ms. Scott for the wonderful journey as the men of Stage Dive each found a happy perfect for them.


a Rafflecopter giveawaya Rafflecopter giveaway
♥READ THE SERIES♥
Lick (Book One)
Amazon US: http://amzn.to/19puhB2
Amazon UK: http://amzn.to/1OtJpxU
Barnes & Noble: http://bit.ly/1LQBlbE
Kobo: http://bit.ly/1Hwdc78
iBooks: http://apple.co/1C6eRf6
Play (Book Two)
Amazon US: http://amzn.to/1HX2uGY
Amazon UK: http://amzn.to/1DRefNN
Barnes & Noble: http://bit.ly/1EDFuqc
Kobo: http://bit.ly/19Mnylr
iBooks: http://apple.co/1CT8FKX
Lead (Book Three)
Amazon US: http://amzn.to/19pu1C5
Amazon UK: http://amzn.to/1OtLJVr
Barnes & Noble: http://bit.ly/1N35Jgb
Kobo: http://bit.ly/1BoiDwN
iBooks: http://apple.co/1GNre0u
Deep (Book Four)
Amazon US: http://amzn.to/1G8JRxz
Amazon UK: http://amzn.to/1N8QEb1
Barnes & Noble:  http://bit.ly/1CT657M
Kobo: http://bit.ly/1InexuC
iBooks: http://apple.co/1EDEQcc