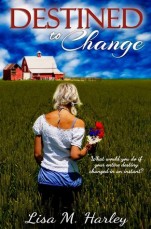 Today, we welcome Lisa Harley to our blog as she celebrates her debut novel, Destined to Change, releasing TODAY!
Lisa is giving away 7 ebook copies of her book.  Please enter using rafflecopter below.  The winners will be announced on February 19th.  Good luck!
Summary
Destiny…it's really an interesting thought isn't it…destiny.
Loralei Harper's destiny was determined before her birth. It was very simple. She was expected to graduate from high school, marry Declan Sharp, and have two kids. She would stay at home with them, while her husband worked on the family farm. But the funny thing about destiny is…it can change in the blink of an eye. Now Loralei has to figure out what to do when everything changes.
Declan Sharp, a sweet country boy, grew up with Loralei. Their parents couldn't have planned their relationship any better. Loralei was the love of his life and their future was bright, but sometimes life gets in the way of your plans.
Jaxon Daniels, a pierced, tattooed, badass with a gentle soul, just wanted to get out of the city and relax in the country for a little while. The last thing he was looking for was right in front of him. With skeletons in his closet, will he be able to hold on to the woman he loves, when the past comes out to play?
Cade Walker, a cocky cowboy, never gave love a second thought. Sex? Now that was a different story. After a drunken night, all of that changes when he feels something for Loralei…with his heart. This good ole boy learns that alls fair in love and war.
What happens when all of these lives cross paths? Whose destiny will change and who will get their happily ever after?
Date Night Excerpt
    Jaxon
We were having such a good time. I didn't want it to end, so when the skanky waitress came over I ordered us a couple more beers. Boy that pissed her off. She shot me a look
    "I know, pinky- swear and all, but I'm really having a good time getting to know you. And it'll take more than a couple of beers to get me drunk."
She finally agreed and I asked her, "Wanna dance?"
I could tell by the way she tried to slide down under the table and hide, that she didn't want to dance.
She finally answered, "I don't really know how to dance."
This was gonna be fun. "Just follow me, honey, and you'll be a pro in no time."
I grabbed her hand and led her out to the dance floor. Damn, she felt so good in my arms. Being this close to her was making me feel weird things. I couldn't understand what the hell was drawing me to this sweet, innocent woman. I couldn't take my eyes off of her. When she looked up at me – that was it. I was lost to her.
We danced through several songs and then, God, I had to kiss her, taste her. I bent my head down and lightly brushed my lips down her neck right below her ear. I could feel her shudder under my touch. I had to take this slow. I didn't want to scare her. I leaned in and very gently pressed my lips against hers. She tasted so sweet. I could have kissed her like this all night, but I was greedy, I wanted more. When I tried to slide my tongue into her mouth, she jumped back, screaming, "What the hell?"
GIVEAWAY
a Rafflecopter giveaway
About the Author
Lisa M. Harley recently realized her true passion…writing.
Her first book Destined to Change has an anticipated release date of February 2013. This book
will be the first in the Destined Series. (No cliffhangers though.)
Twitter  lharley77
Website http://lisamharley.blogspot.com/
Facebook http://www.facebook.com/Destinedtochange?fref=ts
Goodreads  http://www.goodreads.com/lisamharley