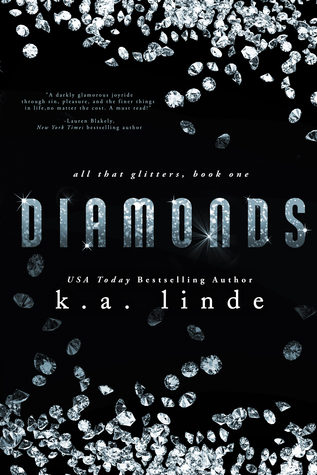 Diamonds

by K.A. Linde
on April 21, 2015
Buy on Amazon
Goodreads


Bryna feels his eyes on her.

Hot, seductive, enticing.

He's at least ten years older than her seventeen years, and he knows exactly what he's doing to her with that look.

Walking away would be the smart thing to do…

But she can't. Not that first night when he takes her home and claims her body. Not when he shows up in her life again with expensive gifts to win her trust. Not even when she's falling for him, and everything else is falling apart…

Find out how Bryna goes from golden girl to gold digger in this tantalizingly scandalous first book in the USA Today bestselling author K.A. Linde's All That Glitters series.
We have a GOLD (book 2) EXCLUSIVE for you below – check it out and make sure to PRE-ORDER!!!!!
Bryna is wealthy, spoiled and self centered. A girl with no real parental figure to show her the differences between right and wrong and to help steer her onto the correct path. Bryna is the Queen Bee, the one who everyone wants to be, a life worth emulating. But not really…you see inside she isn't truly happy always wanting more and more.
Enter Jude….years older than her (though we don't find how many years exactly until later in the story), mysterious, sexy as all hell. Jude gives her everything she thinks she wants…sex, gifts, and of course his attention.
But what happens when the truth comes to light and everything we believed in comes crashing down?
Unfortunately I can't say you will find out as there is MORE TO COME! Damn cliffhanger!
I will say this…Kyla is back! Giving us her angsty stories that make us want to rip out our hair and scream in frustration because we NEED to know more. A lot of dangerous games of the heart are played in this story and I wonder how anyone can really escape unscathed. If anyone can tell a story that is addicting and sexy, K.A. Linde can!
So this was more of a 3.5 star book for me as I felt that we didn't really get into the nitty gritty yet. The characters have more to grow and I wanted to get into the layers of this story…I wanted to feel the emotion and connection more…I really wanted to get inside their heads and hearts. Diamonds is an appetizer for what is to come….and I can't wait to get more!!
Gold, Book 2 in the All that Glitters series releases on July 7th! Here is a first look at the book.
Who's ready for MORE?!
♥PRE-ORDER GOLD♥