Today we welcome Stacey Lynn to our blog as she celebrates her new book Don't Lie To Me which released on July 16th.
Enter for a chance to win some amazing giveaways using Rafflecopter below!

---
5 STARS!!!
Synopsis
A standalone erotica/adult romance fiction.
What do you do when the man you love leaves, and the only man you've wanted since is the one you can't have?
When Emma's first love walked away after learning she was pregnant, she was forced to pick up the pieces, re-evaluate her priorities, and change the course of her dreams all for the sake of her son, who became the only one who mattered.
It also meant taking a job with Jack McMillan; powerful, sexy, controlled, and CEO of McMillan Holdings. Emma has spent the last several years keeping her dreams and fantasies of Jack to herself, but one night, and one encounter, changed everything.
Once the walls between them are dropped and the truth is laid bare, will Jack and Emma's new relationship be able to survive? When they are forced to confront their pasts, will they learn to finally put their trust in someone else, or will the lies that are told destroy them both?
Kim's Review
This is one of the books I've been looking forward to so when I picked it up and started reading it I was already …..
Emma had her heart & dreams shattered while in college. She found out she was pregnant and the man she thought would be the love of her life, Marcus, left her. Emma dropped out of her first year at DePaul and started working for wealthy, sexy and controlling Jack McMillian the type of guy that I would totally
Jack has his own past full of tragedy and walls put in place to protect himself but one night Jack let's is composure slip. He was no longer able to withhold what he was feeling for Emma and I was ..
Emma is taking a huge risk with Jack ~ he is her employer, she has her almost 5 year old son Logan to think of and he has this three date rule which yep had me
Will Emma make it past the third date? or is this just a passing fancy for Jack? What happens when something from the past is revealed? Well I'll tell you what happened for me ~ First off this is a very steamy sexy read and Jack & Emma get together it is total
I admit I was on edge wondering if the ubber controlling Jack, who claims he doesn't date, would let Emma in and while I was waiting for that dreaded third date to come there were plenty of times that I would've …
if I was Emma ~ the things that MAN (yes he's all man) could do! Now pretty early on there's a scene where door opens at Jack's place and I was…
and when all past secrets that are composed of "lies" come out I totally wanted to…
and when that MAN does something and I was totally preparing to
yes I had to pull the big girl panties up because there is one scene where I swear to I went from ..
to wanting to pull out some
to
my heart just broke for poor Emma. I felt like she couldn't catch a break at all! Now there were times I totally…
and yes I wanted to
Jack and couple other people a time or two but by the end of this book I was totally….
and every time Jack told Emma to "Tap it down, babe!" I thought how quickly I would've been yelling…
never leave my bed.
Don't Lie To Me was a 5 HOT EROTIC STAR read for me. I love Stacey's writing style and that it flows smoothly and it is consistent. I loved the times where she shocked me completely and times where I was honestly teary-eyed for the pain poor Emma went and had gone through. I loved Logan that little guy was adorable!!!!
This is Stacey's 2nd book following her first Just One Song. Don't Lie To Me is a standalone with an HEA that will have you both laughing and super giddy and actually wanting more! I highly recommend you add this to your TBR and read as soon as possible!
I was provided an ARC by the author in exchange for an honest opinion of Don't Lie To Me.
About the Author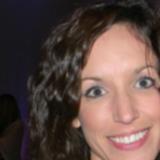 I am a wife, a mom, and a writer. I can often be found curled up on the couch with a good book, or obsessively eating Skittles in a very complicated and organized manner. No joke.