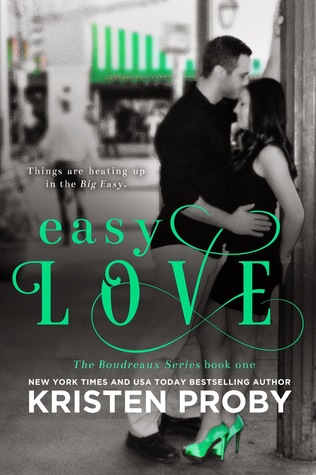 Easy Love

by Kristen Proby
on March 3, 2015
Buy on Amazon
Goodreads


Eli Boudreaux's family has built ships and boats in Louisiana for generations. He comes from a hard working, wealthy family and his empire is growing by leaps and bounds. At thirty, he is the youngest CEO to ever head Bayou Enterprises, co-chairing with his eldest brother. His head for business and his no-nonsense work ethic is also quickly making him the best the company has seen in generations. His staff admires him, women adore him and Eli's family is solid. But he's recently discovered that someone on the inside of his business is stealing from him and he's determined to find out who.

Kate O'Shaughnessy is hired by companies all over the world to slip inside and investigate every member of the organization from the CEO down to the custodial staff to find the person or persons responsible for embezzling. She's excellent at blending, becoming part of the team, and finding the weakest link. She's smart, quick-witted, and she's now been hired by Bayou Enterprises, specifically Eli Boudreaux. The attraction is immediate and the chemistry is off the charts, but Kate has heard all about Eli's playboy past and she has a job to do. Sleeping with the boss isn't a part of that job, even if just the sound of her name rolling off that Cajun tongue and the way he fills out a designer suit does make her sweat.

Eli's southern charms surprise Kate. The man whose reputation labels him as a ruthless, callous womanizer is not the man she's coming to know intimately. He's generous, protective and makes her smile. Cracking through Kate's cool, reserved demeanor and discovering her love of sexy, expensive lingerie is a challenge Eli can't resist, but her sweet nature, love of family and sense of humor pull at him in ways no one else ever has.

But when the person responsible for trying to single-handedly dismantle Eli's empire comes to light, and it's time for Kate to move on, to what lengths will Eli go to keep the woman he he's fallen in love with by his side?
I want to start by saying I loved the Boudreaux family. Ms. Proby did an amazing job crafting a cast of characters who all have their own personalities and unique relationships.
From the moment this book opens, the sibling banter pulled me right in. I absolutely adored that fact that the characters in this series are adults with lives and careers and all the mess that comes with it!
Easy Love is a new family saga and tells the story of the second oldest Boudreaux, Eli, the co-CEO of the family business, Bayou Enterprises. When the reader meets Eli, it is very clear he is driven, focused, and all about the business kind of man; that is until he meets Kate O'Shaughnessy.
Kate is masterfully introduced to the story as a college friend of Eli's sister, Savannah and a solution to an embezzlement problem at Bayou Enterprises.
The play on employee and employer relationships and the tangling with friends of your siblings created a story with many layers and very engaging dialogue.
Eli and Kate's connection is tangible to the reader and in classic Proby style, the sex scenes are epic! Eli and Kate develop an easy friendship and become so comfortable with each other; it was so enjoyable to read them folding into each others lives.
Such a great line and description of how this story unfolds: "I fell into such an easy love with you, I didn't even realize it was happening, until one day, it was everything."  
As Kate gets closer to the truth about the embezzlement, this story brings a bit of mystery to this romance. I won't tell you who or how but I will tell you I wanted to shake Eli at one point in the story.
In the end, the how Eli embraces love was truly powerful and connected so many of the pieces of the story together.
I am looking forward to stories for each sibling in the series… Beau, Declan, Savannah, Charlotte and Gabby.
These characters were so well crafted that I am torn as to which I want most but after chapter 13 and 14, I have to say Savannah (Van) because she so deserves a happy, a happy I hope is with Ben (a close friend of Eli's and a man who played a part in this book that had my heart in my throat, yes loved Ben hard!). Oh wait Gabby and Sam so deserve a happy too. Nope not telling who Sam is, I will say he was so adorable and made me smile from ear to ear.
I have read that Easy Charm Rhys (Kate's cousin) and Gabby Boudreaux 's story is next (releasing in the summer)…. it is a must read for me because as I said above, Gabby so deserves her happy!
A huge Thank you to Ms. Proby for another family to love!
Follow along the Tour
March 6
Natasha is a Book Junkie-Excerpt
March 7
Shh Mom's Reading-Review
March 8
Holly's Red Hot Reviews– Interview
March 9
Shameless Book Club-Dream Cast
March 10
Literary Gossip-Interview
March 11
Naughty and Nice Book Blog-Excerpt
March 12
Reviews by Tammy and Kim-Review
March 13
Three Chicks & Their Books-Excerpt
March 14
Schmexy Girl Book Blog-Playlist
March 15
The Book Avenue-Interview