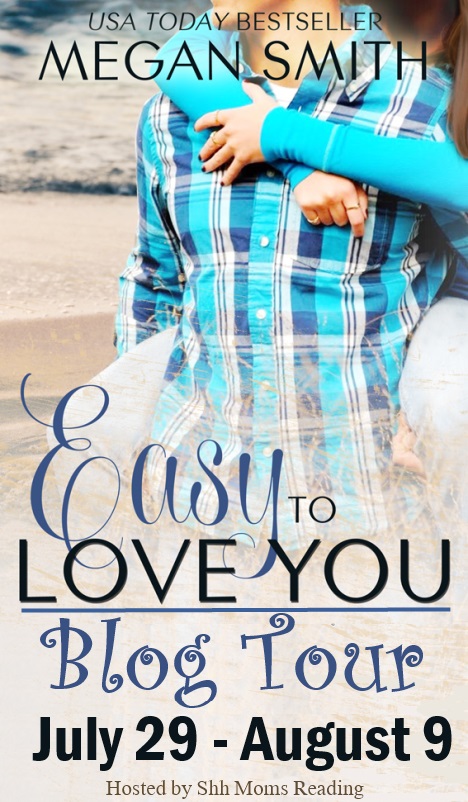 Today we welcome Megan Smith to our blog as she celebrates her new book Easy To Love You which released on August 2nd.
Enter for a chance to win some amazing giveaways using Rafflecopter below.
---
5 STARS!!!
Synopsis
Hunter finally has MacKenzie Cahill, the girl of his dreams. A horrible accident finds those dreams threatened. As their lives change, secrets begin to surface. These revelations could prove to be either the downfall of Hunter and MacKenzie or the catalyst that strengthens their bond.
Hunter has painful choices to make. Will he realize what he has before it's gone? He knows what he must do to save his future, but will he be leaving everyone else in his past?
Will the bond between the two families be strong enough to keep them together?
Kim's Review
Okay ladies did you read Trying Not To Love You? Do you recall how that ended? If you did then you had to be totally…


I know I was. Well, Easy To Love You picks up right where TNTLY ended. I sat back and watched Hunter and waited for him to realize what happened and I was sort of…


When he finds out what happens, actually first hand sees it, and when he first gets to his CC I was totally…


and I totally wanted donut to go along with my Starbucks. My heart was breaking for him. I hated that he blamed himself for not "protecting" CC as he put it but when he first meets a very special person named Ryder well I was totally…


but underneath all of this I was also wanting to …


a certain person who helped him with Ryder when he first met him. Hunter & CC love well I felt it through the pages while I was reading. I felt the utter despair that Hunter felt until he had his CC back and I was…


that when CC came back all would be just perfect ~ but if that was the case then the book wouldn't have held my interest for very long. Nope secrets were the theme of this book I was..


when Hunter didn't reveal to CC what I felt should've been revealed right away. When CC recalls Brittney and we learn a little more I just wanted to jump in the book …


to Brittney. The girl is seriously…


The book sure had me …


a time or two and certain parts I was thinking.


come on everyone, well except CC, was withholding stuff and what ultimately was something she NEEDED to know. The whole family, yes we get Mason, Hailey, Cooper, Jaylinn, Jackson, Chloe and the rents, knew and I certainly understood how CC felt. As with the first book I was ..


when you got everyone together. They were an absolute hoot and I cannot wait for more of Mason & Hailey. I want to know what is going on with these two. I mean they totally had me…


When Hunter & CC finally got to …


it was freaking hot ~ I was..


Megan did a great job of interspersing the in bed, against the wall and in the bathroom scenes throughout the book but in a way it encompassed the love the two had for each other. Oh yes I was…


When secrets were revealed I had to ….


you could feel the pain, the sense of betrayal but also the feeling of both Hunter and CC being lost without the other. I just wanted to..


both of them and the secrets well let's just say I was…


when all the players are revealed but when I got closer to the end I was..


and I was…


and then a door opens and I was..


oh I was so….


and I stopped and thought


here we go again! Then I jumped out of my chair and …


for my two dogs who totally know I lost it a long time ago!!!
Easy To Love You was a 5 star read for me. Megan picked up perfectly where the first book left off but also made sure that Hunter & CC worked through their trials and didn't just sweep it under the rug. She let them process things and allowed each other to see that really was Easy To Love the other and that with the support of their family and the soul searing love they had for one of another they weren't going to let any obstacles keep them apart!
If you've read Trying Not To Love You then you know you have to read Easy To Love You that's a complete no brainer. If you haven't read this series then I suggest you grab both books while I sit back and wait for the continuation of the Love series and I sure hope we get to see Mason & Hailey in the near future as well as Cooper & Jaylinn cause there is so much more to both their stories that I'm dying to see what the future holds for both couples.
I received an ARC from Megan in exchange for an honest opinion. I enjoyed this book so much that I did purchase it to add to my collection so that while I wait for the next book in the series I can get a Hunter fix from time to time 🙂
About the Author
When Megan Smith is not writing she is a wife to her high school sweetheart and a mom to her son. She lives in the New Jersey. At the end of the day when she is done work and being a mom you can find her curled up with a good book or writing on her current story.