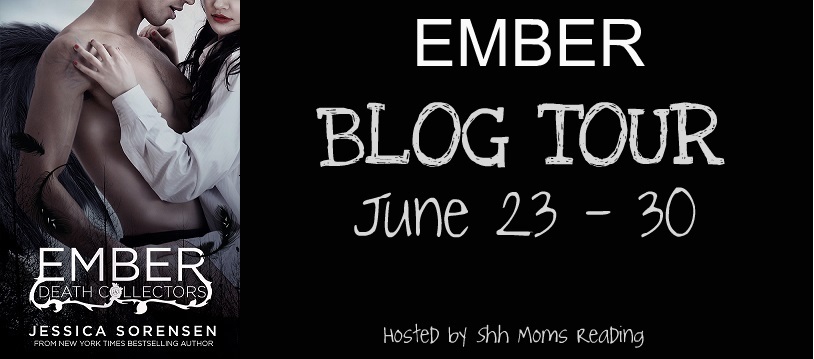 Today we welcome Jessica Sorensen to our blog as she celebrates her new book Ember! Enter for a chance to win a copy of this book in paperback (US ONLY) or ebook format using Rafflecopter below!   There are bookmarks too!  Good luck!
Ember is currently FREE!
---
4.5 STARS!!
Synopsis
**Mature Content Advisory**
Recommended for readers 17+ due to sexual situations and language
For nineteen-year-old Ember, life has always been about death. With a simple touch, she can see when someone will die. It's her curse and the reason she secludes herself from the world. The only person that knows her secret is her best friend Raven.
But that changes when she meets Asher Morgan. He's gorgeous and mysterious and is the only person Ember can't sense death from. The silence he instills in her mind and body allows her to feel things she's never been able to before, so despite her initial reservations, Ember lets Asher into her life and lets herself to get close to him. But the closer they get, the more Ember realizes that Asher is keeping secrets from her.
When unexplained deaths begin to surface in her town, Ember questions why she can't see Asher's death and what it is he's hiding from her.
Christine's Review
It's a fact that I am a huge Jessica Sorensen fan.  And I love anything and everything she writes including paranormal and fantasy.  Ember X did not disappoint.  This is a reimaging of the original Ember but in a New Adult way so be prepared for a HOT READ and a hell of a ride!
What would it be like to grow up believing that you should never put your trust in anyone; to never open your heart to love and new experiences?  How could you move on from knowing and feeling death as a young child by a simple touch and then as a young adult never being able to feel that closeness with someone because you were afraid to know how they would die?
Poor Ember has known how people would die by a simple touch since she was a child.  She grew up seeing the Grim Reaper and watching her father go crazy over seeing things.  It seems that she is plagued with the same special gift that he had.  Ember's father disappeared when she was younger, her mother became a chronic drinker, and her brother has his own issues to deal with.  She has lived a tough life already at such a young age and there is such sadness that surrounds her that it breaks my heart.
Without revealing too much of this story, there is definite possibilities of romantic interest with the two new students who have moved into this small town – Asher and Cameron.  Both unique in their appearances and mannerisms, Ember feels connected and attracted to both.  Both male characters intrigued me – both handsome, mysterious and sexy but I had an instant soft spot for Asher.  He made Ember feel calm and protected and cared for.  Something she has never felt before.  Like the choices between good and evil, Ember will have to make a choice but will it be the right one?
This paranormal read was something I have not read too much about as it dealt with Death Angels, Grim Angels and Grim Reapers.  I was definitely interested to learn more as I was reading.  Death has always frightened yet fascinated me so to read about this element kept me entertained in a very good way.
So things I loved about this book that are worth mentioning – I LOVED Jessica's use of poetry and art in Ember X.  Not only could I imagine what I was reading because it was so beautifully described in the artwork but the poetry was BEYOND words.  Once again proving what a talented artist and writer Jessica is.  I also loved the multi-layers of intensity and mystery interwoven together to make me say OMG at least a couple of times during my read.  This was very well done and such a nice change in pace in what I have been reading lately.  I can't wait to read Cinder which is book 2 in this series.  I would love to see where Jessica takes this story and to find out who will overcome – good vs. evil.  I am also DYING to know how the romance aspect will play out and to find out if this poor broken girl will ever get her HEA.
Great job as always! xoxo
About the Author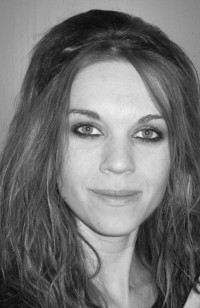 The New York Times and USA Today bestselling author, Jessica Sorensen, lives in the snowy mountains
of Wyoming. When she's not writing, she spends her time reading and hanging out with her family.