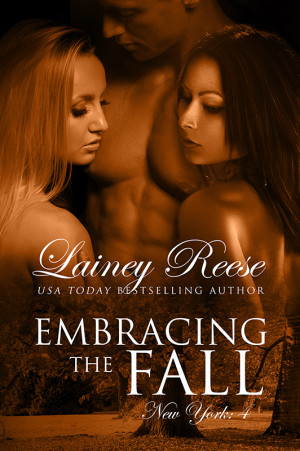 Embracing the Fall

by Lainey Reese
on August 12, 2014
Buy on Amazon
Goodreads


Cami and Ziporah are two girls that couldn't be more different if they tried. They met as college roommates, forging a friendship that became a lifeline when tragedy struck.

Now as Cami opens herself to reclaim her sexuality, including the possibility that she is a sexual submissive, her fear of the unknown threatens to keep her chained by the past forever.

Ziporah has always been Cami's champion, reassurer, her safe place, and she is determined to take this erotic journey side by side with her. What starts out as supporting a friend just may end up showing Z that she and Cami may not be so different after all.

When Evan moved to New York City on business, the last thing he expected was to have two untrained subs on his hands. Each woman appeals to him in different ways. They pull at his emotions with their vulnerability and challenge his Dominance with their spunk and wit. Evan never dreamt that as he taught their bodies to submit, his heart would be brought to submission by theirs.
This book can absolutely be read as a stand alone, though I do love the series and highly recommend it!
If you are open to trying something new, pick up a copy Embracing the Fall.
This book is a f/m/f read, yes Master Evan finds love with two women Cami and Ziporah but before you dismiss it based on subject matter, remember many of us read stories that would never work for us in real life or even appeal to us in real life.  This story feels so true to the characters created, it is worth the read and trying something new.
Cami and Ziporah are best friends, they are so different yet so connected to each other.   Ms. Reese instantly pulls the reader into the book with a powerful and gut wrenching prologue.  You will feel for Cami and Zip as the pain is real, the bond connecting them laid out and the path to happy so unclear.
Readers of this series meet Master Evan when he played with Gage and Zoey, yes Gage and Evan are Doms (you can infer what I mean by the word play).  In Embracing the Fall, Ms. Reese brings Master Evan to life; this hot Dom is demanding, loving and compassionate, often times in the same scene.
These three agree to play in an attempt to help Cami (nope not telling you why – you need to read the book to see why she needs help.) As the sex turns into more, I was able to feel each character's perspective and why the unique relationship developing worked for each.
I adored the pet names Evan has for each girl, it allows the reader to appreciate the depth to which Evan connected with each woman as their names are not what you expect but they cut deep into who these ladies are deep down.
Oh I want to say I loved the cover and title of this book; Embracing the Fall has layered meaning in this story, I loved the play on words.
If you have read the prior books you do see the couples from the books in the series and yes Gage and Zoey have one hell of a hot scene!
Cami, Ziporah and Evan seem to find a balance that works for them.
As the past meets the present and the prologue's pain walks into the bar, this story takes an amazing turn.  I loved loved loved the resolution to what at first felt so unjust.  Master Evan truly takes providing justice to the next level.
The epilogue to this story warmed my heart and left me with a huge smile on face; again no I could never picture myself sharing a man but this story and this happy felt so true to Cami, Zip and Evan, so hats off Ms. Reese!
♥READ THE SERIES♥
Book 1 – A Table for Three

Book 2 – Damaged Goods

Book 3 – Innocence Defied

Book 4 – Embracing the Fall