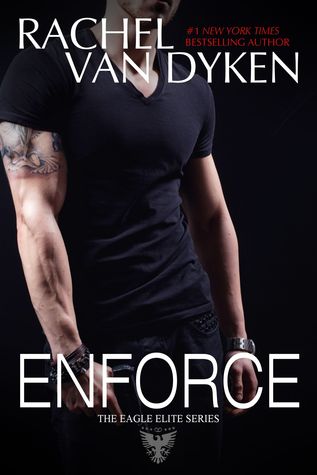 Enforce

by Rachel Van Dyken
on December 18, 2014
Goodreads


There's two sides to every story…

And ours?
Isn't pretty… Then again,
what's pretty about the mafia?
Trace Rooks, that's what.
But she only wants one of us, and I'll kill him before I let him have her.
The only problem ?
We're cousins .
And she may just be our long lost enemy.
Whoever said college was hard, clearly didn't attend Eagle Elite University.
Welcome to hell also known as the Mafia where blood is thicker than life, and to keep
yours?
Well, keep your friends close, and your enemies?
Even closer…
I adore the Eagle Elite Series by Rachel Van Dyken. Each book elaborating on the different characters within the series, inviting us into their Mafia world while showing us their journey's to happiness and love.
Enforce takes us back to the beginning and this is a kind of re-telling of Elite from the men's POV. I say "kind of" because though we already know what will happen in Elite, it is a treat to be in their brain's and to get that added layer of the story where we were missing what they were thinking and to get the full complete story.
All I have to say is DAMN! To be in Nixon's mind in these scenes, knowing what a jerk he would be to Trace yet knowing why and seeing how he is affected by her too, that he has a heart makes me love him even more! It is also complete torture to see him falling yet trying to remain closed off to protect her. We know that he is doing what he thinks is best for her but still….it's painful to watch Trace get hurt.
Rachel writes the male POV well giving us more to an already established story, adding more layers, and more intrigue. This is a great addition to an already loved series and I can't wait for more!

Doors slammed down the hall, blanketing us once again in silence. Damn it, Mo was smarter than I gave her credit for. When I'd asked her to put Trace on her floor, I 'hadn't meant in her room, in my sister's room.
Shit. She was going to pay for that.
Trace's lower lip trembled as her eyes closed. She shook as multiple doors slammed down the hall, and with each tremble of her body — I wanted. With each twitch of her lips — I was tempted.
Finally, the slamming stopped. I walked behind Trace and closed the door. She didn't budge.
I couldn't take it any longer. I had to be closer. My sanity was at stake. I swallowed and walked up behind her, my lips grazing the velvety softness of her ear. "You don't like rules, do you, New Girl?"
She shivered in response to my voice.
I almost touched her then.
Almost threw the entire act way.
Almost threw it all away.
But it would have been selfish of me to satisfy my own damn curiosity and needs, when she had no idea what was at stake, what she was risking by being at Elite.


Click HERE for the trailer of Enforce (created by Becca the Bibliophile)
♥READ THE SERIES♥
Book 1 – Elite
Book 1.5 – Enforce
Book 2 – Elect
Book 3 – Entice
Book 4 – Elicit
Book 5 – Bang Bang