Today we welcome Heather London to our blog as she celebrates her new book Fall From Love which released on June 7th.
Enter for a chance to win some a paperback copy of this book using Rafflecopter below.
---
5 STARS!!!
Synopsis
Struggling to put her life back together after a tragic mountaineering accident kills her college sweetheart, twenty-one-year-old Holly Treadwell is trying to set aside her grief, forge ahead in school, and find herself again.
When Carter Hansen, a guy who brings back horrible memories from the night of the accident, finds his way back into her life, Holly's unsure if she should let him in. He terrifies her in more ways than one and invokes feelings in her that she thought were buried forever. Regardless of her fears, she knows she must face him in order for her heart to heal.
Everyone tells Carter that what happened on the mountain that night was just a terrible accident, but even then, he can't help but carry around the guilt and is unable to forgive himself. He's drawn to Holly and being near her helps ease his conscience and gives him the release he needs.
As Holly and Carter's relationship grows, they begin to realize that the more time they spend with one another, the more their wounds begin to heal—her grief and his guilt. But when Holly learns the details about the night of the accident—what everyone has been keeping from her—it will rip open old wounds and tear apart what they've both worked so hard to overcome…
Kim's Review
What would you do if you suddenly lost the love of your life? I think I would do what Holly was doing when I first started to read Fall From Love ~ a tragic accident takes away her forever and she has retreated into herself ~ She convinced herself she no longer "feels" anything ~ but slowly with the help of her awesome friend Jenna she begins to enter the land of the living again and what she needs has been trying to reach her for awhile now.
Carter ~ poor damaged Carter ~ he has his own demons ~ He is convinced what happened is his fault regardless that others tell him it wasn't. He is convinced that he is bad luck ~ but the ONLY thing that calms him and make him breathe easier is Holly.
It was beautiful to watch Holly & Carter's friendship develop into something more ~ I love when characters start as friends. I was leery in the beginning with Holly's response to Carter that it would take ions for them to become friends but I was pleasantly surprised. Carter knows something that Holly doesn't and wants to tell her ~ I agreed the whole time of his inner dialogue when he was told by Jenna the past is the past  ~ ummmm no sometimes we have to come to terms or make peace with our past BEFORE there is a future.
Holly & Carter were both broken and they each needed the other ~ I cried I sobbed in the very beginning ~ This is a beautiful story of finding love admits an horrific tragedy and watching that love unfold before my eyes was simply amazing and sometimes heart wrenching!
A huge 5++++ star emotional read that brought many tears to my eyes,  a few laughs (Jenna & Josh) and me cheering Holly & Carter on so that they could both find the happiness they oh so deserved!!
I have to say that Heather was pure genius with the way she started out each Chapter with a quote from someone famous that was on point with the story ~ I LOVED THAT!! Definitely want more from this author!!
About the Author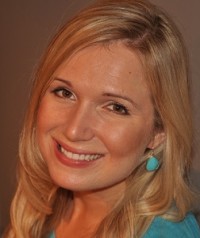 Heather London is a young adult and new adult author who loves to write stories full of romance, fantasy, and science fiction. She is a lover of only the finest of coffee and premium craft beer, but will settle for anything chocolate, regardless of its quality. Heather lives with her husband in Dallas, TX where she is currently working hard on her next project.