Today we welcome Gina L. Maxwell to our blog as she celebrates her new book FIGHTING FOR IRISH which released on January 13th! You need this book for the HOT Boston accent – OMG! SWOON! Check out Gina's dream cast fall in love with Irish like Christine did!
See below for the giveaway information from Gina!
---

Former MMA fighter Aiden "Irish" O'Brien hasn't stepped into the ring since he accidentally took someone's life in the heat of rage. When his friend calls in a favor that sends him south to check on family, Irish figures he's got nothing to lose. His life is on the ropes. The least he can do is make sure the sexy redhead is safe.
Kat MacGregor has forty-eight hours to settle the twenty thousand dollar debt her deadbeat ex-boyfriend owes a crime boss. If she doesn't, she'll pay for it—with her life. Kat's halfway out the door when a sexy new guy walks into the bar and insists he's there to help.
Irish is forced to fight in the underground MMA circuit to win the money she needs. But he's been lying to Kat. About who he is, about knowing her sister, about why he comes home bruised every night. She's the best thing that's ever happened to him, but breaking her trust will cost him the most important fight of his life: the one for her heart.

One of my favorite things to do in researching my books is picking out the people to use as inspirations for my characters. I keep a Pinterest account just for this purpose, and I encourage my readers to go through the individual boards for my books and see for themselves who I've chosen.
In Fighting for Irish, there are three new and two returning main characters from the Fighting for Love series. The hero and heroine from the previous book, Rules of Entanglement, have significant cameos.
Jackson "Jax" Maris is inspired by the incredibly charming and handsome Marco Dapper.
And his lovely bride-to-be (and Kat's older sister), Vanessa MacGregor, is former Miss America Alyssa Campanella.
Requested by several loyal readers was to use British model Jase Dean as the inspiration for Xander. In FFI, he plays the role of Irish's best friend, but Xan gets his own HEA in book four of the series, tentatively titled Sweet Victory.
Kat MacGregor, the heroine of FFI, is the beautiful Alise Shoemaker. Don't you just adore her freckles?
And last, but certainly not least, we have the hero inspiration I searched long and hard to portray the image I had of the gritty-but-sexy Aiden "Irish" O'Brien: model and actor, Adam Von Rothfelder.
For tons more pictures on these characters and other in my books, don't forget to check out my Pinterest page. I hope you've enjoyed this look into my character inspirations. Ciao!

Christine's 5 STAR Review!
I have to say that being an avid fan of Gina and having followed her since book 1 (ahem Parker Hurley!), FIGHTING FOR IRISH is her best book yet! Gina has grown so much as a writer and a story teller with each book and I have enjoyed watching this progression with each book in this series. This was a bit darker than the first two books but I enjoyed it immensely. Gina has shown us that she has a wide range in her writing and you will enjoy this book for its action packed, sitting at the edge of your seat excitement combined with the love and hot sex we have come to know and love with a book from Gina!
We know a bit about Kat McGregor from Rules of Entanglement as she is Vanessa's younger sister. At the end of Rules of Entanglement, Kat goes missing, having run away and gone into hiding because of her loser ex boyfriend who has a gambling debt he owes. This story goes into more detail of Kat's relationship with her ex boyfriend and her abusive past as a child and shows how broken, hurt and mistrusting she is of men because of it.
Aiden (Irish) O'Brien has come to the area for his good friend Jackson to locate Vanessa's younger sister. What he wasn't expecting was that something as simple as finding Kat and bringing her home would involve him actually moving, living and working in the bar with Kat while getting to know her on a friend basis. Though through it all, he never reveals to Kat who he is exactly, he can't help but be attracted to her on more than just a friend basis though he obviously has a dark past too as he fights to keep his growing attraction in check as he feels he is undeserving of love and happiness.
Things that worked for me:
IRISH and KAT!
Despite Kat's past and things that she had to deal with, I really enjoyed her character. I thought she was so strong for having to take care of herself and fight her own fights. There was so much depth in her character with everything that she has suffered and been through often times my heart just broke for her.
Irish's choice to protect Kat and settle her debt and protect her in the process made me just LOVE him! He was the epitome of a book boyfriend with his caring, protective and patient personality. I was BEYOND ecstatic at Irish and Kat's first kiss as I felt the tenderness through my kindle. It was like a gift. Something so soft and kind, showing her what real attraction and feelings could feel like and opening Kat's eyes to new and better memories. It was perfect.
Yes of course the sexual tension killed me at times lol but every moment they spent together, every connection and emotion was so beautifully done. In all those moments, I felt that I was connected with them – I was there too. Everything was so real and meaningful and it truly touched my heart. It was complete and utter perfection.
This book was action packed and throughout all of the heart stopping scenes all I could think was – who will come out on top as the winner?!
Well of course, I would never say so you will have to pick up this book to find out!
While all books in this series can be read as standalones, I do recommend that you read them in order as for me I loved meeting them and getting to know them throughout the series. It really connects you to each of their stories making you want to know them even more.
Great job Gina! You made my heart soar with this one! Can't wait to see what you have for us next! <3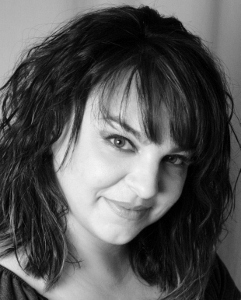 Gina is a shameless romance addict with no intentions of ever kicking the habit. Growing up she dreamed of entertaining people and taking them on fantastical journeys with her acting abilities, until she came to the realization as a college sophomore that she had none to speak of. Another ten years would pass before she discovered a different means to accomplishing the same dream: writing stories of love and passion for addicts just like her.
A member of the Romantic Writers Association (RWA), San Antonio Romance Authors (SARA), and Rose City Romance Authors (RCRA), she recently signed with Entangled Publishing to write for two of their imprints.
Her Fighting for Love series with MMA heroes will debut July 2012 for the Brazen imprint with the first book in the series, Seducing Cinderella. The first book in her Prophecy of Souls trilogy, Desires of the Soul, is set to release in mass trade paperback in Summer 2013 for the Entangled Select imprint.
When she's not writing or wrangling plot bunnies in her San Antonio home, Gina keeps busy with her wonderful family and their ever growing extra-curricular activities. Thanks to their immense patience and support, she's able to live her dream of bringing a little romantic fantasy to the world, even if only in the pages of a good book.
---

Series Reading Order
Book 1 – Seducing Cinderella

Book 2 – Rules of Entanglement